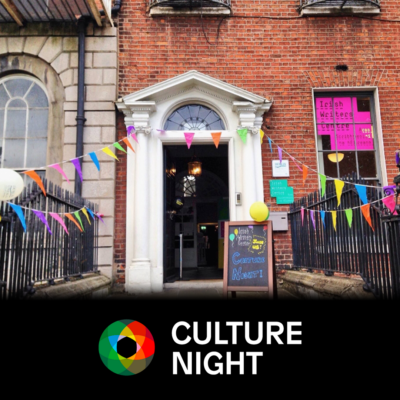 Irish Writers Centre Culture Night 2023
Info
Date:
September 22, 2023
Time:
5-9pm
Location:
Irish Writers Centre
Price:
Free
Please note that some of the night's events require booking on Eventbrite in advance. 
Irish Writers Centre events are suitable for an audience aged 18+ and there may be themes of an adult nature. 
The Irish Writers Centre will be alight with joyful celebration at this year's Culture Night 2023, taking place on Friday 22 September, 2023 between 5pm – 9pm. Expect an eclectic series of free events that celebrate Ireland's diverse literary and art scene. We have a jam-packed schedule for the night's festivities – if you come early you won't want to leave!
Browse the full programme below
---
Frank X. Buckley Art Collection Tour (5pm – 5.45pm)
The Irish Writers Centre houses the exquisite and diverse art collection of the late Frank X Buckley. Join your tour guide, Dee Roycroft, and explore some of the highlights of contemporary Irish Art including works by Patrick Scott, Mainie Jellett and Graham Knuttel.
---

IWC Novel Fair Winners Showcase (6.15pm – 7.15pm)
Hear readings from some of the Irish Writers Centre Novel Fair winners who have published books, won literary prizes and achieved much acclaim as a result of winning this unique and prestigious competition. The six novelists who are taking part are Olivia Fitzsimons, Michelle Gallen, Lauren Mackenzie, Orla Mackey, Laura McKenna and Declan Toohey.
---
Inkslingers Workshop (6.30pm – 8pm)
Join our in-house writing group, the Inkslingers to flex your own creative writing muscles. Respond to visual cues, try your hand at poetry or fiction and find out what goes on behind the doors of one of Dublin's busiest writing groups.
Booking is not required, just drop-in!
---

IWC Rambling House  (7.15pm – 9.00pm)
For the evening finale, take part in a unique open-mic event! Drop in for a random selection of readings, music, singing and verse. This event revives the old tradition of the Rambling House – where neighbours of a community went 'night-visiting' to enjoy an evening's home-spun entertainment. Wander in and out at your leisure and sign up on the spot to showcase your performance skills. In the interest of fairness every performer will be given three minutes. Poets, writers, musicians, singers and performers of every art form welcome! Audience members are welcome to BYOB. 
---
About Culture Night
Culture Night / Oíche Chultúir is brought to you by the Arts Council; it is a national moment, celebrating culture, creativity and the arts and seeks to actively promote the belief that this rich and varied culture is alive, treasured and nurtured in people's lives, today and every day.  It is delivered nationwide in cities, towns, villages and rural locations as well as online and through our media partners.
742,000 people engaged with 1,700 Culture Night events in 2022.

---
Building Access
The Irish Writers Centre is currently housed in 19 Parnell Square, Dublin 1. This is a Georgian building which unfortunately does not have a lift. There are 5 steps into the entrance level. The majority of the event's activities will take place in the Kiely room which is on the first floor and requires climbing 30 steps in total. There are public toilets available and these are located on the ground floor and basement floor of the building. For further information on access to our building, please email: info@irishwriterscentre.ie. 
---
The Irish Writers Centre is supported by the Arts Council of Ireland.