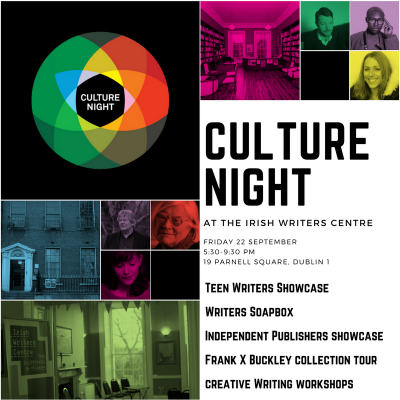 Culture Night 2017 at the Irish Writers Centre
Info
Date:
September 22, 2017
Date: 22 September 2017
Time: 5.30pm – 9.30pm
The Irish Writers Centre opens its doors with the usual warm welcome to visitors for a celebration of contemporary Irish writing. On our soapbox, a collection of writers from all generations and genres take to the stage with newly commissioned work on the pros and cons of writing in the wake of Irish literary giants. We'll champion the new voices in Irish publishing with our Independent Publishers Showcase while the brave among you can join our in-house writing group, the Inkslingers, where you can create and share your own original work. Finally, Frank Buckley will lead a tour of our home at 19 Parnell Square to explore one of the great collections of contemporary Irish art.
Teen Writers Showcase (6 – 7pm)
Fresh from the Teen Writers Summer Camp, this year we are delighted to have our first ever teen writers showcase. Facilitated by Deirdre Sullivan, the writers will read from their work produced over the summer.
The Writers Soapbox (7 – 8pm)
Our Writers Soapbox returns with a bang this year as we tackle the theme of writing in the wake of Irish literary giants. MC'ed by June Caldwell, we have a great line-up of contemporary writers from all genres and backgrounds reading original commissioned work tackling our theme from every angle.
Noel Monahan                         
Daniel Wade            
Felispeaks                                 
EM Reapy                                   
Daniel Seery
Dairena Ní Chinnéide
Jennifer Johnston
Independent Publishers Showcase (8 – 9pm)
The Independent Publishers Showcase brings you work from some of the newest and most exciting publishers working in Ireland today.
Cló Iar-Chonnachta  – Micheál O'Chonghaile and Brian Ó Tiomáin
Little Island – Deirdre Sullivan and Sheena Wilkinson
Lilliput Press – Caroline Preston and Adrian Kenny
Frank Buckley Collection Tour (5.45pm)
The Irish Writers Centre houses the exquisite and diverse Frank Buckley art collection. Join curator Frank Buckley on a tour of the collection exploring some of the highlights of contemporary Irish Art including Patrick Scott, Mainie Jellett and Graham Knuttel. Booking essential.
Inkslingers Workshops (6.30 – 8pm)
Join our in-house writing group, the Inkslingers to flex your own creative writing muscles. Respond to visual cues, try your hand at poetry or fiction and find out what goes on behind the doors of one of Dublin's busiest writing groups. 
***BYOB***