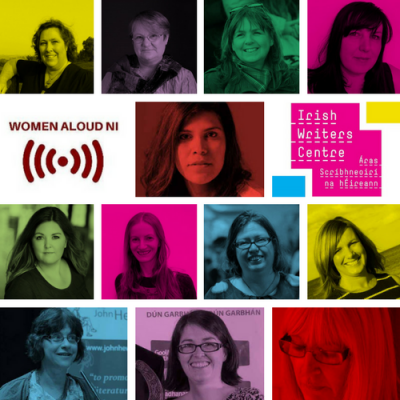 WOMENXBORDERS: International Women's Day | Women Aloud NI
Sat 11 March 2017
From 11am
The Irish Writers Centre is delighted to collaborate with Women Aloud Northern Ireland, along with female writers resident in the Republic of Ireland, in a day-long literary readathon in celebration of International Women's Day.
The event will consists of panel discussions, day-long opportunities to hear extracts from Women Aloud NI members and the Irish Writers Centre as well as networking opportunities which will serve to cement the relationships between women writers across genres — and across Ireland.
Due to an unprecedented response, we have now closed applications for the International Women's Day readathon in collaboration with Women Aloud Northern Ireland.  Thank you to all who applied and we will be in touch with applicants by the end of next week to let them know whether they have been selected to participate.
This event is one in a series of events from Women Aloud NI, including readings, bookstore and library visits and mystery events that will celebrate International Women's Day from Wednesday 8 March. The aim of these events is to inspire women to write, read, and champion the literary work of local women, strengthen their relationship with local booksellers and librarians, and promote the performances, readings and literary endeavours of women writers.
This is kindly supported by Arts Council of Ireland, the Arts Council of Northern Ireland Lottery Fund and Words Ireland.