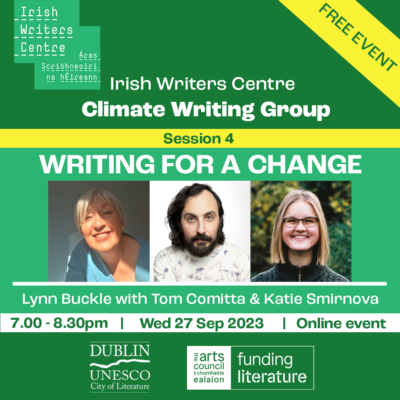 Irish Writers Centre Climate Writing Group: Writing for a Change 2023
Info
Date:
September 27, 2023
Time:
7-8.30pm
Location:
Online
Price:
Free (ticketed)
Please note, these sessions take place on the final Wednesday of each month. 
Register here
Please join us for the fourth session of Irish Writers Centre Climate Writing Group: Writing for a Change 2023. This is the fourth in a series of six online sessions made possible by Dublin UNESCO City of Literature. There is no fee for attending these sessions, they are a gift to all writers to take away and use in their work with the goal of exploring climate action through fiction and creative non-fiction. The host for the evening is author Lynn Buckle, who will be joined by award winning author, composer and inter-disciplinary artist Tom Comitta and Campaigns Officer for Hedgerows Ireland, Katie Smirnova.
The Irish Writers Centre is supported by the Arts Council of Ireland.
---
What do we do in these sessions?
Each session lasts one and a half hours and can consist of the following:
Interview Guest Author – literary fiction, non-fiction, poetry, speculative fiction, essay, etc
Interview Guest NGO, politician, policy maker, or scientist involved in conservation, climate justice, ecology, politics, industry, law, agriculture, finance etc
Guest publishers and editors
Book reviews
Occasional writing exercises, tuition, and feedback. NB this is not a writing course.
Discussions
Networking
---
Who is it for?
Anyone with an interest in averting further climate change through poetry and prose
Anyone interested in writing fiction (all genres), non-fiction, poetry, memoir, creative non-fiction
You do NOT have to change the genre you write in, you can simply embed some positive climate solutions into your writing
You can be at any stage of your writing career, from beginner to published
Those with a background in climate change, or newcomers who want to know more
Booklovers
---
Host and Authors
Lynn Buckle
Katie Smirnova
Tom Comitta
Biographies below. 
---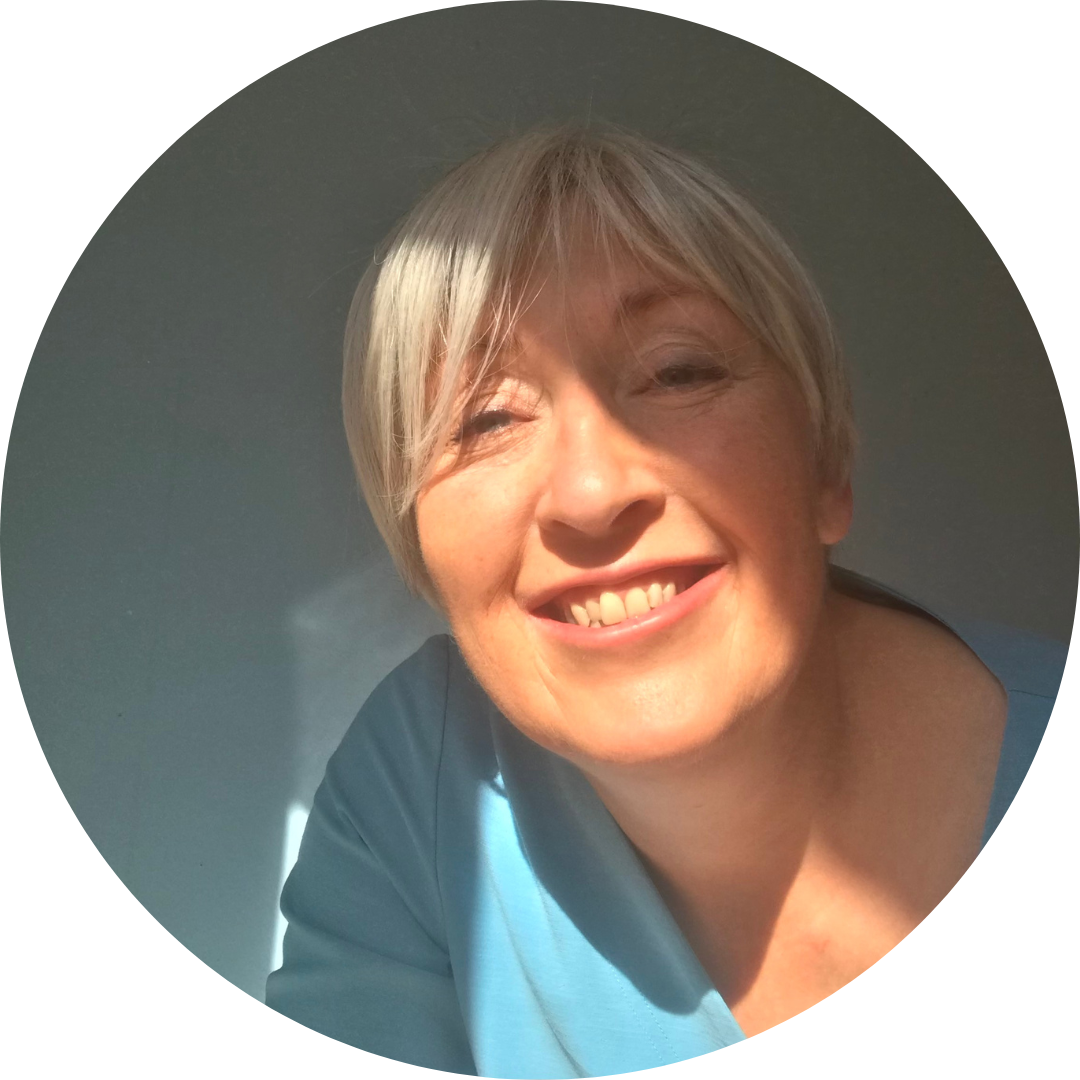 Lynn Buckle won the international Barbellion Prize for chronically ill and disabled authors in 2022 with her novel What Willow Says, published by époque press. It is a celebration of deafness, familial love, nature, and the language of trees. Other work includes her debut novel The Groundsmen, and literary articles and creative non-fiction for The Irish Times, Arachne Press, Massachusetts Review, Exacting Clam, Books Ireland Magazine, and various anthologies. She has taught in adult education for over 35 years, including creative writing and visual art. She represented Ireland as a UNESCO City of Literature Writer in Residence at the UK National Centre for Writing, is the judge of several writing competitions, and founder of the IWC Climate Writers Group.
---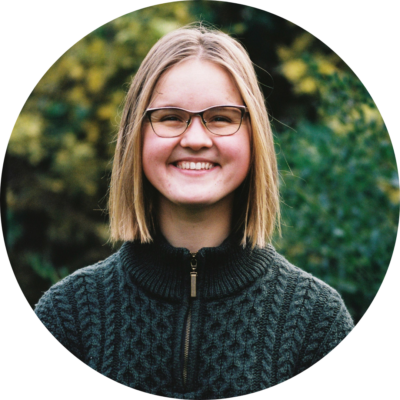 Katie Smirnova is Campaigns Officer for Hedgerows Ireland which was founded in 2004 by a group of hedge layers and other individuals passionate about the conservation and appropriate management of hedgerows. The organisation provides training courses on the craft and profession of hedge laying, as well as offering advice on nature-friendly hedgerow management through events and social media. In 2023, they also launched the Hedge Code – a campaign helping people plant, retain and rejuvenate their hedgerows. www.hedgerows.ie
---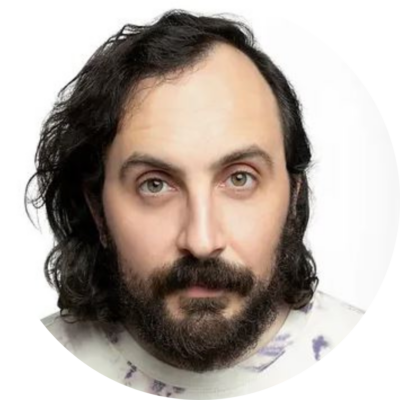 Tom Comitta (they/them) is the author of The Nature Book (Coffee House Press), Patchwork (Coffee House Press, forthcoming 2025), ◯ (Ugly Ducking Presse), Airport Novella (Troll Thread), SENT (Invisible Venue), First Thought Worst Thought: Collected Books 2011-2014 (Gauss PDF), a print and digital archive of 40 of their books produced in four years. Their fiction and essays have appeared or are forthcoming in WIRED, Lit Hub, Electric Literature, The Los Angeles Review of Books, The Kenyon Review, BOMB, Joyland, and Best American Experimental Writing 2020, with two poems in The New Concrete (Hayward Publishing, UK), an international anthology surveying the "rise of concrete poetry in the digital age."
​
From 2011-12 Comitta composed and conducted nine operas with SF Guerrilla Opera, a roving ensemble that gave voice to found texts at numerous sites around the Bay Area including the Civic Center BART station and the Berkeley Art Museum. In 2012 Comitta staged National Novel Writing Night Month (NaNoWriNiMo), a futurist improvement on the popular write-a-novel-in-a-month contest in which they wrote, designed and published novels written in a night. In 2015 The Royal Nonesuch Gallery in Oakland exhibited Comitta's solo show First Thought Worst Thought, an interactive archive containing the 40 books Comitta composed between 2011 and 2014 as well as accompanying works in video, drawing, digital printing, window decals, and an original computer program. In 2017 The Walker Art Center and The Southern Theater commissioned Comitta and the performance duo Fire Drill to stage Bill: The Musikill, an experimental musical, at Minneapolis's Momentum Dance Festival.
Comitta has exhibited books, texts and videos at MOCA Grand, Los Angeles; LUMA Foundation, Zürich; swissnex, San Francisco; Reed College, Portland; Robert Berman/E6 Gallery, San Francisco and The Kala Art Institute, Berkeley. They were a 2017 recipient of an Emergency Grant from the Foundation for Contemporary Art and a 2023 grant from the New York State Council for the Arts. Comitta has held residencies at the Bemis Center for Contemporary Art, the Bay Area Video Coalition, Little Paper Planes/Minnesota Street Project, and San Francisco Arts Education Project, where they conducted multimedia writing workshops with San Francisco youth.