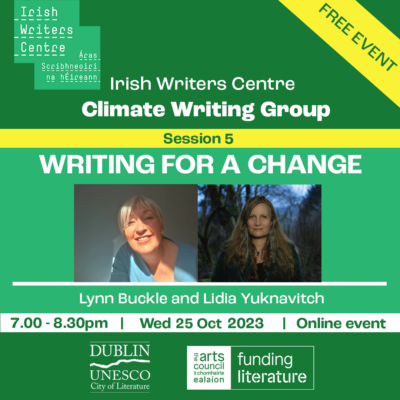 Irish Writers Centre Climate Writing Group: Writing for a Change 2023
Info
Date:
October 25, 2023
Time:
7.00pm-8.30pm
Location:
Online
Price:
Free
Register here
Please join us for the fifth session of Irish Writers Centre Climate Writing Group: Writing for a Change 2023. This is the fifth in a series of six online sessions made possible by Dublin UNESCO City of Literature. There is no fee for attending these sessions, they are a gift to all writers to take away and use in their work with the goal of exploring climate action through fiction and creative non-fiction. The host for the evening is author Lynn Buckle, who will be joined by award-winning author, Lidia Yuknavitch.
The Irish Writers Centre is supported by the Arts Council of Ireland.
---
What do we do in these sessions?
Each session lasts one and a half hours and can consist of the following:
Interview Guest Author – literary fiction, non-fiction, poetry, speculative fiction, essay, etc
Interview Guest NGO, politician, policy maker, or scientist involved in conservation, climate justice, ecology, politics, industry, law, agriculture, finance etc
Guest publishers and editors
Book reviews
Occasional writing exercises, tuition, and feedback. NB this is not a writing course.
Discussions
Networking
---
Who is it for?
Anyone with an interest in averting further climate change through poetry and prose
Anyone interested in writing fiction (all genres), non-fiction, poetry, memoir, creative non-fiction
You do NOT have to change the genre you write in, you can simply embed some positive climate solutions into your writing
You can be at any stage of your writing career, from beginner to published
Those with a background in climate change, or newcomers who want to know more
Booklovers
---
Host and Authors
Lynn Buckle
Lidia Yuknavitch
Biographies below. 
---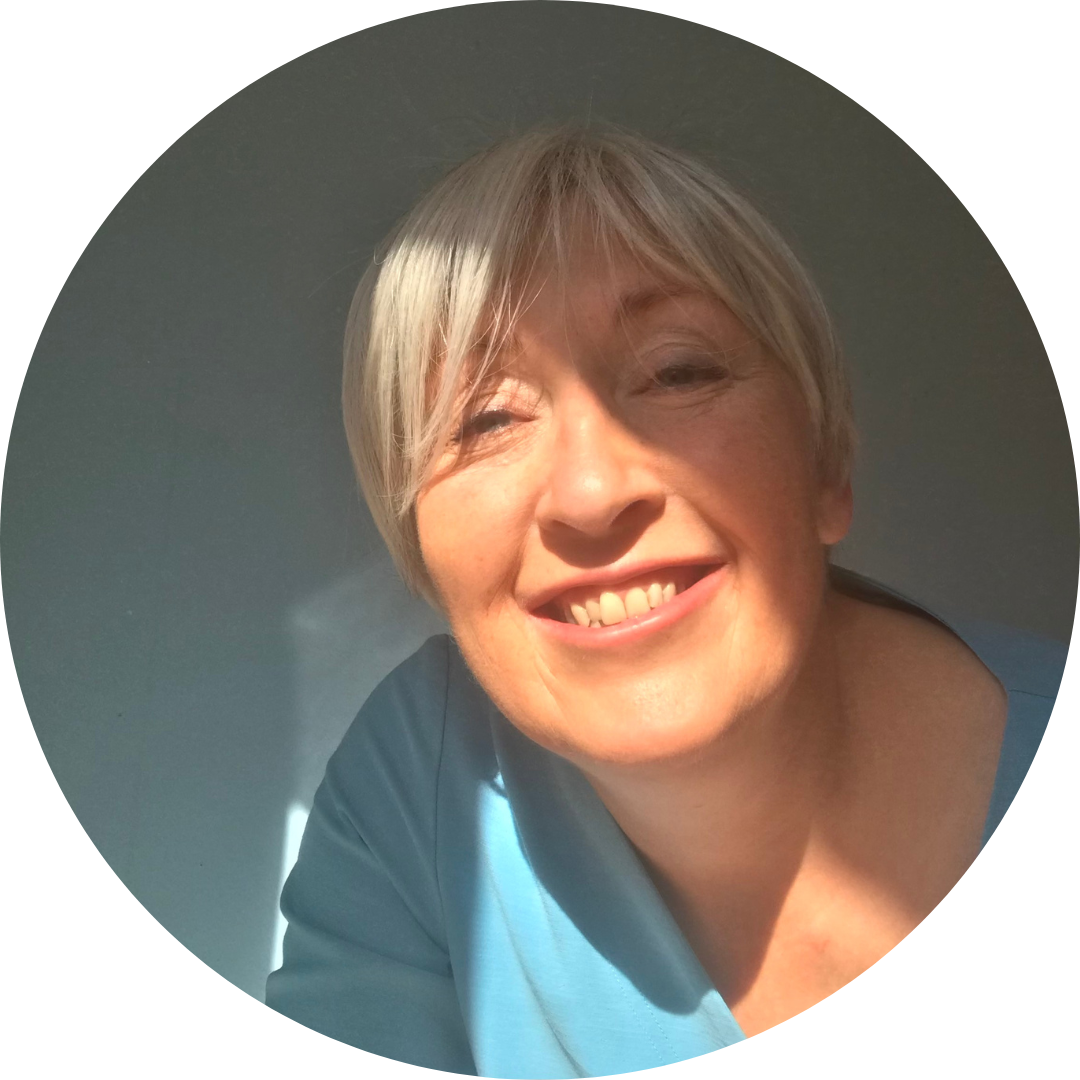 Lynn Buckle won the international Barbellion Prize for chronically ill and disabled authors in 2022 with her novel What Willow Says, published by époque press. It is a celebration of deafness, familial love, nature, and the language of trees. Other work includes her debut novel The Groundsmen, and literary articles and creative non-fiction for The Irish Times, Arachne Press, Massachusetts Review, Exacting Clam, Books Ireland Magazine, and various anthologies. She has taught in adult education for over 35 years, including creative writing and visual art. She represented Ireland as a UNESCO City of Literature Writer in Residence at the UK National Centre for Writing, is the judge of several writing competitions, and founder of the IWC Climate Writers Group.
---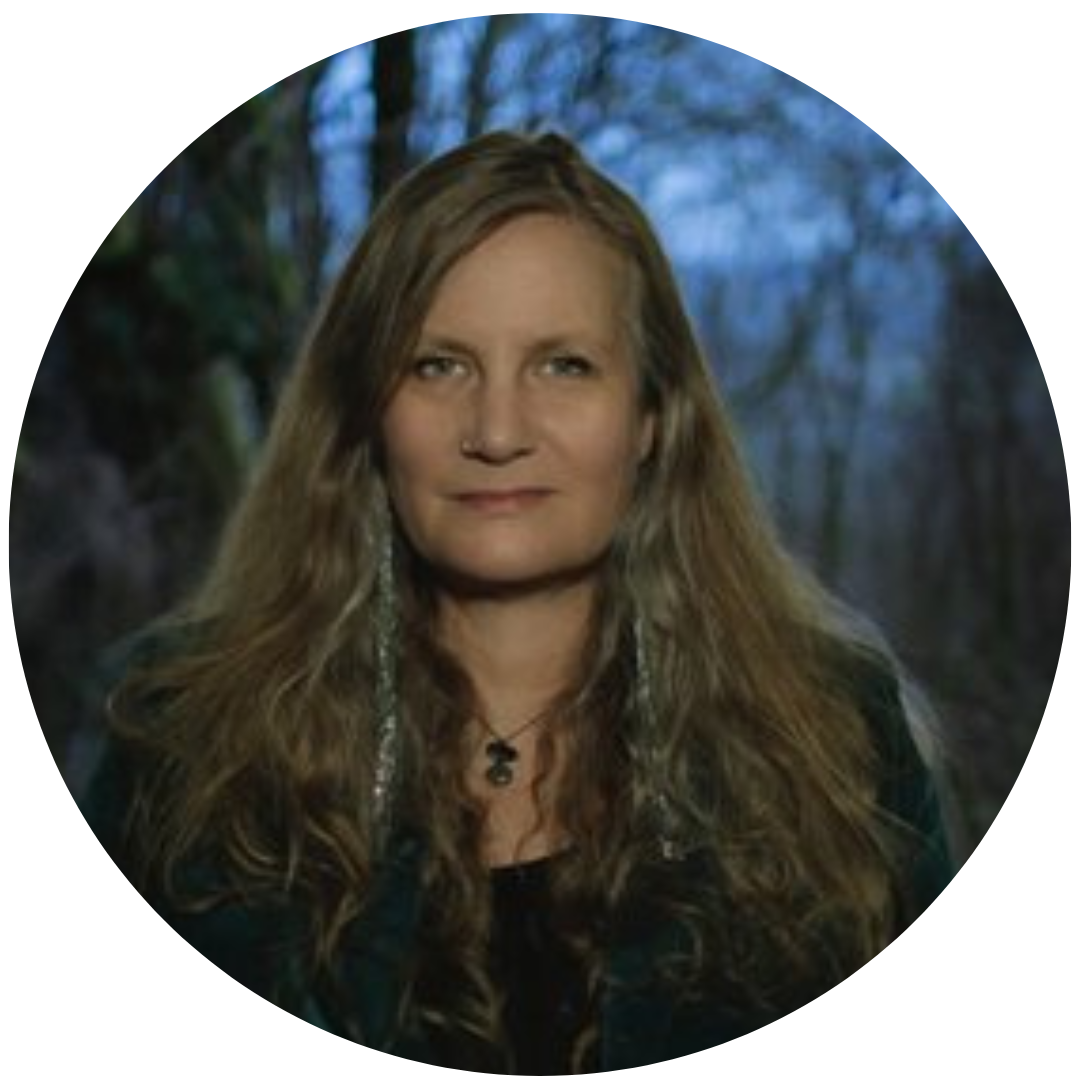 Lidia Yuknavitch is the award-winning author of Thrust, along with the widely acclaimed memoir The Chronology of Water and National Bestselling novels The Book of Joan and The Small Backs of Children. Other works include the novel Dora: A Headcase, the short story collection Verge, and a critical book on war and narrative, Allegories Of Violence. Her TED talk The Beauty of Being a Misfit led to a follow-up book The Misfit's Manifesto. She teaches creative writing in Portland Oregon and received a doctorate in Literature from the University of Oregon. She lives in Oregon with her husband Andy Mingo and their renaissance man son, Miles. She is a very good swimmer.
---