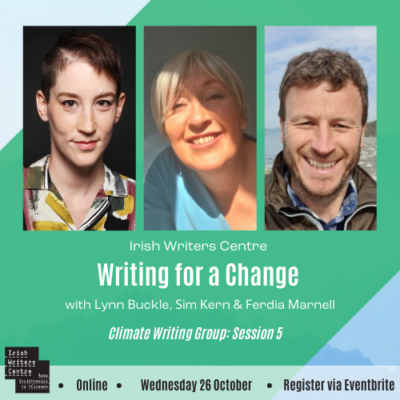 Irish Writers Centre Climate Writing Group: Writing for a Change. Session Five 2022
Info
Date:
October 26, 2022
Time:
7-8.30pm
Location:
Online
Price:
Free
Register here
Please join us for the fifth session of 2022 of the Irish Writers Centre Climate Writing Group: Writing for a Change. There is no fee for attending these sessions, they are a gift to all writers to take away and use in their work. Special guests include author and environmental journalist Sim Kern, and Ferdia Marnell from the Irish National Parks & Wildlife Service.
---
Lynn Buckle is a Deaf/hard-of-hearing author, artist, activist, and tutor. Her novel What Willow Says, published by époque press, won the international Barbellion Prize for ill and disabled authors in 2022. It is a celebration of deafness, nature, and the language of trees. Other work includes her debut novel The Groundsmen, several anthologies, and literary articles for The Irish Times and Books Ireland Magazine. She is the recipient of many literary awards, most recently as Ireland's representative as a UNESCO City of Literature Writer in Residence 2021 at the UK National Centre for Writing. She is the judge of several writing competitions and founder of the IWC Climate Writers' Group – part of the world-wide climate writers' movement, working for a positive future, affecting change through fiction.
Twitter @Lynn_Buckle
Insta     @lynnbuckle1
Web     https://lynnbuckle.wordpress.com/about/
Sim Kern is a Gulf Coast author and environmental journalist writing about climate change, queer identity, and social justice. Their debut horror novella, Depart, Depart!, was selected for the Honor List for the 2020 Otherwise Award. Their short story collection, Real Sugar is Hard to Find, was hailed in a starred review by Publishers Weekly as, "a searing, urgent, but still achingly tender work that will wow any reader of speculative fiction." Their YA Debut Seeds for the Swarm is out November 1st with Stelliform Press, and in fall of 2023, their alt-timeline anarchist-revolution novel, The Free People's Village, will be published by Levine Querido. As a journalist, they report on petrochemical polluters and drag space billionaires. Sim is one of the hosts of the Climate Fiction Book Club and they tweet @sim_kern.
Ferdia Marnell is a Zoologist in the Irish Government's National Parks & Wildlife Service. He manages the national survey and monitoring programmes for mammals, amphibians and reptiles, and provide the scientific advice to underpin policy for vertebrate conservation and management. Ferdia is a member of the Steering Group for the new European Mammal Atlas project, the IUCN's Otter Specialist Group and the UNEP/EUROBATS Advisory Committee. Managing projects on natterjack toads, pine martens, bats, otters, and hares. His scientific publications can be found at https://www.researchgate.net/profile/Ferdia-Marnell