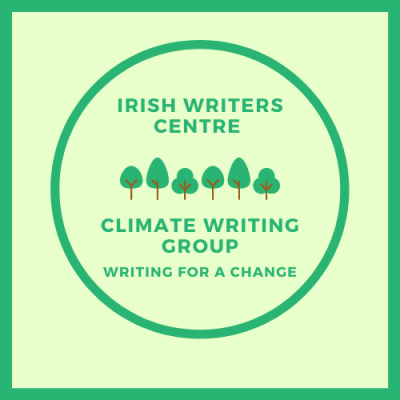 Irish Writers Centre Climate Writing Group: Writing for a Change. Session Four
Info
Date:
January 1, 2021
Time:
7.00pm - 9.00pm
Price:
Free: Registration Required
All Irish Writers Centre remote courses take place on Irish Standard Time (GMT)
Register here
Please join us for the fourth session of the Irish Writers Centre Climate Writing Group: Writing for a Change. There is no fee for attending these sessions, they are a gift to all writers to take away and use in their work.
---
The IWC is celebrating its 30th anniversary this year and we want to make an impact on our world going forward.
Writing for Change is a series of information and writing sessions for a disparate group of writers.
The overall theme is awareness of the planet and encouraging writers to promote positive climate solutions in their work.
Sessions will take place once a month for the duration of 2 hours and will be open to writers of every genre, not just those who write about climate change.
---
Lynn Buckle
Lynn Buckle is a qualified adult education tutor whose fiction and poetry reflect on social themes. Her debut novel The Groundsmen was published by époque press in 2018, followed by several anthologies and literary articles. Lynn's second novel What Willow Says was published by epoque press in May. In it, she explores nature, landscape, and place from a disability perspective. Lynn is part of the world-wide Climate Writers movement, seeking to affect change through her fiction. She currently represents Ireland as a UNESCO City of Literature Virtual Writer in Residence 2021 at the UK's National Centre for Writing.
---
Special Guests:
Khairani Barokka, born in Jakarta, is a writer, poet and artist in London. She's a practice-based researcher, whose work centres disability justice as anti-colonial praxis. Among her honours, she was an NYU Tisch Departmental Fellow, and Indonesia's first Writer-In-Residence at Vermont Studio Centre. She was Modern Poetry in Translation's Inaugural Poet-in-Residence and is currently Research Fellow at University of the Arts London's Decolonising Arts Institute, Associate Artist at the National Centre for Writing (Norwich, UK), and UK Associate Artist at Delfina Foundation. Her second poetry collection Ultimatum Orangutan was published this year by Nine Arches Press.
Denise Baden is a Professor of Sustainability at the University of Southampton. Denise runs the Green Stories Writing competitions that challenge writers to embed green solutions in their stories see www.greenstories.org.uk and, in addition to her academic publications, has recently published Habitat Man an eco-themed rom-com.
---