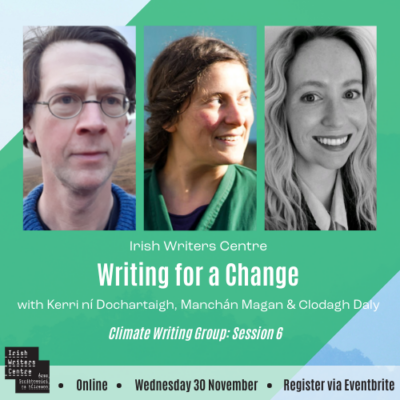 Irish Writers Centre Climate Writing Group: Writing for a Change. Session Six 2022
Info
Date:
November 30, 2022
Time:
7-8.30pm
Location:
Online
Price:
Free
Register here
This event is fully booked.
Please join us for the sixth session of 2022 of the Irish Writers Centre Climate Writing Group: Writing for a Change. There is no fee for attending these sessions, they are a gift to all writers to take away and use in their work. Special guest host for the evening is Kerri ní Dochartaigh, who will be joined by author Manchán Magan and Clodagh Daly of The Centre for Environmental Justice.
---
Kerri ní Dochartaigh is the author of Thin Places (Canongate, 2020) which was highly commended by the Wainwright Prize for Nature Writing 2021. She has written for the Guardian, the Irish Times, the BBC, Winter Papers, and others. Her second book, Cacophony of Bone, is forthcoming in May 2023.
Manchán Magan is a writer and documentary-maker. He has written books on his travels in Africa, India and South America and two novels. He writes occasionally for The Irish Times, reports on travel for various radio programmes, and has presented dozens of documentaries on issues of world culture for TG4, RTÉ & Travel Channel. His books Thirty-Two Words For Field and Tree Dogs, Banshee Fingers and Other Words For Nature are acclaimed best-sellers. His new book is Listen to the Land Speak. www.manchan.com
Clodagh Daly is the Manager of Community Law and Mediation's Centre for Environmental Justice. The Centre provides free legal advice, community education, and engages in policy and law reform on environmental justice issues. Prior to joining CLM, she worked with UCD's "Effective Nature Laws" research project and as campaign coordinator for "Climate Case Ireland." The case required the Government to increase the ambition of its climate policies in light of its legal obligations.