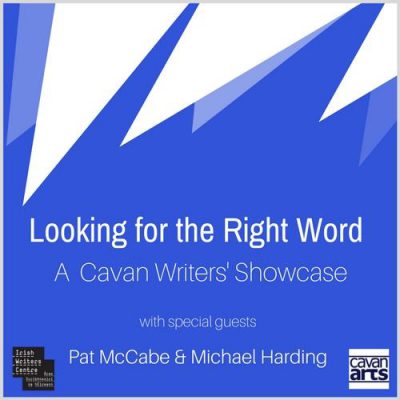 Looking for the Right Word* – A  Cavan Writers' Showcase 
Info
Date:
November 23, 2017
Date: Thursday 23 November
Time: 7pm – 9.45pm
Location: Irish Writers Centre, Dublin
Tickets: Free, book through Eventbrite
The Irish Writers Centre and Cavan Arts are delighted to present a showcase of Cavan literary talent as a culmination of the IWC's first Cavan Literary Programme.
Join us for an evening of readings from local Cavan and Dublin writers with MC Heather Brett as well as Philip Doherty of Gonzo Theatre in conversation with special guests Pat McCabe and Michael Harding. We are also delighted to have Cavan band The Strypes performing on the night!
The event is open to all and we hope our Dublin audience and professional members will give our Cavan visitors a warm welcome!
*The title line, 'looking for the right word', comes from a poem by writer Dermot Healy, who was raised in Cavan, and captures the essence of the writer's journey.