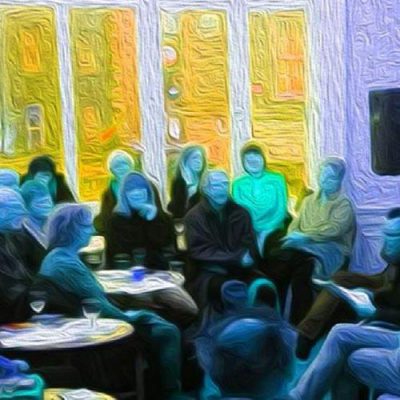 Info
Date:
October 13, 2015
Date: Tuesday 13 October
Time: 6.00 pm
Venue: Books Upstairs, 17 D'Olier Street, Dublin 2
Price: Free
GALA FLASH FICTION READING
Is é is splancfhicsean ann ná stíl litríochta, ficsean fíorghonta. Níltear ar aon fhocal faoina fhad. Bíonn uasteorainn 300 focal ag margaí áirithe splancfhicsin agus tá dreamanna eile ar dóigh leo go mbeadh míle focalinghlactha. Gabhann fréamhacha an splancfhicsin siar go dtí fabhalscéalta Aesóip (agus seans go bhfuair seisean iad ó shaighdiúirí Alastair Mhóira fuair san India iad) agus i measc lucht a chleachta sa domhan thiar tá Anton Chekhov, Franz Kafka, Ernest Hemingway, Ray Bradbury agus Kurt Vonnegut. Seo sampla ó Ernest Hemingway: 'Ar díol: bróga linbh. Níorcaitheadh riamh iad.' Sin an méid!
Mar chuid de IMRAM 2015, beidh mórléamh againn anocht ómhórscríbhneoirí na Gaeilge a coimisiúnaíodh don fhéile agus d'eagrán speisialta d'iris Books Ireland. Scéalta le Alan Titley, Caitríona Ní Chleirchín, Antain Mac Lochlainn, Orna Ní Choileáin agus Mícheál Ó Ruairc.
The Irish Writers Centre in association with Books Ireland and IMRAM is proud to present new flash fictions at a special gala reading by leading Irish language writers and winners of the Books Ireland Irish language Flash Fiction competition judged by poet and editor Aifric Mac Aodha.