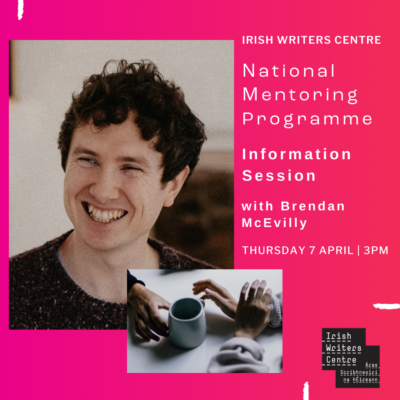 National Mentoring Programme Information Session
The Irish Writers Centre is taking on the stewardship of the National Mentoring Programme for literature after five successful years under Words Ireland management.

Brendan McEvilly has been managing the National Mentoring Programme for 5 years. In this online information session, he will be taking audiences through the application process, mentorship structures and more.
---
About the National Mentoring Programme
A minimum of 33 mentoring relationships are on offer through the 2022 National Mentoring Programme. Applications will be open from Friday 1 April to Monday 2nd May 2022. The opportunity is available to writers of:
literary fiction

creative non-fiction

children's / YA fiction

Poetry
Each mentorship consists of four meetings with an experienced writer over a period of approximately 6–8 months. The mentor will read your work in advance of each meeting, and will give feedback and advice at each meeting. They may also provide professional information and advice.
Selected mentees get to choose the writer they work with our growing panel of experienced, professional writers (based on availability).
If you would like to apply for the National Mentoring Programme for 2022 and are interested in learning more, then make sure to register your attendance.