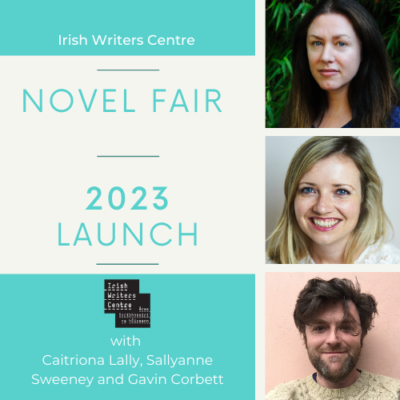 Info
Date:
April 21, 2022
Time:
7-8pm
Location:
Online
Price:
Free
Register here
Join us for the online launch of Novel Fair 2023 with guests Caitriona Lally, Sallyanne Sweeney and Gavin Corbett. During this panel discussion, chaired by IWC's Programming Officer Betty Stenson, you will be taken on a journey from self to shelf, from where the idea for a book begins, right through to the process of finding an agent, to publication, and beyond.
---
About the Panelists
Caitriona Lally's first novel, Eggshells, was one of the 2014 Irish Writers' Centre Novel Fair winners and was shortlisted for the 2015 Newcomer award at the Irish Book Awards, and the 2016 Kate O'Brien Debut Novel Award. She won the 2018 Rooney Prize for Irish Literature and was awarded a Lannan Literary Fellowship Award in 2019. Her second novel, Wunderland, was published in 2021.
Gavin Corbett has published three novels: Innocence (2003), This Is the Way (2013) and Green Glowing Skull (2015). This Is the Way was named 2013 Kerry Group Irish Novel of the Year. He has been writer-in-residence at Trinity College Dublin and UCD, and is currently the writer-in-residence at NUI Galway. He lives in Dublin.
Sallyanne Sweeney joined Mulcahy Associates in 2013 and is growing her list of authors and illustrators for children (picture books to Young Adult) and adults. Awards her clients have won or been shortlisted for include the British Book Awards, Irish Book Awards, Rooney Prize for Irish Literature, Waterstones Children's Book Prize, Sainsbury's Children's Book Awards and YA Book Prize. Passionate about the editorial side of agenting, Sallyanne enjoys both working with debuts and helping established authors take their careers to the next level.
---
Novel Fair
Novel Fair is an opportunity not to be missed, there have been countless success stories since it was established 11 years ago. This annual writing competition introduces up-and-coming writers to top publishers and literary agents as a prize for being one of the 12 Novel Fair winners. Giving novelists the opportunity to bypass the slush pile, they win the chance to pitch their ideas and send their synopsis and sample chapters directly to the inboxes of publishers and agents.
Since Novel Fair went online in 2021, there are few barriers to prevent writers worldwide from entering and getting the chance to pitch their novels to top publishers and agents.
Submissions to Novel Fair 2023 will be via Submittable and will open on Thursday 1 September 2022.
---
---