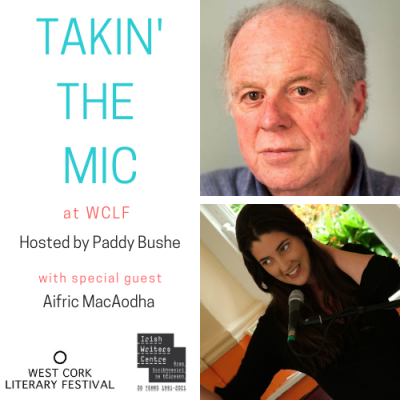 Online: Bilingual Takin' the Mic at WCLF with Paddy Bushe and Aifric MacAodha
Tuesday 22 June 2021
7-9pm
The Irish Writers Centre's Takin' the Mic is at the West Cork Literary Festival for a fantastic evening of poetry and prose in English and Irish. Hosted by poet Paddy Bushe, the evening will feature special guest poet Aifric MacAodha as well as an open mic with writers, poets and musicians. All welcome.
Tá Takin' the Mic ag Féile Liteartha Iarthar Chorcaí le hghaidh sár-oíche filíochta, focal labhartha agus grinn i mBéarla agus i nGaeilge. In éineacht le fear an tí, an file Paddy Bushe, beidh an file Aifric MacAodha ann mar aoi speisialta chomh maith le 'mic-oscailte' le haghaidh scríbhneoirí, filí agus ceoltóirí. Fáilte roimh chách!
Performers Registration (7 slots available for Irish language readers and 7 slots available for English or bilingual readers.)
About Paddy Bushe
Rugadh Paddy Bushe i mBaile Átha Cliath, agus tá cónaí air in Uíbh Ráthach i gCiarraí. Is file, eagarthóir agus aistritheoir é. Ghnóthaigh Gile na Gile (Coiscéim) duais Michael Hartnett 2006 agus ghnóthaigh On A Turning Wing duais Irish Time Poetry Now sa bhliain 2017. Is iad Peripheral Vision, bailiúchán Béarla, agus Second Sight, rogha dá chuid dánta Gaeilge lena chuid aistriúchán féin, iad araon foilsithe ag Dedalus sa bhliain 2020, na leabhair is déanaí uaidh. Is ball de Aosdána é.
Born in Dublin in 1948, Paddy Bushe lives in Kerry and is a poet, editor and translator in both Irish and English. He has published thirteen collections of poetry, and five books of translations into and from Irish. He edited the anthology Voices at the World's Edge: Irish Poets on Skellig Michael (Dedalus, 2010). He received the 2006 Michael Hartnett Poetry Award and the 2017 Irish Times Poetry Now Award. His most recent books are Peripheral Vision, a collection in English, and Second Sight, a selection of his poems in Irish with his own translations, which were published by Dedalus in 2020. He is a member of Aosdána.
About Aifric MacAodha
Tá Aifric Mac Aodha ag obair ina heagarthóir Gaeilge le Poetry Ireland Review, The Stinging Fly agus gorse. D'fhoilsigh An Sagart an chéad chnuasach filíochta léi, Gabháil Syrinx, sa bhliain 2010. Cuireadh dánta dá cuid i gcló ar irisí éagsúla, POETRY Young Irish Poets ina measc. Aistríodh a saothar go teangacha éagsúla, an Fhraincis, an Ghearmáinis, an Iodáilis, an Spáinnis agus an tSeicis san áireamh. Bhronn An Chomhairle Ealaíon mórchuid sparánachtaí uirthi. Is é Foreign News (The Gallery Press, 2016) an cnuasach is déanaí léi. Tá cónaí uirthi i mBaile Átha Cliath, áit a bhfuil sí ag obair ina heagarthóir cúnta leis an nGúm.
Aifric Mac Aodha is the Irish-language poetry editor of Poetry Ireland Review, gorse and The Stinging Fly. Her first poetry collection, Gabháil Syrinx (The Taking of Syrinx), was published by An Sagart in 2010 and her poetry has been published in various magazines and journals, including POETRY Young Irish Poets. Her work has been translated to many languages, including French, German, Italian, Spanish and Czech. She has been awarded several bursaries by The Arts Council. Her latest collection, Foreign News, with translations by David Wheatley,
House Rules
– Five mins per performer
– Slots are on a first come, first served basis
– Please note that the performers' list books up quickly, after that there is a waiting list.
– Donation tickets do not count as performance tickets.