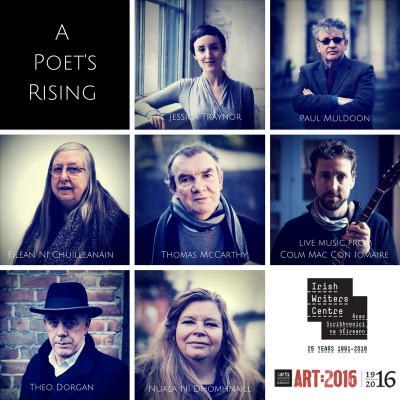 Poetry Day Ireland: A Poet's Rising – Film Screening
Thursday 27 April 2017
Times: 1pm, 3pm, 6pm
Free
To celebrate Poetry Day Ireland, the Irish Writings Centre will be screening our 1916 Centenary documentary A Poet's Rising
Commissioned by the Irish Writers Centre and funded by the Arts Council as part of ART: 2016, this 30 minute documentary, A Poet's Rising, sees six acclaimed Irish poets Theo Dorgan, Paul Muldoon, Thomas McCarthy, Eiléan Ní Chuilleanáin, Nuala Ní Dhomhnaill and Jessica Traynor bring some of the iconic people and places of 1916 to life with newly commissioned poems and original music from Colm Mac Con Iomaire. 
Each poet was tasked with considering the events of 1916 from the point of view of various individuals and to expand on their perspectives, embodying the atmosphere and tension of the era. The line-up includes Eiléan Ní Chuilleanáin with 'For Connolly', Paul Muldoon with 'Patrick Pearse: A Manifesto', Jessica Traynor with 'A Demonstration', a poem about Dr Kathleen Lynn, Nuala Ní Dhomhnaill with 'Íota an Bháis' about Michael Joseph O'Rahilly, Theo Dorgan with 'We Carried It To Here As Best We Could' about Elizabeth O'Farrell and the surrender, and Thomas McCarthy with 'Garden of Remembrance' focusing on the Fallen and the act of remembrance. The poets were filmed at locations associated with the Rising including the GPO, Moore Street, Liberty Hall and City Hall.
The documentary reveals the specially commissioned poems and includes interviews with the poets, highlighting their artistic processes and their attempts to unravel the complexities of 1916 through the medium of poetry.
A Poet's Rising App is also available to download and guide listeners around the city, soaking up the atmosphere and imagining the historic moments that inspired these poets.
>> Download the App now
Produced and directed by Pádraig Burke 
A Poet's Rising is an ART: 2016 Open Call National Project. 
For more information on Poetry Day Ireland or to find out about other poetry events around the city visit Poetry Ireland.