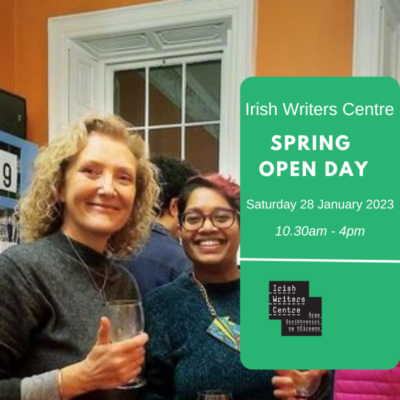 Info
Date:
January 28, 2023
Time:
10.30 am to 4.00 pm
Location:
Irish Writers Centre
Price:
Free
Sat 28 January 2023! | Free!
Save the date! Everyone is welcome to join us for free writing workshops, writing group sessions and lots of information on who we are and what we do! Here is just some of what we'll have on offer:
Free creative writing classes
Professional Development Information Session
Novel Fair Information Session
Join in with the Inkslingers and New Irish Communities, the open creative writing groups that meet on Saturdays at the Irish Writers Centre
Free teas, coffees and biscuits
Timetable:
From 10.30 – 11.00: Welcome! Tea, coffee and biscuits plus an informal chat about the work of the Irish Writers Centre
11.00 – 11.45: New Irish Communities with Jean O'Brien Register Here
Get a taster of this open creative writing group for non-native English speakers who come together every Saturday during seasonal terms.
11.00 – 11.45: Writing Taster with Stephen Walsh Register Here
12.00 – 13.00: Novel Fair Information Session and Q & A with Betty Stenson Register Here
This information session will give you all the tools you need to confidently submit your own entry to this renowned writing competition.
13.15 – 14.15: Presentation on Professional Development for Writers with Valerie Bistany Register Here
Find out all of the many and varied options available at the Centre to further your career as a writer.
13.30 – 15.00: Inkslingers Open Writing Group
The Inkslingers welcome newcomers interested in what happens at a writing group. No need to sign up in advance – the group welcomes walk-ins.
14.30 – 15.30: Fiction Writing Taster with Michéle Forbes Register Here