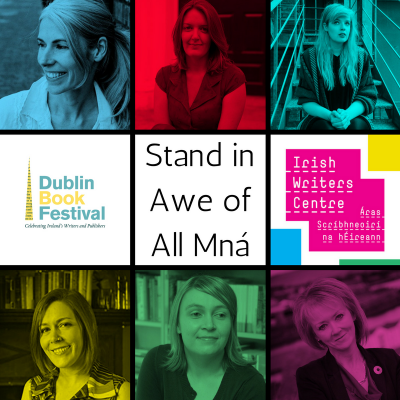 Stand in Awe of all Mná with Various Speakers
Info
Date:
November 4, 2017
Starts: Sat 4 Nov 2017
Time: 3.30pm – 6.30pm
Duration: 3 Hours
Each Session will be Approx 45 Mins with time allowed for Q&A.
Cost*: €20/€15 Members 
*The Panel Event and Open Forum are free sessions and tickets can be reserved via the Eventbrite links below. Spaces are limited so booking is essential.
'No woman writer wants to be overlooked and undervalued for being a woman; but few, it seems, wish to be defined solely by gender, or constrained by loyalties to it alone,'  Margaret Atwood.
As part of its Women in Literature series, the Irish Writers Centre presents Stand in Awe of All Mná, a half-day event focussing on women writers in the literature industry. The event will equip women writers with practical tools to develop their career while the Open Forum will provide space for writers to share their experiences and contribute to a discussion on gender in literature.
Seminar: The Business of Writing with Gráinne Clear
3.30PM – 4.30PM • 1 HOUR • €20/€15 MEMBERS
Learn how to be in control of the business side of your career and how to avoid the pitfalls. This session is about empowering writers and will look at the commercial side of writing including self-promotion on social media, negotiating fees and contracts, copyright, privacy, working the media circuit as well as the other favourable and fair conditions that all writers can expect when navigating their career. 
Panel Event: Working Your Own Career with Julieann Campbell, Felicity McCall and Freya McClements
4.30PM – 5.30PM • 1 HOUR • FREE EVENT • BOOK VIA EVENTBRITE
In the two short years since their inception, the Literary Ladies have established a reputation for supporting other artists and promoting writing through exciting, innovative literary events.Their events tend to encourage participation in, and engagement with, the arts in an area where there are often fewer opportunities than in larger cities. In this panel event they will describe their own evolution and  journey as a collaborative literary enterprise. You can expect to hear them discuss the various ways in which artists can be supported within their own communities, advice on finding your own gigs, the importance of connecting with other writers and how to work together to create opportunities of your own. 
Women and Writing – An Open Forum: Mia Gallagher in conversation with Sarah Maria Griffin 
5.30PM – 6.30PM • 1 HOUR • FREE EVENT • BOOK VIA EVENTBRITE
This open forum aims to look at where the gender equality conversation stands now and examines the profile of women in the industry by lifting the lid on the challenges, prejudices and biases that still exist. The discussion will start a conversation on women's experiences, both positive and negative, at events, festivals and within publishing.  This will offer attendees a collegiate opportunity to share stories and insight from a personal standpoint and from within specific areas of expertise. Following the discussion, we invite attendees to mingle over a glass of wine and to use the opportunity to meet new and old peers and colleagues.
Mia Gallagher is the author of two critically acclaimed novels: HellFire (Penguin Ireland, 2006), which received the Irish Tatler Literature Award, and Beautiful Pictures of the Lost Homeland (New Island, 2016), which was longlisted for the Republic of Consciousness Award. Her short fiction won the START award in 2005 and has been shortlisted for Hennessy, Fish and Trevor/Bowen Awards. Mia is the 2017 Farmleigh Writer-in-Residence and a contributing editor to the Stinging Fly. She is currently working on a story collection and a new novel, with the assistance of an Arts Council of Ireland bursary.
Gráinne Clear is the Publishing Manager and Art Director of Little Island and has been involved in all areas of publishing including editorial, PR, design, and marketing. She founded the children's radio programmes, 'Little Pages' and 'The Word' and is also a storyteller of Irish tales for adults and children.
Sarah Maria Griffin 'a first novel Spare and Found Parts was published by Greenwillow Books in October 2016 and will be in early 2018 by Titan. Her non-fiction has appeared in Buzzfeed, The Rumpus, Guts and Winter Pages. Her collection of essays about emigration, Not Lost, was published by New Island Press in 2013. She was the recipient of the European Science Fiction Awards, Chrysalis Award in 2017. She tweets at @griffski.
Stand in Awe of All Mná is part of Dublin Book Festival.
The title of this event was inspired by  Heartbreak, the spoken work poem from actor and writer, Emmet Kirwan.