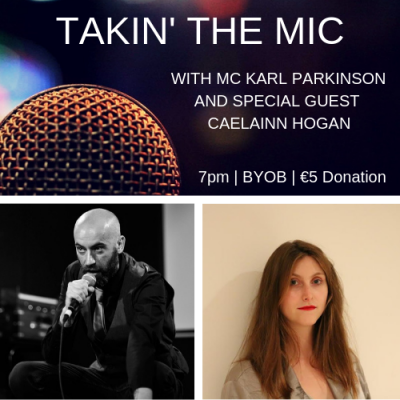 Takin' the Mic with MC Karl Parkinson and Special Guest Caelainn Hogan
Date: Friday 29 March 2019
Time: 7-9 pm
Suggested Donation: €5
Welcoming poets, prose writers, songwriters and musicians, comedians and anyone else who wants to have a go at our monthly open mic night. Guest MC on the night is Karl Parkinson and special guest performer is Caelainn Hogan.
Karl Parkinson is a writer from inner-city Dublin. The Blocks, his debut novel, was published to critical acclaim in 2016 by New Binary Press. In 2013, Wurmpress published his debut poetry collection, Litany of the City and Other Poems and his second poetry collection, Butterflies of a Bad Summer, was published by Salmon in 2016. His work has appeared in anthologies and has been published in the Irish Times and RTE Culture and the Dublin InQuirer, The Stinging Fly. Karl is one of Ireland's most acclaimed live literature performers and has read by invitation at festivals and events in Ireland, the UK, the US and Canada and has been broadcast on national TV and radio. 
Caelainn Hogan is a journalist from Dublin who has written for The New York Times Magazine, National Geographic, The New Yorker, VICE, The Dublin Review and others. Her first book comes out later this year.
– Five mins per performer
– BYOB
– Slots are on a first come, first served basis
– Performers should sign up in advance via Eventbrite (free!)