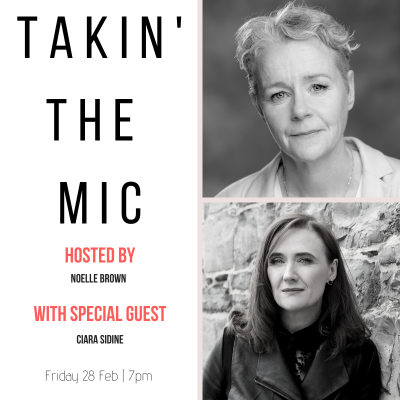 Takin' The Mic with Noelle Brown and Ciara Sidine
Info
Date:
February 20, 2020
Fri 28 February 2020
7pm – 9pm
Takin' the Mic returns for the first session of 2020! Join us on Friday 28 February for an evening of comedy, music, prose and poetry with MC Noelle Brown and special guest Ciara Sidine. 
Noelle Brown has spent the last 32 years working as a performer, writer, theatre-maker and director. She has written three plays. POSTSCRIPT, co-written with Michèle Forbes, toured all over Ireland and played at the Centre Cultural Irlandais Paris, at the Abbey Theatre (Peacock) and the London Irish Centre. She is currently developing a one woman, theatre conversation about Menopause, called The Ship. She co-presented Konenki (Menopause Unmasked) a charity event night in 2019 at the Sugar Club.
She is also a campaigner for Adoption Rights in Ireland, and is asking for the Irish State to exhume the mass graves at the former Mother and Baby Institutions throughout Ireland. 
She does regular stand-up gigs, with Women of Wit around Ireland, and is heading to London with them in March.
Ciara Sidine is a Dublin based singer/songwriter whose second album Unbroken Line was released to acclaim in 2017. Sidine's sound is inspired by the roots of American music and by her own Irish musical upbringing. Compared variously to Emmylou Harris, Maria McKee and, closer to home, Mary Black and Maura O'Connell, Ciara has received as much attention for her fine singing voice as for her melodies and poetic, emotionally resonant lyrics. She has appeared on Other Voices, at Celtic Connections and toured in Ireland and Holland.
Ciara is also well known in the Dublin literary scene, as a book publisher working with the Hachette group, and has worked with many of Ireland's leading writers and personalities over two decades. Ciara is currently working on her next album which explores women's voices from the roots musical canon.
House rules:
– Five mins per performer
– Slots are on a first come, first served basis
– Performers should sign up in advance via Eventbrite (free!)