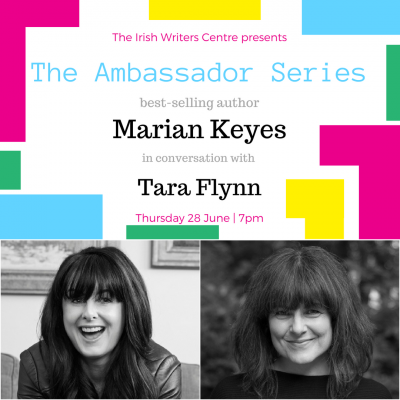 The Ambassador Series: Marian Keyes
Thursday 28 June 2018
7pm
Tickets: €25 through Eventbrite
Our Ambassador Series is designed to introduce audiences to the IWC ambassadors and fundraise for a key IWC area of development.*
In the first of our Ambassador Series we are delighted to host IWC ambassador and best-selling author Marian Keyes in conversation with Tara Flynn.
Marian Keyes has written 13 novels, translated into 36 languages, selling 40 million copies.  She was born in Limerick in 1963 and began writing in 1993. Her first novel, Watermelon, was published in Ireland in 1995 where it was an immediate success. Twelve novels and four non-fiction books have followed, most recently, The Break. The books deal variously with modern ailments, including addiction, depression, domestic violence, the glass ceiling and serious illness, but always written with compassion, humour and hope.
Tara Flynn works extensively as an actor and comedian in theatre, radio and TV in Ireland and the UK. Most recently she wrote and performed her one woman show Not A Funny Word to sell-out crowds at the Abbey Theatre's Peacock space. She came to international attention in 2013 for her satirical video Racist B&B, for which she was named Satirist of the Year at the Swift Satire Festival. She also co-wrote and appeared in the marriage equality campaign PSA Armagayddon with Kevin McGahern. Tara is the author of Irish bestseller You're Grand: the Irishwoman's Secret Guide to Life (Hachette Books Ireland 2014) and Giving Out Yards: the Art of Complaint, Irish Style (Hachette). She is a regular contributor to radio & TV discussion panels.
There will be a wine reception before the event.
*All proceeds from the event will go towards the development of the IWC online courses. The IWC is working towards developing an online creative writing strand to our education programme which will make our programme more inclusive and enable a more diverse audience to access our courses, particularly those who cannot access our building.