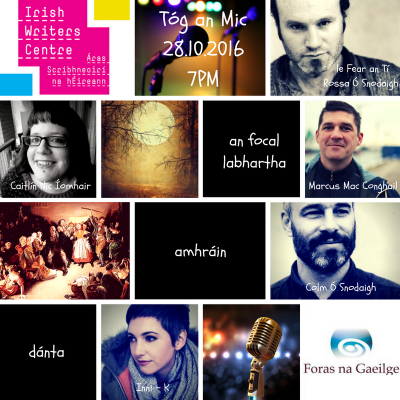 Tóg an Mic Samhain Spesialta
Info
Date:
October 28, 2016
Friday 28 October
7–9PM
BYOB | Suggested Donation €5
TÓG AN MIC
Bí linn do sár-oíche filíochta, focal labhartha, ceoil agus grinn. Ní bheadh a fhios agat céard a tharlódh i rith na h-ócáide speisialta Ghaeilge seo ag ceiliúradh Oíche Shamhna.
Rossa Ó Snodaigh a bhéas á cur i láthair, beidh Caitlín Nic ĺomhair, Inni-K, Marcus Mac Conghail agus Philip Cummins ina chuideachta agus beidh ceol againn ó Brian Hogan agus Colm Ó'Snodaigh ó Kíla.
Oíche 'mic-oscailte' í seo, mar sin beidh deis ag an lucht féachana an stáitse a thógáil agus a gcuid iarrachtaí fhéin a roinnt linn.
Táimid ag moladh síntiús 5 euro an duine agus is oíche BYOB atá ann. Buail isteach agus abair amach do chuid filíochta agus próis, haiki no luimneach. Bíodh gloine fíona agat ag éisteacht le focal labhartha agus le ceol den scoth ónar n-aíonna iontacha.
Sínigh suas linn via Eventbrite – áiteanna teoranta fós ar fáil.
TAKE THE MIC
​Join us for an evening of poetry, spoken word, music and comedy. Anything goes in this Takin the Mic Irish language Halloween Special.
Our host for the evening is Rossa Ó'Snodaigh​, who will be joined by Caitlín Nic Íomhair, Inni-K, Marcus Mac Conghail, Philip Cummins, with music from Brian Hogan and Colm Ó'Snodaigh from Kíla.
This is an open mic evening so there will also be opportunity for audience members to take to the stage and share their creative endeavours. The event is BYOB with a suggested €5 donation.
Come along and share your poetry or prose, haiku or limerick and enjoy glass of wine with the best of spoken word and music from our wonderful lineup.
Sign up via Eventbrite – limited slots available.