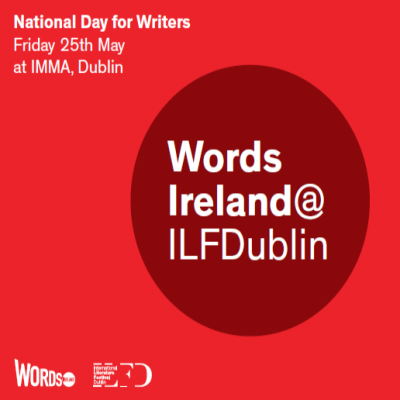 Words Ireland @ ILFDublin: A National Day for Writers
Date: Friday 25 May
Starts: 9.30am
Venue: IMMA, Dublin
Cost: €45 (early bird) / €55 (general admission). Price includes free lunch of sandwiches and drinks reception.
Words Ireland @ ILFDublin: A National Day for Writers is a one-day get together for professional and emerging writers working in all forms.
Words Ireland wants to build the ideal environment for writers to gather together, reflect on their creative and professional practice, catch up with industry leaders and be inspired.
As well as the writer-focused events, 40 literature organisations and lots of industry personnel will gather together to meet writers in the Great Hall at IMMA. Writers will have the opportunity to grab a free tea/coffee and sit down with the people and organisations who regularly offer writers work. There's also a chance for 10 selected writers to pitch to 10 experienced film directors in a speed-dating style session (see here for further details).
There are nine events to choose from on the day. Each is short and sweet, 50 minutes long. You'll get to choose the events that are right for you on the day, then everyone sits in on the final keynote event. The event will end with a drinks reception sponsored by Kinnegar Brewing!
Confirmed Exhibitors
Irish Writers Centre
Books Ireland
NCFA
Boundless and Bare
Poetry Ireland
UCD
Arts Council
Tangerine Magazine
Childrens book ireland
Big Smoke
ICLA comp
Little Island
Stinging Fly
Banshee
SCBWI
Museum of Irish Literature
Munster Literature Centre
Gill Books
Tramp Press
Dublin Book Festival
Literature Ireland
Salmon Press
Crannóg
Fingal Arts Office
Publishing Ireland
IrishWriters Union
Belfast Book Festival
Fiction at the Friary
Royal Irish Academy
Books Go Social
John O'Connor School
IMRAM
The History Press
The AFEPI
Hewitt School