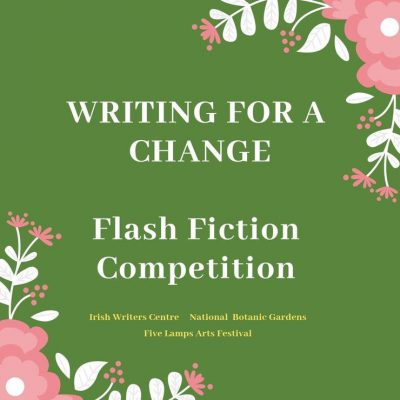 Writing for a Change: Flash Fiction Competition – Showcase Event
Date: Thur 4 April 2019
Time: 7.30pm
Location: National Botanic Gardens, Dublin 9
This is a free event, but a ticket is required. Book your ticket here.
The Irish Writers Centre organised a Flash Fiction and Creative Non-Fiction competition themed around Climate Change in partnership with the National Botanic Gardens and the Five Lamps Arts Festival, and is delighted to announce a showcase event, where winners will read their work alongside commissioned writers.
Join us for an evening of readings by the four winners: two in the Irish language, one over 30 years of age and one under, and two in the English language, one over 30 and one under. They will be joined by judges and commissioned writers Gavin Corbett, E. R. Murray and Orna Ní Choileáin.
This is a free event, but we would be very grateful if you could make a donation. Any donations will go towards making the Irish Writers Centre a greener and more sustainable organisation. For example, a €9 would ensure 100 plastic-free paper cups. Thank you in advance for this consideration.