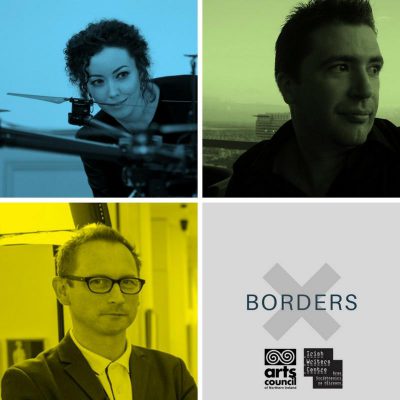 XBORDERS Seminars – Belfast & Derry
XBorders 
is an exciting new cross-border project bringing emerging writers together to explore and write about borders through fiction or non-fiction. The XBorders seminars are open to the public and aim to bring writers and the arts community into contact with experts working in the field of borders so that it can inform and inspire their creative work.
Read more about XBorders here
Dr. Declan Long
Saturday 6 May | 
Crescent Arts Belfast
Time: 1pm
Tickets: Free (book here)
Dr. Declan Long is Co-Director of the MA 'Art in the Contemporary World' and a lecturer in modern and contemporary art in the Faculty of Visual Culture at the National College of Art and Design. During 2013, he served as member of the judging panel for the Turner Prize.
The focus of his recent research has been the contemporary art practice of the 'Post-Troubles' period in Northern Ireland. This work has focused on the ways in which artists who have engaged with social change in Northern Ireland during this period have concentrated on issues, images, histories or locations that make evident anxieties in relation to the wider public rhetoric of progress. This engagement with the recent art of Northern Ireland has entailed extensive analysis of the broader predicament of contemporary art within an international context, taking account, therefore, of how 'local' issues pertinent to the aftermath of a long-running regional/national conflict can be situated in relation to wider cultural, social and economic shifts, most particularly those associated with the impact of 'globalisation'.
Dr. Mark Maguire & Eileen Murphy
Saturday 17 June | Verbal Arts Centre, Derry
Time: 1pm
Tickets: Free (book here)
Mark Maguire is Head of the Maynooth University Department of Anthropology. He twice held visiting professorships in Stanford University, California. He is author of several books on international migration and, more recently, has completed projects on border control, counterterrorism and policing. From 2010 to 2014, he edited the international journal Social Anthropology and is co-editor of The anthropology of security: perspectives from the frontline of policing, counterterrorism and border control (Pluto, 2014).
Eileen Murphy is a researcher with the Centre for Innovation Human Systems, School of Psychology, Trinity College Dublin. Her research focuses primarily on understanding the organisational impacts of security technologies and policies, with a particular emphasis on exploring the potential pathways of operationalisation and use by end-users and technology developers. This has included research projects as part of in FP7 and Horizon 2020, in the fields of border control, crisis management and critical infrastructure resilience.
 XBorders is supported by the Arts Council of Northern Ireland.