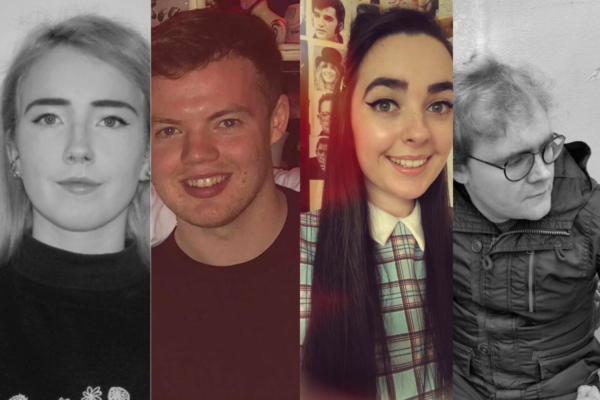 08 April, 2020
Announcing the 2020 IWC/Cúirt Young Writer Delegates
We're delighted to announce Niamh Elliot-Sherridan, Andrew Maguire, Tegan Forde and Martin Sykes as the 2020 IWC/Cúirt Young Writer Delegates.
Now in its third year, the IWC Young Writer Delegates Programme gives young writers an opportunity to immerse themselves in a literature festival, soak up the atmosphere and to contribute to it as active participants.
Cúirt International Festival of Literature will take place online from 23-25 April. During this period, the Young Writer Delegates will be supported by writer Elaine Feeney, who will act as a mentor.
You can keep up with the Young Writer Delegates on their Instagram page, and through the Irish Writers Centre and Cúirt social media channels.
 Niamh Elliott-Sheridan is an English and Human Development graduate, currently completing an MPhil in Gender and Women's Studies. She's passionate about feminism, mental health and the Arts, writing articles for multiple online magazines and The Irish Times Student Hub. She enjoys reading work by women writers, aiming to join them in publishing a fiction novel.
Tegan Forde is a writer from Co. Wicklow. Her Irish language pieces have strong ties with history and folklore, while her English pieces are heavily inspired by subcultures and social class. Occasionally these inspirations fuse together resulting in bizarre tales about punks from Inishturk, and goths with a passion for sean-nós
Andrew Maguire has an MA in Creative Writing from the Seamus Heaney Centre, Queen's University Belfast, and is employed at South West College, where he writes and edits Way Out West, which won best blog at the 2017 European Digital Communication Awards in Berlin. He is the chairperson for the Omagh Literary Festival, Honouring Benedict Kiely. His fiction has been published in journals including Blackbird, The Honest Ulsterman, The Bath Flash Fiction Anthology and Lunate and his non-fiction has been published with the Irish Times.
Martin Sykes is a writer from county Mayo. He came runner up in the 2019 Dalkey Creates Poetry Prize, and was shortlisted for the 2020 Trim Poetry Competition. His play has also been shortlisted for the 2020 Claremorris Fringe Festival. His poetry features in the latest issue of Boyne Berries