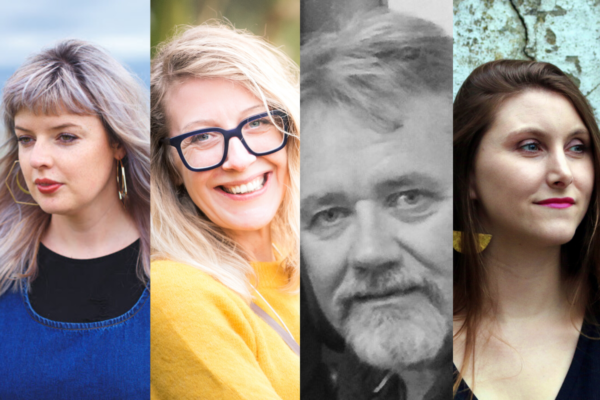 22 April, 2020
Announcing the Writers-in-their-Residence Recipients
We are delighted to announce that Caelainn Hogan, Cat Hogan, Sarah Maria Griffin and Gerard Beirne have been selected for our Writer-In-Their-Residence scheme. These four writers will receive financial support while they develop an existing work in process.
These are exceptional times, presenting arduous conditions for artists who are faced with the pressure to create, at a time where creating feels impossible. Over the next few weeks, Caelainn, Sarah, Cat and Gerard will be documenting the particular challenges of writing during a pandemic. You can follow their journey on Twitter, Facebook and Instagram where they'll be using the hashtag #WritersInTheirResidence.
About the writers
Caelainn Hogan is a writer from Dublin. Her first book Republic of Shame explores the ongoing legacy of Ireland's religious-run institutions. Her work features in The New York Times Magazine, National Geographic, The Guardian, The Dublin Review, The Stinging Fly and others.
Cat Hogan is an award-nominated Irish Novelist and screenwriter from Co. Wexford. She has published two fiction novels, They All Fall Down (2016) and the Bord Gais Energy nominated Crime Fiction of the Year Novel, There Was A Crooked Man (2017). She is represented by Curtis Brown Literary Agency.
Gerard Beirne has published 6 books of fiction and poetry. He has been shortlisted for the Kerry Group Irish Fiction Award, Bord Gais Irish Book Awards, and the Danuta Gleed Literary Award. He lectures on the BA Writing and Literature Program, IT Sligo. He is Founder/Editor of The Irish Literary Times.
Sarah Maria Griffin is a writer from Dublin. Her most recent novel is Other Words For Smoke, which won the Irish Book Award for Young Adult Fiction in 2019. She was the writer in residence at Maynooth University in 2017/18, and in the Dun Laoghaire Library in 2018/19. She tweets @griffski.
The Irish Writers Centre is Ireland's national resource centre for Irish writers and Irish writing. Have a look through our website at some of the opportunities and writing courses we have on offer.