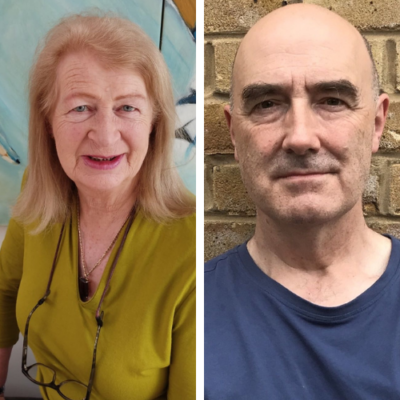 New Irish Communities | Autumn 2022 Weekend Sessions
Info
Date: September 24, 2022
Time: 11.00am - 1.00pm
Duration: 10 Weeks
Level: Beginner | Emerging |
Cost: €5 (€3 Members / €0 Unwaged)
All Irish Writers Centre remote courses take place on Irish Standard Time (GMT)
Course Overview:
Join seasoned facilitators Mark Granier and Jean O'Brien every Saturday for two hours of creative writing exercises with feedback on your work. Share your life experiences through new pieces of poetry or prose – and do it well in English. This course is perfect for non-native English speakers with an interest in creative writing. Some proficiency in English is recommended.
---
Schedule:
Saturday 24 September: Jean O'Brien
Saturday 1 October: Mark Granier
Saturday 8 October: No NIC Session
Saturday 15 October Mark Granier
Saturday 22 October: Jean O'Brien
Saturday 29 October: Jean O'Brien
Saturday 5 November: Mark Granier
Saturday 12 November: Mark Granier
Saturday 19 November: Jean O'Brien
Saturday 26 November: Mark Granier
Saturday 3 December: Jean O'Brien
---
Jean O'Brien is an award-winning poet with an M.Phil in Creative Writing from Trinity College Dublin. She is vastly experienced as a workshop facilitator and has six books to her name. Her latest collection, Stars Burn Regardless, was published in spring 2022. Her awards include the Fish International, the Arvon International and a Katherine and Patrick Kavanagh Fellowship in 2017. More at www.jeanobrienpoet.ie.
---
Mark Granier is a poet and photographer based in Bray, Co Wicklow. He has published five poetry collections, the most recent being Ghostlight: New & Selected Poems (Salmon Poetry, 2017). His awards include the Vincent Buckley Poetry Prize and two Patrick and Katherine Kavanagh Poetry Fellowships. He has an MA in Poetry/Creative Writing and has taught for University College Dublin's Lifelong Learning department for many years.
---
This is an Irish Writers Centre initiative made possible with funding from
Dublin City Council Arts Office.
---