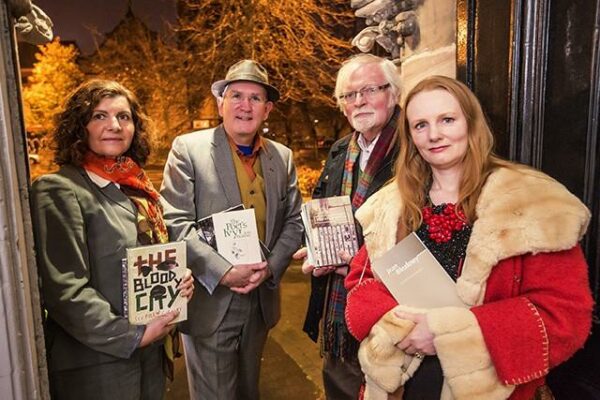 16 November, 2016
Irish Writers Centre launches Northern Ireland Programme
Image: Pictured at the programme launch are: Valerie Bistany, Irish Writers Centre, Damian Smyth, Arts Council of Northern Ireland, and writers Jack Harte and Martin Devlin.
The Irish Writers Centre (IWC), with support from the Arts Council of Northern Ireland's National Lottery funding, is extending its programming into Northern Ireland with a series of specialized courses and residentials in Belfast, Derry, Fermanagh and Tyrone. The prestigious Dublin-based institution is also offering 20 free professional memberships to local writers. 
The IWC, which supports and promotes writers at all stages of their development, announced the details at a special event, hosted at the Crescent Arts Centre, on Wednesday evening.
The information session was attended by writers from across Northern Ireland and provided an in-depth look at the services and resources that the Centre can offer emerging and professional writers, such as workshops, networking opportunities and training courses.
Upcoming events include, Mindshift: The Connected Writer at The Crescent Arts Centre on 19th November, an event for writers wishing to raise their public profile. While crime fiction writer Declan Burke will be hosting a writing course at Ranfurly House on 3rd December, revealing the critical elements needed to create a memorable mystery.
Damian Smyth, Head of Literature and Drama, Arts Council of Northern Ireland, commented:
"The Irish Writers Centre is already a flagship resource for writers across the island of Ireland, providing quality training and development opportunities for those at all stages of their career. It's first dedicated programme of workshops, training days and residencies will stretch to venues across Northern Ireland, with opportunities for writers of all disciplines to get involved."
Valerie Bistany, Director of the Irish Writers Centre, commented:
"The Irish Writers Centre is delighted, with the Arts Council of Northern Ireland's support, to offer a bespoke literary programme for Northern writers, with a specific emphasis on professional development.   We are inviting Northern writers to connect and engage with us, and form part of an all-island writers' community.
"To that end, we are offering professional Northern Irish writers 20 free memberships for 2017 on a first-come first-serve basis (pending eligibility), two dedicated Cill Rialaig residencies and a subsidy scheme to avail our mentoring scheme. Sign up for our newsletter for information on how to apply."
The Irish Writers Centre is a national resource for literature. It runs a diverse programme of writing courses and workshops led by established writers across a range of forms and genres, including screen-writing, memoir, poetry, playwriting, short-stories and the novel. In addition, the Centre offers a variety of seminars, lectures, events and readings all related to the art of writing and has welcomed many award-winning writers through its doors, including Nobel, Costa, Man Booker & IMPAC winners.