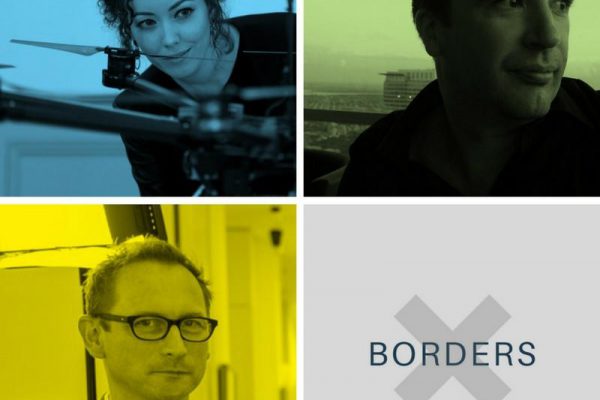 25 April, 2017
Irish Writers Join Experts to Tackle Borders at Home and Abroad
The Irish Writers Centre has announced the 18 participants for its newest programme, XBorders, an innovative new cross-border project bringing emerging writers together to explore and write about borders through fiction or non-fiction.  
With art critic, lecturer and former Turner Prize judge Dr Declan Long, the writers will explore contemporary art practice of the 'Post-Troubles' period in Northern Ireland and the ways in which this work has engaged with social change in Northern Ireland.
International borders will be explored with anthropologist and border security expert Dr Mark Maguire whose research focuses on international migration, biometric security, counter-terrorism and border control. The writers will be also meet with Eileen Murphy a researcher with the Centre for Innovation Human Systems, School of Psychology, Trinity College Dublin who will explore the future of biometric border technologies and policies.
As fact increasingly moves closer to the fictional worlds of Margaret Atwood's A Handmaid's Tale and Orwell's 1984, Valerie Bistany of the Irish Writers Centre explained:
"Ireland as an island has a long and complex relationship with borders which has been the subject of much great Irish writing. Writing is a powerful cultural force and we wanted to bring writers together to explore the idea of our national borders, both literal and metaphorical.  Whether it be migration, the Troubles, Brexit or interpersonal boundaries, borders are one of the biggest cultural and social issues at the moment – we wanted to help writers to tap into this rich mine of ideas to address this in their writing."
Working with Belfast-based writer Maria McManus and Managing Editor of Blackstaff Press Patsy Horton, the 18 participants, across six nationalities, taking part in the programme come from across Ireland and Europe. At the end of the process, the writers will produce feature length pieces which will be published on a number of platforms including In/Print journal, an arts journal published by the Dublin School of Creative Arts at Dublin Institute of Technology.
The Irish Writers Centre is supported by National Lottery funding through the Arts Council of Northern Ireland.  Head of Literature, Dr Damian Smyth, commented,
"Our most talented emerging writers deserve meaningful, valuable development opportunities and the full list of writers assembled by IWC on the XBorders initiative represents a game-changing moment for each of the participants. Of course, the Arts Council is delighted to support a public platform for exchange, challenge and the showcasing of new writing from new writers."
The selected participants are;
Fiona O'Rourke
Freya McClements
Donal O'Hagan
Özgecan Kesici
Rachel Andrews
Martin Tyrrell
Charleen Hurtubise
Csilla Toldy
Reggie Chamberlain-King
Michelle Gallen
Margo Gorman
Tamara O'Connell
Mari Maxwell
Sean Mackel
Barbara Lovric
Pádraig Ó Meiscill
Nandi Jola
Marie Gethins
Seminar dates – book tickets here
Saturday 6 May, 1pm: Dr Declan Long, Crescent Arts Centre, Belfast
Saturday 17 June, 1pm: Dr Mark Maguire & Eileen Murphy, Verbal Arts Centre, Derry
Notes for the Editor:
The Irish Writers Centre is the national resource centre for Irish literature. The IWC supports and promotes writers at all stages of their development, and runs a diverse programme of writing courses and workshops led by established writers across a range of forms and genres. Last year marked the Centre's 25th anniversary which was celebrated through significant projects including A Poet's Rising and the newly released anthology Beyond the Centre with New Island Books (November, 2016). The IWC has welcomed many award-winning writers through its doors, including Nobel, Costa, Man Booker & IMPAC winners.
In its first year, the Irish Writers Centre's Northern Ireland programme has rolled out its courses and professional development programme with an aim to bring our services to the north and to connect together writers from across the island.
For press enquiries contact Kate Cunningham, Communications & Events Officer, Irish Writers Centre
t: +353 (0)1 872 1302 / 087 259 8026 | e: events@writerscentre.ie