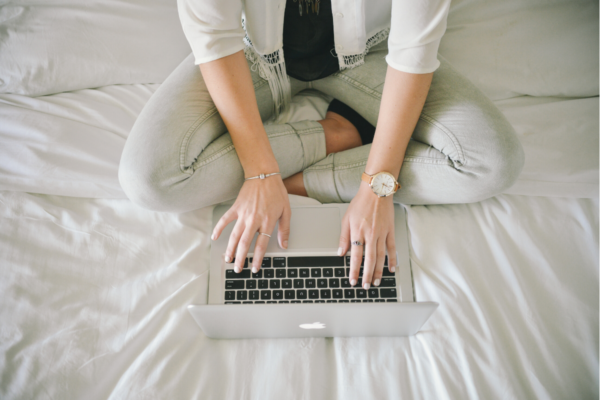 19 March, 2020
Online Learning at the Irish Writers Centre
New Opportunities for Remote Learning
We're happy to announce that during this period of closure, we will be offering remote learning opportunities for those looking to explore creative writing at home.
Remote learning allows you to enjoy live interaction with a trusted writing teacher via weekly online courses. This might just be the time to get inspired, hone your writing skills and receive feedback on your work.
By signing up for an online course, you are helping the Irish Writers Centre continue to deliver our services through our education programme, as well as providing vital paid employment to freelance writers.
As Ireland's national resource organisation for Irish writers and Irish writing, our staff has been working to continue providing our services to writers over this period. If you are a professional writer looking to learn more about the resources and supports that are available to you during, here is some information that might be useful for you.
Keep an eye on our website in the coming days as we continue to announce more online courses.
Creative Non-Fiction With Caelainn Hogan
Caelainn Hogan is a writer and journalist with work published in The New York Times Magazine, National Geographic, The New Yorker, Harper's Magazine, VICE, The Guardian, The Dublin Review and others.  Her book Republic of Shame was published in September 2019 by Penguin Ireland and received outstanding reviews. She'll be taking her Creative Non-Fiction course online starting Thursday 19 March at 6.30pm.
6-Week Virtual Starter Kit with Tanya Farrelly
Tanya Farrelly is the author of three books: a short fiction collection When Black Dogs Sing, which was longlisted for the Edge Hill Short Story Prize and named winner of the Kate O' Brien Award 2017, and two psychological thrillers: The Girl Behind the Lens and When Your Eyes Close (Harper Collins), both Amazon bestsellers. She'll be taking her Creative Writing Starter Kit online starting Wednesday 25 March at 2pm.
Into Poetry: A Six Week Poetry Course with Enda Wyley

Enda Wyley is an award-winning Irish poet and teacher. She has over 20 years experience of teaching poetry and has published six collections of poetry. Her work has been widely broadcast and anthologised and her most recent book of poetry is The Painter on his Bike, Dedalus Press, 2019. She'll be taking her Poetry Course online starting Tuesday 31 March at 2pm.