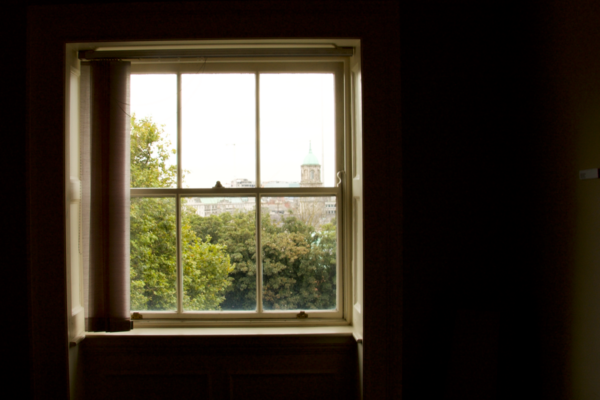 16 August, 2023
Opportunities and Competitions August 2023
Photo credit: A view across towards the Rotunda Hospital and the Garden of Remembrance out of the top floor of the Irish Writers Centre at no. 19 Parnell Square, taken by our Communications and Marketing Officer Jo Morton. 
Each month we update our Competitions & Submissions page, along with our Bursaries & Funding, to ensure that we are connecting our writers with the best upcoming opportunities. Here are a few deadlines we wanted to highlight this August.
---
Submission Opportunities:
Deadline: 25th August 2023
Druid are Ireland's foremost theatre company and they are accepting submissions of new plays from now until the 25th of August. Selected scripts are read as part of Druid Debuts, their annual series of rehearsed readings of new plays, with a view to further development.
This is definitely an opportunity that is not to be missed. Make sure to read the guidelines on their website before submitting!
---
Deadline: 10th September 2023
With support from Kildare County Council's Brigid 1500 programme, Blueway Art Studio are announcing an open call from 10th July to 10th September 2023 inviting submissions of writing for inclusion in the Little Book of Brigid 1500.
This projects looks to celebrate Brigid as the female force in ordinary lives, in our past and living present, created using texts selected from this Open Call for submissions. The book will be entirely handprinted through letterpress and printmaking. Each letter is composed upside down and backwards and set by hand using vintage metal type. Each poem or verse is accompanied by hand-printed illustrations.
This opportunity is one of a kind. You can find more info on their website.
---
Competitions:
Deadline: 1st September 2023
The V.S. Pritchett Short Story Prize is an annual award for unpublished short stories between 2000 to 4000 words in length. The winner will receive £1,000 and their entry will be published in Prospect magazine and the RSL Review.
This very prestigious prize is run by the Royal Society of Literature and entry only costs £7.50 so definitely make sure to get your submissions in!
---
Deadline: 15th September 2023 
For €10 you can enter three poems and with prizes of €1000 for first place, €250 for second places and €100 for third place it's worth a shot. They accept entries in English and in Irish and there's no set theme. Poems can have a maximum of 40 lines.
---
Deadline: 31st October 2023 
This competition began in 2006 and has proved to be a brilliant launchpad for writers at the earlier stages of their careers. It also offers a significant prize of £2,000 for the winning story. Additionally, each of the two runners-up will receive a prize of £250.
The maximum word count for entries is 3,000 words and entry costs £10.
---
Residency Opportunities:
Deadline: 1st October 2023
The writer Paul McVeigh in association with a whole heap of supporting organisations and other writers has organised this really wonderful residency which will take place from Sunday November 19th until Sunday November 26th 2023. There are quite literally too many aspects of this opportunity to list out from 1-to-1's with some of the best writers in the north of Ireland including Wendy Erskine and Jan Carson to a week long stay in the Harrison Hotel in Belfast.
There is also an at home residency on offer so make sure that you apply even if you won't be able to get away for the week!
You can find out more information and exactly how to apply on their website.
---
Performance Opportunities:
Chime Culture Night Open Mic event, Literature Through Sound & Sign, an ISL interpreted event
Deadline: RSVP ASAP
This opportunity is specifically for writers who are hard of hearing, D/deaf, have tinnitus or cochlear implant.
On the 22nd of September, as part of Culture Night 2023, Chime – Ireland's national charity for deafness and hearing loss – are hosting a night of literature, poetry, and storytelling featuring award-winning authors and an open mic for 'own voices' writers.
The event will take place at Chime, 35 Frederick Street North, Dublin.
Contact lynn.buckle@chime.ie or text 086 1684804 asap to reserve your spot to perform in the open mic!
---
Please get in touch with Arts Administrative Assistant Tom Jordan at tom@irishwriterscentre.ie if your organisation has a  competition, submission, bursary or funding opportunity for writers that you would like us to include in our monthly round-up blog post.