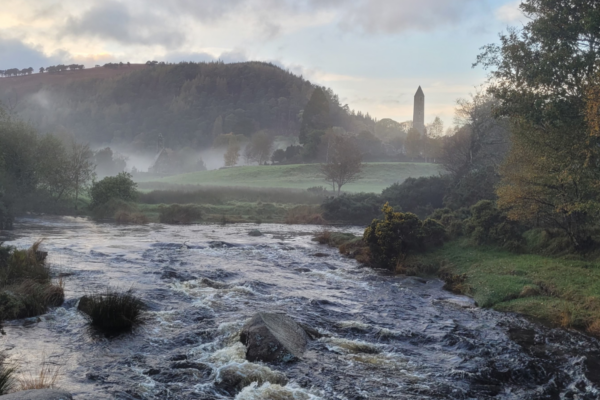 01 November, 2023
Opportunities and Competitions November 2023
Photo credit: A view of Glendalough taken by our Arts Administrative Assistant Tom
Each month we update our Competitions, Submissions & Opportunities webpage, along with our Bursaries & Funding, to ensure that we are connecting our writers with the best upcoming opportunities. Here are a few deadlines we wanted to highlight this November.
---
Submissions:
Deadline: 28th November 2023
The Stinging Fly has been at the forefront of the Irish literary scene since it launched all the way back in 1998. They publish two editions every year with a focus on new writing. They will next be open for general submissions from Monday November 13th until midnight Irish time on Tuesday November 28th. Submissions received during this period will be read for their Summer 2024 issue.
---
Deadline: 30th November 2023
This storied and prestigious British literary periodical is open for submissions from the 1st to the 30th of November. They accept Short Fiction, Non-Fiction and Poetry. Short Fiction should be less than 4000 words in length. Non- Fiction pieces should be between 800 and 2000 words. Poems should be no longer than 40 lines.
---
Competitions:
Deadline: 30th November 2023
The Munster Literature Centre are now accepting submissions to the Gregory O'Donoghue International Poetry Competition. It costs €7 to enter one poem or €30 to enter five poems. There is a line limit of 40 lines per poem and there is no limit on style or subject.
All winners and runners up will be published in the MLC's literary journal Southword and there is quite a large prize purse on offer with €2000 up for grab as the first prize.
IWC Course Facilitator Mary O'Donnell has recently been announced as this year's judge.
---
Deadline: 31st December 2023
With a 1st prize of €6000 and three runner up prizes of €1000, the Moth poetry prize is one of the biggest prizes in the world for a single unpublished poem. And if that isn't enough of a draw, the four shortlisted poems will appear in the Irish Times online.
There is no line limit and the poems can be on any subject. It costs €15 to enter one poem. This prestigious prize has been judged in the past by the likes of Nick Laird, Claudia Rankine and Nobel Laureate Louise Glück.
---
Deadline: 29th January 2024
There are three categories for the Cúirt New Writing Prize: poetry, short fiction, and short fiction and poetry in Irish.
The winner in each category will be awarded a €500 cash prize as well as the opportunity to perform at the Cúirt International Festival of Literature in April 2024.
The judges for this year are Sara Baume for short fiction, Elaine Feeney for poetry and Doireann Ní Ghríofa for Irish language poetry and short fiction.
---
Opportunities:
Deadline: 7th November 2023
FRINGE LAB is currently accepting applications for their Break New Ground Bursary, which will support an artist who has not led a project at Dublin Fringe Festival before, towards developing an ambitious new idea for live performance.
This bursary will provide tailored support towards the creation of a project for a future Dublin Fringe Festival debut with a €4750 bursary, a €750 mentorship allocation and in-kind supports to the value of €2000 including one-on-one industry mentoring, network-building, studio space, financial advice and a set of supports from the Dublin Fringe Festival team.
This opportunity looks brilliant but do note that there is quite a long application process and the deadline is coming up quickly.
---
Irish Writers Centre Opportunities:
Deadline: Wednesday 8th November at 5:00pm
The IWC will provide 40 bursaries for beginner and emerging writers. These bursaries will enable writers to develop their skills through funded places at Irish Writers Centre creative writing courses, and open up access to course entry by subsidising costs to individuals who may not otherwise be able to take a course. Each awardee will receive course credit worth €165 towards a course at the IWC.
You can find out more information on how to apply here.
---
Deadline: Wednesday 8th November at 5:00pm
The IWC's membership scheme connects our community of writers from across the island through a number of member benefits, including access to advice, opportunities, and other supports. The membership also includes up to 20% discounts on events, courses and Novel Fair submissions.
Under this year's Membership Support Scheme, we are offering 10 free Associate Memberships and 10 free Professional Memberships for eligible writers, each valid for one year.
You can find out more information on how to apply here.
---
Deadline: Wednesday 8th November at 5:00pm
The IWC One-to-One Mentoring scheme offers an opportunity for writers to develop their work under expert guidance, drawing on the support of a professional to bring their writing to the next level.
The IWC will provide 30 emerging and professional writers from or based in Northern Ireland with one free 1.5 hour mentoring session, up to the value of €275. This mentorship includes reading up to 10,000 words of prose or up to 240 lines of poetry in advance by an experienced mentor from our One-to-One Mentoring panel, along with written feedback in the form of a 300-word report on their work.
You can find out more information on how to apply here.
---
Please get in touch with Administrative Assistant Tom Jordan at tom@irishwriterscentre.ie if your organisation has a  competition, submission, bursary or funding opportunity for writers that you would like us to include in our monthly round-up blog post.