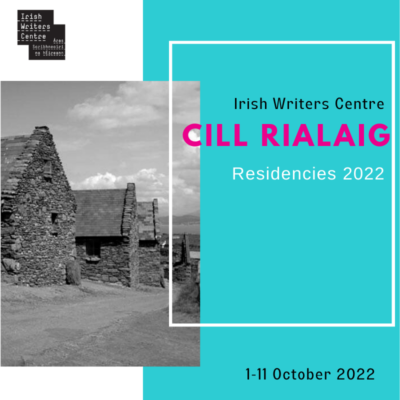 Residencies, Retreats & Opportunities
Cill Rialaig: Residencies 2022
Info
Date:
October 1 – October 11, 2022
Deadline: (Extended)
July 13, 2022 at 5:00pm
For over 30 years the IWC has acknowledged and uplifted those with the courage and compulsion to write by providing opportunities for them to develop their skill, advance their ambitions and join a vibrant and diverse community of people who share their passion and purpose. At the IWC, we seek to enhance opportunities for people across all communities to explore and participate in creative writing.
---
This autumn marks the eighth consecutive year of Irish Writers Centre residencies with Cill Rialaig, Co. Kerry. These residencies are now open for applications to seven writers for a ten-day period from 1-11th October.
In addition to their own work, the writers are requested to put aside approximately 2 hours at the start and the end of the residency to come together to meet and discuss a programming or development idea that the IWC might undertake in the future. Details to be finalised in due course.
To see the beautiful and inspiring landscape of Cill Rialaig, check out their website.
---
Who is it for?
The seven residencies are offered all-inclusively free of charge (the IWC will cover the utility charge for each of the seven houses). Expenses incurred by the selected writers will be food and travel. Of the seven residencies, two places are reserved for Northern Irish writers residing in ROI or writers residing in Northern Ireland.  Furthermore, two places are also reserved for writers writing in the Irish language.
This residency is open to professional members of the Irish Writers Centre in the first instance, as part of the suite of professional development opportunities that we wish to provide professional writers under Goal 1 of our new strategy. In exceptional circumstances, we may consider experienced non-professional members for this opportunity.  If in doubt, contact the email below.
To become a professional member, please see the Professional Member section of our website. We particularly encourage applications from Black, POC (person of colour), Traveller, Roma, LGBT+, disabled and working class writers, and those who consider themselves to be within the groups described in the EDI statement on our website.
---
Criteria for selection:
Applications will be reviewed by a selection panel made up of IWC team members and independent professional writer(s) for eligibility in the first instance. then for expression of intent, range and quality of writing samples.
Selection will be made respecting the priority groupings described above.
---
How to apply:
If you are interested in applying please send the following to projects@writerscentre.ie with Cill Rialaig Residency in the subject line:
A cover letter including your personal details concisely outlining the project you would like to focus on during the residency
An updated Curriculum Vitae (max. two A4 pages) including publications with ISBNs.
Clearly labelled samples of recent work (up to three short samples of up to 300 words or between 4- 6 poems).
Any relevant information on your proposed project such as written excerpts, photos, research information, etc.
Please collate all documents into one attachment, either Word or PDF. (Applications which are not collated risk being disqualified.)
---
Deadline for applications:
Deadline extended to Wednesday 13th July at 5pm
---
Past recipients:
Past recipients of the residency include:
2021: Michelle Gallen, A.M. Cousins, Catherine Prasifka, Réaltán Ní Leannáin, Lydia Searle, Hilary McCollum, and Michelle NicPháidín.
2020: Niamh Campbell, Úna-Minh Kavanagh, Lianne O'Hara, Damien Hasson, Justine Carbery, Oisín Kearney, and Carrie-Jade Williams
2019: Marie Breen-Smyth, Sheila Armstrong, June Caldwell, Charleen Hurtubise, Katherine Mezzacappa, Olivia Fitzsimons, and Emily S. Cooper.
2018: Brendan Mac Evilly, Dominique Cleary, Catherine Ann Cullen, Gerry Boland, Caelainn Hogan, Paula Cunningham and John Fox.
2017: Sue Leonard, Fiona O'Rourke, Breda Wall Ryan, Anna Heussaff, Moyra Donaldson, Aiden O'Reilly, Kelly Creighton.
2016: Louise C.Callaghan, Kate Kavanagh, Martin Malone, Dairena Ní Chinnéide, Nessa O'Mahony, Sydney Weinberg and Adam Wyeth.
2015:  Andrea Carter, Anthony Glavin, Catherine Dunne, Lia Mills, Louise Phillips, Maria McManus, Seán Hardie.
---
About the Irish Writers Centre:
As the leading support and development organisation for writers since 1991, the Irish Writers Centre carries out its work, online and in person, on an all island basis. We work with writers of all types and talents, and actively encourage writers from all communities to engage in creative writing. We provide many ways and means for them to develop their skill, advance their ambitions and join a vibrant and diverse community of people who share their passion and purpose.
We are also a membership organisation, always seeking new opportunities for members to grow as writers and to connect with each other through IWC programmes and supports.
---