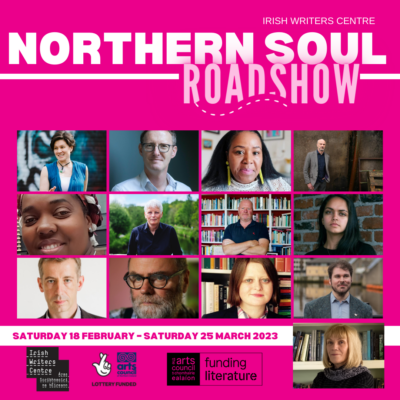 Residencies, Retreats & Opportunities
Northern Soul Roadshow 2023
The Irish Writers Centre unveils Northern Soul Roadshow (NSR) which spotlights diverse and native writers from the North of Ireland in a programme that celebrates their writing. The programme, which is delivered across a series of creative writing events and workshops curated and facilitated by Fiona O'Rourke, exclusively features writers born in the North of Ireland and those who have moved there from further afield.

The weekly format comprises an event followed by a workshop, and the programme takes place online over 6 weeks from Saturday 18 February to Saturday 25 March, 2023. A showcase of new writing from the North from the twenty selected participants will take place at the final session, with a view that the writing produced over the six weeks is shared.

Writers from all over the island are warmly invited to take this opportunity to hone their craft in a supportive writing community of guest readings, lively Q&A discussions, and facilitated writing exercises. Readings of fiction, short story, historical fiction, crime fiction, poetry, spoken word, personal essay, creative nonfiction, and memoir will take place.

Fiona has put together a stellar line up of guest writers to share their process, including Martin Doyle, Neil Hegarty, Michael Hughes, Nandi Jola, Hilary McCollum, Raquel McKee, Malachi O'Doherty, Saakshi Patel, Anthony J Quinn, Stephen Sexton, Susan Tomaselli and Shannon Yee.

This iteration of NSR expands the original concept of its 2021 pilot programme, Northern Soul, also curated by Fiona. The Northern Soul Roadshow has now been developed to showcase the range of work and craft from diverse writers from the North of Ireland to bring their work to a new audience. NSR aims to spotlight writers who are working towards a more inclusive and sustainable society by focusing on writers from diverse and underrepresented backgrounds. We anticipate that the new writing arising from NSR will promote inclusion and create a cross-border writing community.

NSR is curated by writer-facilitator Fiona O'Rourke, in association with the Irish Writers Centre, and is funded by the Arts Council of Northern Ireland's National Lottery funding.
---
Programme Outline:
Each week will feature a panel of two guest writers whose work illuminates the varied and diverse experiences of people from the North and those who call it home. There will be a short Q&A and in the remainder of the session, Fiona will facilitate practical writing exercises based on discussions and inspiration from the featured writers' work. The writing exercises are to generate new work or to help you continue with work in progress.
Session 1: Saturday 18th February 
Martin Doyle (non-fiction)
Saakshi Patel (poetry)
Session 2: Saturday 25th February
Neil Hegarty (non-fiction essay)
Nandi Jola (poetry)
Session 3: Saturday 4th March 
Hilary McCollum (novel)
Shannon Yee (short story)
Session 4: Saturday 11th March 
Malachi O'Doherty (essay/memoir)
Anthony J Quinn (novel)
Session 5: Saturday 18th March 
Raquel McKee (spoken word and poetry)
Michael Hughes (fictional novel)
Session 6: Saturday 25th March 
Susan Tomaselli (personal essay)
Stephen Sexton (poetry)
---
Eligibility:
This is an open call to writers, over 18 years of age, resident on the island of Ireland. We particularly invite applications from Black, POC (person of colour), Traveller, Roma, LGBT+, disabled and working class writers, and those who consider themselves to be within the target groups described in the EDI statement on our website.
Please note, participating writers must be able to attend all 6 sessions.
---
How to Apply:
Please register your interest using the following form.
---
Deadline to Apply:
Monday 30th January at 5pm
---
Curator/ Facilitator:
Fiona O'Rourke's stories have been published, broadcast, and translated. Wrong Whiskey, a northern fiction, was a prize winner at the Fish International Short Story Award and is included on an undergrad reading list at Saint Mary's College, California. Her debut novel Have You Found Luke? also a northern fiction, was a winner at the Irish Novel Fair, and new work is forthcoming in Fortnight magazine. Short stories have been published in The Lonely Crowd, The Waxed Lemon, Francis MacManus, and more. Since earning an MPhil in Creative Writing (TCD, 2015), she has curated writing events and facilitated writing communities at festivals, Irish Writers Centre, and libraries. She is a member of Women Aloud NI and a professional member and mentor at Irish Writers Centre.
---
About the Writers:
Martin Doyle is Books Editor of The Irish Times. Dirty Linen, a personal history of Northern Ireland, will be published in October 2023 by Merrion Press.
Saakshi Patel was born and raised in Bombay. She graduated with an MA in Poetry with Distinction from Queen's University Belfast, where she received the Seamus Heaney Centre International Scholarship. She is also the recipient of the 2021 Ireland Chair of Poetry Student Award and the John Hewitt International Summer School Bursary. She earned her BA in English Literature and Language from the University of British Columbia. She currently works as an Academic Writing Specialist at a college in Vancouver. Saakshi's poems have been anthologised in The Best Asian Poetry 2021 by Kitaab, in Local Wonders by Dedalus Press, in Washing Windows Too by Arlen House and in AHVAAZ, a chapbook by the League of Canadian Poets. Her poetry has also appeared in Catatonic Daughters literary magazine, The Honest Ulsterman and yolk literary journal. She was featured in Breaking Ground Ireland 2022, a project by the Cúirt International Festival of Literature and the National University of Ireland. Saakshi has performed poetry readings at the 2021 Installation Ceremony of Secretary Hillary Rodham Clinton as the Chancellor of Queen's University Belfast, the Music and Mind Festival, the Ireland Chair of Poetry Award-Winner Showcase, on Poetry Day Ireland and at the Habitat Cafe in Bombay.
Neil Hegarty grew up in Derry. His novels include The Jewel, described by the Irish Times as 'a vital book for our time', and Inch Levels, which was shortlisted for the Kerry Group Novel of the Year award in 2017. Neil's non-fiction titles include Frost: That Was the Life That Was, a biography of David Frost; and The Story of Ireland, which accompanies the BBC television history of Ireland. His essays and short fiction have appeared in the Dublin Review, Stinging Fly, Tangerine and elsewhere; and he is co-editor with Nora Hickey M'Sichili of the essay collection Impermanence. Neil lives in Dublin.
Nandi Jola is a South African born Poet, Storyteller and Playwright. She has been published in Fortnight@51, Fortnight@50, Vital Signs Poetry Ireland, Washing Windows Too Arlen House, Bangor Literary Journal, Impermanence Way No (Alibis Press) and the Stinging Fly. She has also had work commissioned for Herstory: Parallel Peace Project (with women's organisations in Northern Ireland, Palestine and Israel); Transpoesie Poetry Festival; Ambiguities (a work that is a partnership between Poetry Ireland and the Centre Culturel Irlandais); Six Project (ACNI and Brassneck Theatre Company). She has been a guest on the BBC Art Show and Culture Café and has read her work at the Human Rights Festival, John Hewitt International Summer School, XBorders, Staccato, the Belfast Book Festival and the EastSide Festival. Nandi's debut collection entitled Home is Neither Here Nor There published in the spring, 2022 by Doire Press.
Hilary McCollum is a writer and creative activist. Her first novel, Golddigger, won the Golden Crown Literary Society prize for historical fiction. Funny Peculiar, her memoir of child abuse against the backdrop of Northern Ireland's Troubles, was published under the name Constance McCullagh. She has written four plays focusing on the lives and experiences of LGBT people. She was the 2022 Publishing Fellow at the Seamus Heaney Centre, Queen's University Belfast, having completed a PhD in Creative Writing there in December 2021.
Shannon Yee is an award-winning writer/creative producer (www.s-yee.co.uk) . Her perspectives as an immigrant, biracial ethnic minority (Chinese/Caucasian), queer artist-mother with a disability living in Northern Ireland are deeply embedded in her work. Her award-winning, self-produced, Reassembled, Slightly Askew (www.reassembled.co.uk) sonically immerses audiences in her autobiographical experience of her acquired brain injury. Reassembled… premiered in 2015 and has since toured locally, nationally and internationally in arts festivals and medical training settings, garnering awards and 4*/5* reviews. Shannon received a 2021 BBC/The Space 'Culture in Quarantine' commission for her dance film, Pandemic Parenting: Pandemonium, and recently had her first BBC Radio 4 Commission 'Downhill' as part of the United Kingdoms series. Her short story "The Brightening Up Side" was in the Belfast Stories anthology (Doire Press, 2019), and "Thumbnails" was published in Queer Love: An Irish Anthology (Southward Editions, 2020). She was an Arts Council NI Major Individual Awardee (2017/18).
Malachi O'Doherty is the author of several memoir led books on Northern Ireland politics and religion, most recently Can Ireland Be One? (Merrion 2022) and How To Fix Northern Ireland (Atlantic 2023). He also writes fiction and journalism. He has a PhD in Creative Writing from Queen's University Belfast.
Anthony J Quinn is the internationally acclaimed author of ten novels, mostly in the crime fiction and historical fiction genres. His debut novel Disappeared (Head of Zeus, 2014) was a Daily Mail crime novel of the year and a Sunday Times best novel of the year. It was also shortlisted by the book critics of the Washington Post, the LA Times, and the San Francisco Chronicle for a Strand Literary Award in the US, and longlisted for the Theakston's Crime Novel of the Year in the UK.
Raquel McKee is an award-winning performance poet who applies Jamaican style social commentary – Dub Poetry – amongst other styles, to address personal and political issues. She is also an actor, storyteller, playwright singer/songwriter, workshop facilitator, and teacher. Raquel performs at festivals, writes on commission and her poetry has been published in anthologies and journals.
Michael Hughes grew up in Keady, Co. Armagh. He is the author of the novels The Countenance Divine (2016), and Country (2018), which won the London Hellenic Prize and was shortlisted for the EU Prize for Literature. He teaches Creative Writing at Queen Mary, University of London.
Susan Tomaselli is founder and editor of Gorse journal. She has written for numerous publications, including an introduction to a re-issue of Mervyn Wall's Leaves For the Burning (Swan River Press), and a contribution to the book We'll Never Have Paris (Repeater Books 2019). Her art writing has appeared in the catalogues In Context 4 – In Our Time (South Dublin County Council's programme of public art, 2019), and Hairline Crack (for Niamh McCann, 2022). She has participated in numerous literary festivals (West Cork Literary Festival, Cúirt, Listowel, Mountains to Sea, Hillsborough Festival of Literature & Ideas), curated Doolin Writers' Weekend 2020, and provides consultation to arts organisations (Temple Bar Gallery + Studios Dublin, The Arts Foundation UK) and literary publishers. She was writer-in-residence at Maynooth University 2020/21. She is currently working on a novel-in-essays, Traces.
Stephen Sexton's first book, If All the World and Love Were Young was the winner of the Forward Prize for Best First Collection in 2019 and the Shine / Strong Award for Best First Collection. He was awarded the E.M. Forster Award from the American Academy of Arts and Letters and the Rooney Prize for Irish Literature in 2020. He was the winner of the National Poetry Competition in 2016 and the recipient of an Eric Gregory Award in 2018. Cheryl's Destinies was published in 2021, and was shortlisted for the Forward Prize for Best Collection.
---