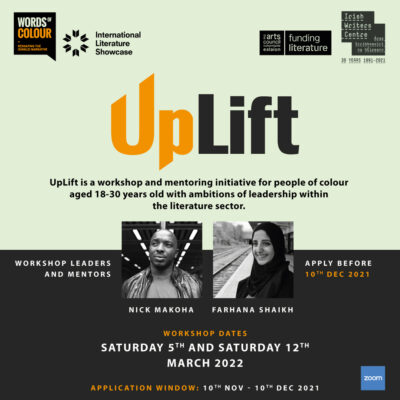 Residencies, Retreats & Opportunities
UpLift: Young Leaders of Colour in Literature Initiative
Info
Deadline:
December 10, 2021 at 12:00am
Are you a young writer or arts professional of colour aged 18-30 looking to take your place as a leader in literature? Would you like to advance your own creative work with the help of experienced writers and arts professionals, while learning the skills you need to inspire and motivate others to get involved in the arts?

The Irish Writers Centre, in partnership with Words of Colour Productions, are delighted to announce UpLift, a new pilot international workshop and mentoring initiative for young people of colour with ambitions of leadership in the literature sector across Ireland and the UK.

---
To be a leader is a challenge, and the aim of this programme is to help you rise to that challenge. In the first instance, the programme seeks to support two arts practitioners of colour based on the island of Ireland aged 18-30 years who would like to explore their potential as role models, to encourage writers and audiences of colour to participate actively in the Irish Writers Centre and to contribute to the wider Irish literary scene.
The successful candidates will be provided with mentoring and workshops from established industry professionals, award-winning writer and publisher Farhana Shaikh (The Asian Writer, Dahlia Publishing) and award-winning poet and director Nick Makoha (The Obsidian Foundation).
In addition, we are opening out the two workshop sessions to 6 UK-based and 4 Irish-based practitioners of colour to benefit from the expertise offered by Farhana and Nick.  The workshops will cover such topics as authentic leadership, identifying participants' strengths and purpose, and the processes of how to make creative ideas happen, and will support participants to develop their own transformative work within the literature sector.
---
Who is it for?
The UpLift Initiative is open to people of colour aged 18-30, who are living in Ireland or the UK, and who aim to become leaders in the field of literature, whether as writers, publishers or arts professionals. Applications are welcome from individuals from all arts backgrounds, and whatever your involvement in the literature sector to date we encourage you to see this programme as a springboard that can help you reach the next stage in your development.
If you are living on the island of Ireland you can apply to be one of the two mentees, who will benefit from two mentoring sessions bookending your attendance at the two workshops.  If you apply as a mentee you are automatically one of the six Irish workshop attendees.
However, you may just wish to apply for the workshops only, so be sure to tick the right box on the application form.
If you are living in the UK you can apply to participate in the two workshops.  Please note that there is a separate form for the UK application.
---
How does it work?
The two 90-minute workshops for the twelve selected participants will take place on Saturday 5th and Saturday 12th March 2022. We hope that, as well as building the skills needed for arts leadership, these workshops will offer a chance for participants based across Ireland and the UK to forge connections for international collaboration into the future. 
In addition, the two selected Irish mentees, will receive two 60 minute mentoring sessions led by Farhana Shaikh and Nick Makoha which will take place before the first workshop and after the second at a mutually agreed time.  The mentoring sessions can be focused on guiding the mentees through any of the following: career advice, support on a project, or vision-mapping to achieve a goal.  However, a key concept to consider is the notion that the mentee will be building on their leadership skills in the literature sector, and lead by example to advance access of entry to other writers of colour. Mentees will be guided to realise the knowledge and skills they already possess, and will be supported by the mentors as they learn to lead authentically, in their own voice.
The two mentees will be actively supported to continue their collaboration with the Irish Writers Centre, in helping to inspire others to get involved in the IWC's activities and writers' community. We will also encourage you to continue developing your craft and connections as an arts practitioner, with the support of the IWC team.
UpLift is supported by the International Literature Showcase Collaboration Fund. The International Literature Showcase is a partnership between the National Centre for Writing and the British Council.
---
How to apply:
We ask that all applicants apply through our online application forms by midnight on Friday 10 December.
Applicants based on the island of Ireland are eligible to be considered for both the workshop and mentoring aspects of the programme, and can apply via this form.  Please ensure that you tick the right box if you wish to be considered as a mentee.
Applicants based in the UK (excluding Northern Ireland) are eligible for participation in the workshops only, and can apply via this form.
If you have any difficulties completing the application form relevant to you please contact us on projects@writerscentre.ie.
---
About Words of Colour
Words of Colour is a creative development agency for writers, creatives, and entrepreneurs of colour that collaborates with organisations and institutions on systemic transformation programmes that facilitate inclusion and action. wordsofcolour.co.uk
About the Irish Writers Centre
The Irish Writers Centre is the national resource organisation for writers on the island of Ireland. Since 1991, we have provided courses, information and resources to meet the needs of writers from all forms and genres. Our mission is to support, promote and inform writers at all stages of their development, through creative writing courses, membership, professional training, information, mentoring and networking. As a resource agency we connect writers through bespoke programmes, working collaboratively with strategic partners on a local, national and international level. We are committed to removing barriers to participation in literature, placing diversity, equality of opportunity and social inclusion at the heart of our strategy and programming.
About Farhana Shaikh
Farhana is a writer and publisher born in Leicester. She is the editor of The Asian Writer and manages small independent press, Dahlia Publishing. In 2017, she won the inaugural Travelex / Penguin Next Great Travel Writer Competition and was long-listed for the 2018 Spread the Word Life Writing Prize. She can be found on Twitter talking about books and publishing @farhanashaikh.
About Nick Makoha
Nick Makoha is the founder of The Obsidian Foundation. Winner of the 2021 Ivan Juritz prize. In 2017, Nick's debut collection, Kingdom of Gravity, was shortlisted for the Felix Dennis Prize for Best First Collection and was one of the Guardian's best books of the year. Nick is a Cave Canem Graduate Fellow and the Complete Works alumnus. He won the 2015 Brunel International African Poetry Prize and the 2016 Toi Derricotte & Cornelius Eady Prize for his pamphlet Resurrection Man. His poems have appeared in the Cambridge Review, the New York Times, Poetry Review, 'e Rialto, Poetry London, TriQuarterly Review, Boston Review, Callaloo and Wasafiri. He is a Trustee for the Arvon Foundation and the Ministry of Stories, and a member of the Malika's Poetry Kitchen collective. nickmakoha.com
---