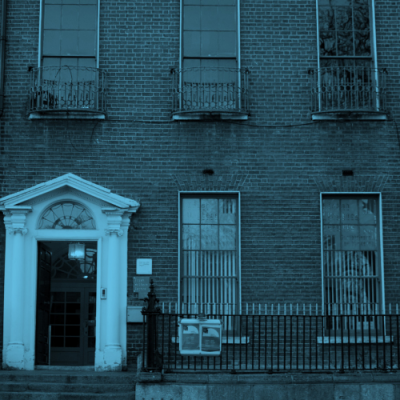 Irish Writers Centre Call for Nominations for IWC Members' Nominee to the Board of Directors
(Please note: all blue texts are useful clickable links)
The Irish Writers Centre is currently accepting nominations from subscribed members to sit on the IWC Board. If you are a current IWC member and would like to be considered, then please read on:
Process:
Eligibility:  You must be a full subscribed Member of the Irish Writers Centre for this calendar year (2019) in any category of membership.
How to nominate yourself:  Please click on the blue link and fill in this nomination form.  You will need to have a seconder, who must also be a fully subscribed IWC Member. (Please note that your seconder cannot support another nominee's application.)
How to ensure your nomination has been received: In the first instance, you will get an automatic acknowledgement email of your nomination. Secondly, we will check that your nomination is eligible and advise you if it is not. If eligible, your name, bio and pitch for election will be posted in the News section of our website for all voters to see.  If you have included a social media link, we will include that too. (It is therefore in your interest to put your name forward early so as to get maximum time coverage.)
Nomination period:  Nominations open on March 1 and close March 19, 2019 at 5pm.
Voting period: The email voting period opens on Wed March 20th and closes Mon March 25th at 5pm. All subscribed members are eligible to vote at this time if they cannot come to the election. The election itself will take place on Tues March 26th at 6pm in the IWC, 19 Parnell Square, D1.
Returning officer:  The lead returning officer is Kiki Drost (Projects Administrator) who will manage all nominations electronically. She will ensure that votes remain unseen until the morning of Tuesday March 26th, when all votes will be checked for eligibility and validity.  At the election at 6pm, Valerie Bistany will assist her in running the election and in the counting of votes. Enquiries may be made to opportunities @writerscentre.ie or by calling (01) 8721302 and asking for Kiki.
Information about Being a Board member:
Location: Board meetings will be held at the Irish Writers Centre, 19 Parnell Square, Dublin 1.
Remuneration: Non-remunerated – this is a voluntary position.  Travel expenses are reimbursable.
Time Commitment: Approximately 8 X 2hr Board meetings per annum with time required for preparatory reading, and possible additional time commitments depending on membership of sub-committees. Board members may be asked to represent the organisation at certain events, depending on their availability and interests. Board members are also actively encouraged to IWC events whenever possible.
Background
The Irish Writers Centre is a flagship resource organisation for writers. It offers professional supports to meet the needs of writers at all stages of their development through training, information, networking opportunities and programmed events.
A key part of our role is to offer a comprehensive and innovative toolkit/service to support the professional development of writers.
We are committed to fostering connections between writers across Ireland; we also commit to celebrating their writing by creating audiences for their work at home and abroad. These goals are achieved through our physical hub in Parnell Square, our national and international outreach programmes and our specialised online presence.
All our actions are guided by the core principles of integrity, excellence and sustainability.
The Irish Writers Centre is registered with the Charities Regulatory Authority in the Republic of Ireland. The company's intention is to provide a governance and management structure that is:
an example of best practice of governance
not for profit
truly representative of wide interests
robust and legally coherent
straightforward, transparent and effective
independent of political and other influences
acceptable to all stakeholders
accountable at every level
Functions of the Board & Duties of Directors
The Irish Writers Centre is governed by a voluntary board of Directors. Our Board members receive no payments and serve a three year term renewable, to maximum of two three-year terms. The Board is responsible for the governance, strategic direction and control of the company. It is responsible for the system of internal financial control and overview responsibility for the activities of the organisation. The Board delegates to the management and sub-committees the responsibility for the implementation of these policies. Members of the Board will be expected to play key roles in relation to the direction, leadership and governance of the organisation.
Directors have legal duties and obligations imposed by the Companies Act, other statutes and common law. Directors must act in good faith, act honestly and responsibly and act according to the company's constitution.
Directors will be required to contribute effectively to the work of the Board. This will involve the ability to balance a strategic view of key decisions with a specialist or expert perspective, while being committed to the principle of collective decision making that underpins the Board's role.
The Irish Writers Centre keeps detailed books and records of accounts and maintains strict financial controls. The organisation is transparent in its audited financial statements. These accounts are independently audited and made public on our website and are compliant with the principles outlined in the Statement of Recommended Practice for Charities (SORP), which is recognised as best practice by the Accounting Standards Board.
The Board of Directors is responsible for:
the employment of senior executives to the company;
establishing and ensuring the implementation of policy objectives based upon current and future agreed strategies for the organisation
overseeing and maintaining the financial health of the organisation;
ensuring the highest standards of governance and transparency;
enabling and delegating to sub-committees/working groups prudent decision-making powers for efficiency in relation to certain projects to ensure that the Company has access to the broadest range of specialist expertise and advice in all aspects of its work (see below);
Please note that the Company's Constitution clearly states that no Director shall be appointed to any office of the Company paid by salary or fees, or receive any remuneration or other benefit in money or money's worth from the Company.

The Chairperson
The Chairperson of the Company is critically important as a public representative of the Company in all its activities. They will provide leadership for the Company in the exercise of its duties and the implementation of policy and act as a vital bridge between the Board and the Executive.
Our current Chairperson is Liz McManus.
Working Groups/Sub-Committees
In order to deliver IWC strategy and goals, working groups/sub- committees of the Board will be established as required.
Each of these sub-committees will be appointed by the Board to ensure the broadest range of expertise is available to the Company in each specialised area. Each sub-committee with include up to two Directors from the board and will be chaired by one of them.
The Chair of the sub-committee will be responsible for reporting on its activities on a timely basis to the Board. The Board will delegate such powers as are prudent to the sub-committees but any decision of the sub- committee, especially with regard to budgetary matters, that exceed the limits established by the Board, must be referred back to the Board for decision. A senior member of the Executive Team will be given responsibility for providing executive services to each sub-committee.
Current Board Composition
Here is a link to our website to the IWC Board page. You will find other pertinent information and documents relating to accounts and policy which will be of interest to you, as a potential nominee.