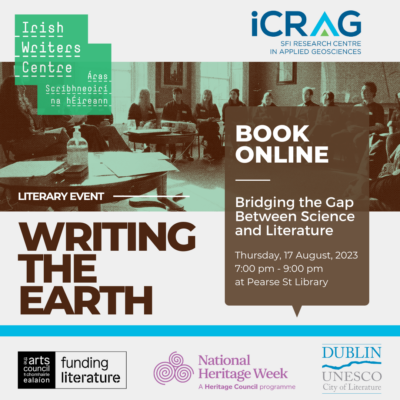 Writing The Earth
Writing The Earth, an exciting new collaborative programme between Irish Writers Centre and the iCRAG SFI Research Centre, has brought writers and scientists together to explore climate change, climate justice, sustainable development and geosciences. The collaboration has produced six unique pieces of creative writing, including two plays, that will be launched during Heritage Week 2023.
Taking place on August 17th, at 7pm in Pearse Street Library, and with the support of Dublin UNESCO City of Literature, the six new pieces will be launched at a public event.
The collection includes scenes from two new plays that explore the health of the planet and the ways we can avoid mass extinction. Other writings examine the global impact of consumerism, and the human connection between worker and object; sustainable car design; Ireland's relationship with water through the lens of family history, mythology and science; our changing seas and biodiversity.
Artistic and literary spaces play an important role in creating opportunities for dialogue, and for creating opportunities to bridge the gap between what people know and what people feel about climate change and climate justice. The new pieces have emerged from a five month-long collaboration between writers and scientists. Participant writers explored ambitious and solution-focused narratives in partnership with scientists.
Writing the Earth was created by Valerie Bistany, Director at the Irish Writers Centre and Dr Fergus McAuliffe, Communications and Engagement Manager at iCRAG. The programme was facilitated and co-ordinated by Fiona O'Rourke. The writers were mentored by Maria McManus, and received professional editorial advice from Patsy Horton.
This event is kindly supported by Dublin UNESCO City of Literature.
The Irish Writers Centre is supported by the Arts Council of Ireland.