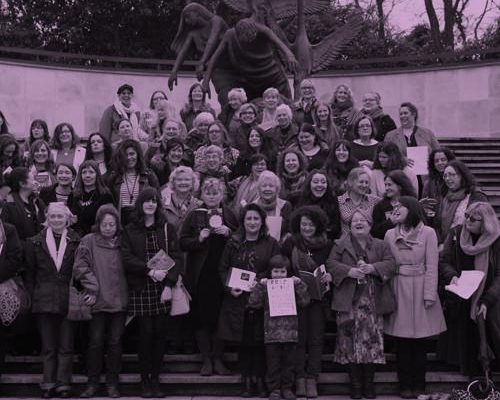 05 April, 2017
Women Across Borders
On Saturday 11 March, the Irish Writers Centre marked the occasion of International Women's Day with WomenXBorders, an all-island cross-border event that brought women from all corners of the country together to take part in a readathon and panel events at 19 Parnell Square.
Of this group, over half travelled from Northern Ireland with Women Aloud NI, honouring their name by reading aloud from their works on the train between Belfast and Dublin. They arrived laden with gifts for the centre: writers who had published books in print arranged a selection in the reception area.
19 Parnell Square came to life with the energy and enthusiasm of women keen to connect and network, to hear and learn about each other's writing lives.
The main event kicked off in the Kiely room with welcoming words from IWC director Valerie Bistany, IWC chairperson Liz Mc Manus and Women Aloud founder and overall project manager Jane Talbot. Valerie spoke of the significance of 'women across borders' in these times of Brexit, but went further to say that the event should really be seen as 'women without borders'. With this the Readathon began with eighty writers reading excerpts from their work throughout the day. Some had short pieces written especially for the event, focusing on the theme of women's situations from a variety of angles.
On the second floor, panels covering different aspects of the writing process were in full flow. The first panel of the day on Writing Communities, was opened by Moyra Donaldson who distinguished between different functions of writing groups, including personal and career support. Shelley Tracey spoke about the arts' important function to help develop and strengthen communities while Katie McGreal highlighted the continuing need for women's writing groups in a publishing landscape which is still gender-biased.  Gretha Viana, a Brazilian documentary film maker and producer who lived in London before coming to Dublin, described the feeling of belonging that she experienced in the IWC writing group for non-native writers of English, 'New Irish Communities'. A German participant agreed; she had not known that she 'needed a group like this until she attended it' and hopes to establish something similar in the area where she lives.
The next panel was made up by Angeline King, Catherine Ryan-Howard, Claire Savage and Jo Zebedee and put a spotlight on self-publishing and explored the various directions that self-publishing can take an author. The panel addressed the challenges of marketing and finances that face all authors, but often particularly self-published authors.
The final panel addressed the 'Writers See Saw' and acknowledged the dual role that many women writers occupy as they balance their writing and a demanding career, or a caring role, whether as a parent, or a carer. The panelists Kelly Creighton, Kerry Buchanan Réaltán Ní Leannáin and Catherine Tinley spoke from their own experiences as writers and parents and working women, making space for a much needed conversation in the world of writing.
The day came to an end with the grand finale of the WomenXBorders Soundscape in the Gardens of Remembrance. 'Conducted' by Jane Talbot, the women read simultaneously from their texts on the steps below the statue of the 'Children of Lir', creating a sight and sound that the audiences on Parnell Square are sure not to forget. 
Thanks to WomenAloud NI and Jane Talbot for their dedicated work in making this special event happen. We're looking forward to welcoming everyone back for WomenXBorders 2018!
*We're delighted that the WomenXBorders collaboration with Women Aloud has been nominated for a Saboteur Award! You can vote for us here!*