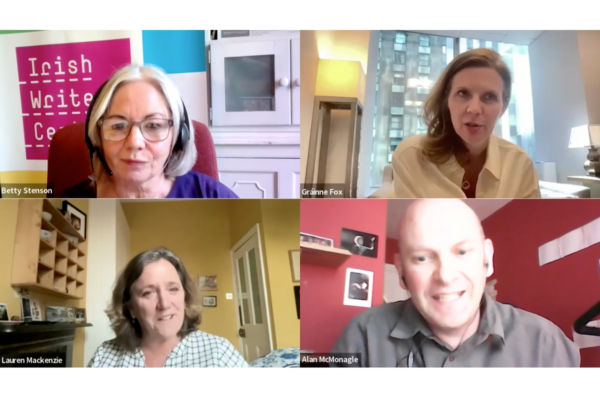 03 April, 2023
"A lot of effort goes into making a piece of writing look effortless": Past Novel Fair Participants Discuss What Makes a Winning Manuscript
Last Wednesday, we were delighted to launch the 2024 Irish Writers Centre Novel Fair with an online panel discussion hosted by our Programming Officer, Betty Stenson. The discussion, which gave aspiring novelists the opportunity to ask questions about the annual Irish Writers Centre Novel Fair competition and hear from past participants featured writer and 2021 winner Lauren Mackenzie, literary agent Gráinne Fox, and novelist and 2023 judge Alan McMonagle.
The Novel Fair, now in its twelfth year, is a 2-day event offering debut novelists the opportunity to pitch their work to agents and publishers in the hope of securing a home for their manuscript.
Novel Fair 2024 Launch Event
Writers showed up in their droves, hoping to gain insight into what makes a manuscript appealing to publishers and how best to prepare their novel for submission. From over 130 participants, the questions flowed in and our Communications and Marketing Officer, Jo Morton, fielded them adroitly.
On the day of the launch, the Irish Times published an interview with our panelists' Lauren Mackenzie and her literary agent, Gráinne Fox, 'Normal People for Married People: How to Land a Book Deal for your First Novel', offering further insights into the author/agent relationship and Lauren's Novel Fair success story. Lauren's soon-to-be published debut The Couples (Hachette) will be available to purchase from 6th July 2023.
Watch Novel Fair 2024 Launch Event recording  (Approximately 1 hour)
Tips for writers considering submitting their novel to the Novel Fair:
Preparing your manuscript
Lots of writers wanted to know what qualities the judges might look for in a manuscript. For Alan McMonagle, "good writing, it's about listening to a voice. The entries that stood out for me were the ones that had distinctive voices."
Though the Novel Fair is a great way to meet agents and publishers, at the end of the day, "there are no shortcuts to publication. Writing is a long way, and every day is the first day. And that's been my credo for a long time. It was quickly clear to me that the relevant writer had put in a lot of effort. Voice again, point of view, narrative, momentum, characterization, language, story."
Many writers wanted to know if there was a specific genre that would appeal to agents and publishers participating in the Novel Fair. Alan's advice was to "write the novel you want to read at this time. If you're getting something from your writing, there's every chance someone else will too." Gráinne Fox was of a similar opinion: "Any relationship you have with a writer – and vice versa with an agent – the chemistry of your personality has to match. When Lauren and I started talking to each other, she told me about her novel and I asked questions and we just seemed to sort of vibe on what she was writing about."
At the end of the day, getting your manuscript ready for the Novel Fair is all about hard work. When it comes to finishing a draft, Lauren Mackenzie believes that "deadlines are your friends. You can get a lot more done than you think in a short space of time." Though it's easier said than done, it's important to believe in your novel and in the quality of your work. Gráinne believes that "what's great about the Novel Fair is that these writers have done a lot of work in order to be able to present their work in this way, so it's very polished. All of the writers I speak to – and I did the Novel Fair just in February – have a great command of their material. They know how to talk about it. And that's honestly sometimes half the battle."
Writing the synopsis for your novel
One of the most daunting parts of submitting to the Novel Fair can be the 300-word synopsis you submit alongside your 10,000 word extract.
"I hate doing synopses," says Alan. "For those who like to plot, it really is an opportunity to say succinctly what your novel is about. And for those non plotters out there – and I'm very much in this camp – it's actually an opportunity to discover what your novel is about."
In terms of style, Alan recommends breaking it down into three short paragraphs: "Keep it double spaced. Use short, declarative sentences." Summarising your novel in so few words can be challenging and "it might take a few runs to get it right. Actually scratch that – it will take a few runs to get it right." Similarly, while discussing which section of the novel to submit as your 10,000-word extract, Alan recommended showing off your novel's "onward thrust": "I would personally prefer to see three continuous chapters, and indeed the beginning, because you're setting up your stall."
Pitching your novel
For many taking part in the Novel Fair, it will be their first experience interacting with agents and publishers. When it comes to pitching your work, Gráinne says you should "go for it and be realistic. Practice how you talk about your work in very realistic terms. No one wants to hear someone comparing their novel, like it's Anna Karenina meets Sophie's Choice, because there is no such thing. Be confident, too, in what you're doing. That will always shine through on the page and in conversation. So it's about being realistic, confident, authentic."
A full recording of the 2024 Novel Fair Launch, including a Q&A session with members of the public, can be accessed here.
---
How to apply to the Novel Fair
Submissions to the Fair will be open throughout the month of September 2023 and will include a 10,000-word extract of the novel, as well as a 300 word plot synopsis.
The twelve successful applicants will be informed at the beginning of December – giving them a week to submit their full 50,000 manuscripts – and will be given the opportunity to attend a day-long 'How to Pitch Your Novel' seminar in advance of the Fair itself, which will take place in the spring.
Find out more about the Novel Fair here.