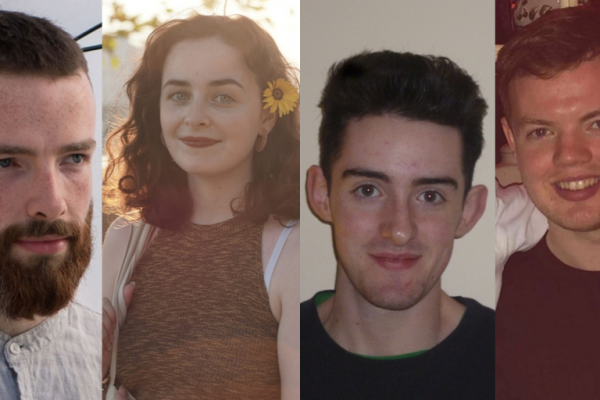 09 October, 2019
Announcing the 2019 DBF Young Writer Delegates
We're delighted to announce our Dublin Book Festival Young Writer Delegates!
Darragh Ambrose, Eva Griffin, Kevin O'hÉanna and Andrew Maguire will all be heading to Dublin Book Festival as Irish Writers Centre delegates. Now in its second year, the IWC Young Writer Delegates Programme gives young writers an opportunity to immerse themselves in a literature festival, soak up the atmosphere and to contribute to it as active participants. 
During this period, they will be supported by spoken word poet Ciara Ní É who will act as a mentor, encouraging the delegates to reflect on the festival share their views online.
You can keep up with the Young Writer Delegates on the Irish Writers Centre and Dublin Book Festival's social media.
Darragh Ambrose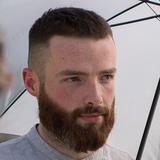 Darragh Ambrose is from Dublin. A graduate of psychology, he was recently fired from the Crumlin Village Missile Defence Programme (CVMDP) for a breach of confidentiality. He has had short stories published online at Headstuff and in the University Observer
Eva Griffin
Eva Griffin is a poet living in Dublin and a founding member of Not4U Collective, working to platform marginalised voices in poetry by hosting events and publishing zines. Her debut pamphlet 'Fake Hands / Real Flowers' is forthcoming December 2019 from Broken Sleep Books.
Kevin O'hÉanna
Kevin Ó hÉanna is a short story writer from Dublin and has previously lived in Scotland and New York. He is due to graduate from the University of St Andrews with a master's degree in Postcolonial Literature, having previously studied English at Trinity College. Kevin has been published in the Irish Times, Tn2, Inklight, Hearing Aid Magazine and in an anthology in conjunction with Fighting Words. In his spare time he enjoys pints, cheese and explaining Postcolonial theory to members of the public.
Andrew Maguire
Andrew Maguire
has an MA in Creative Writing from the
Seamus Heaney Centre, Queen's University Belfast
, and is employed at
South West College
, where he writes and edits
Way Out West
, which won best blog at the 2017
European Digital Communication Awards
in Berlin. He's a committee member for the
Omagh Literary Festival
, Honouring Benedict Kiely. His fiction has been published in journals including
Blackbird, The Honest Ulsterman
and
The Bath Flash Fiction Anthology
and his non-fiction has been published with the
Irish Times.