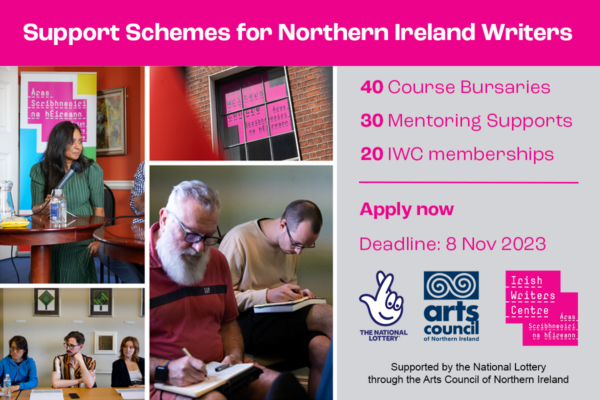 12 October, 2023
Apply now: Support schemes for Northern Ireland writers
The Irish Writers Centre is pleased to announce a new round of support schemes for writers from or based in Northern Ireland, made possible with support from the National Lottery through the Arts Council of Northern Ireland.
---
The supports for writers from or based in Northern Ireland include:
40 IWC Course Bursaries
20 IWC Memberships
30 IWC Mentoring supports
Apply by Wednesday 8th November 2023 at 5:00pm.
In keeping with Goal 2 of our 2022–2026 strategy, these schemes will enhance opportunities for people across all communities to participate in creative writing and enhance their writing practise. Find out more and apply on our website.

---
Irish Writers Centre Opportunities for Writers
The Irish Writers Centre is the leading support and development organisation for writers in Ireland. We run a series of free and exciting programmes to support writers of all types and talents.  Develop your craft, capacity and confidence to thrive as a writer in the world. You can find out more information on the Opportunities page of our website here.