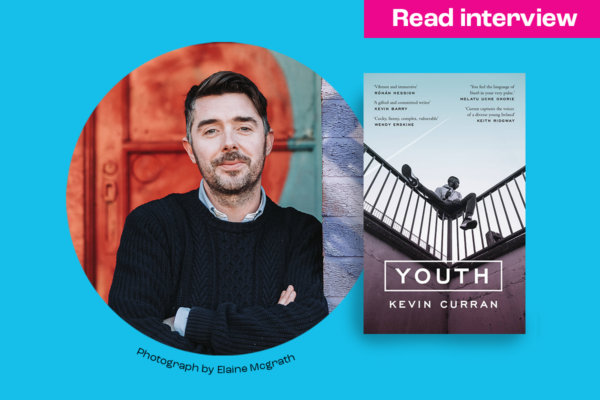 25 September, 2023
"Balbriggan was the furthest thing from the pages of literature": Kevin Curran on Novel Fair, Youth and representation in Irish Writing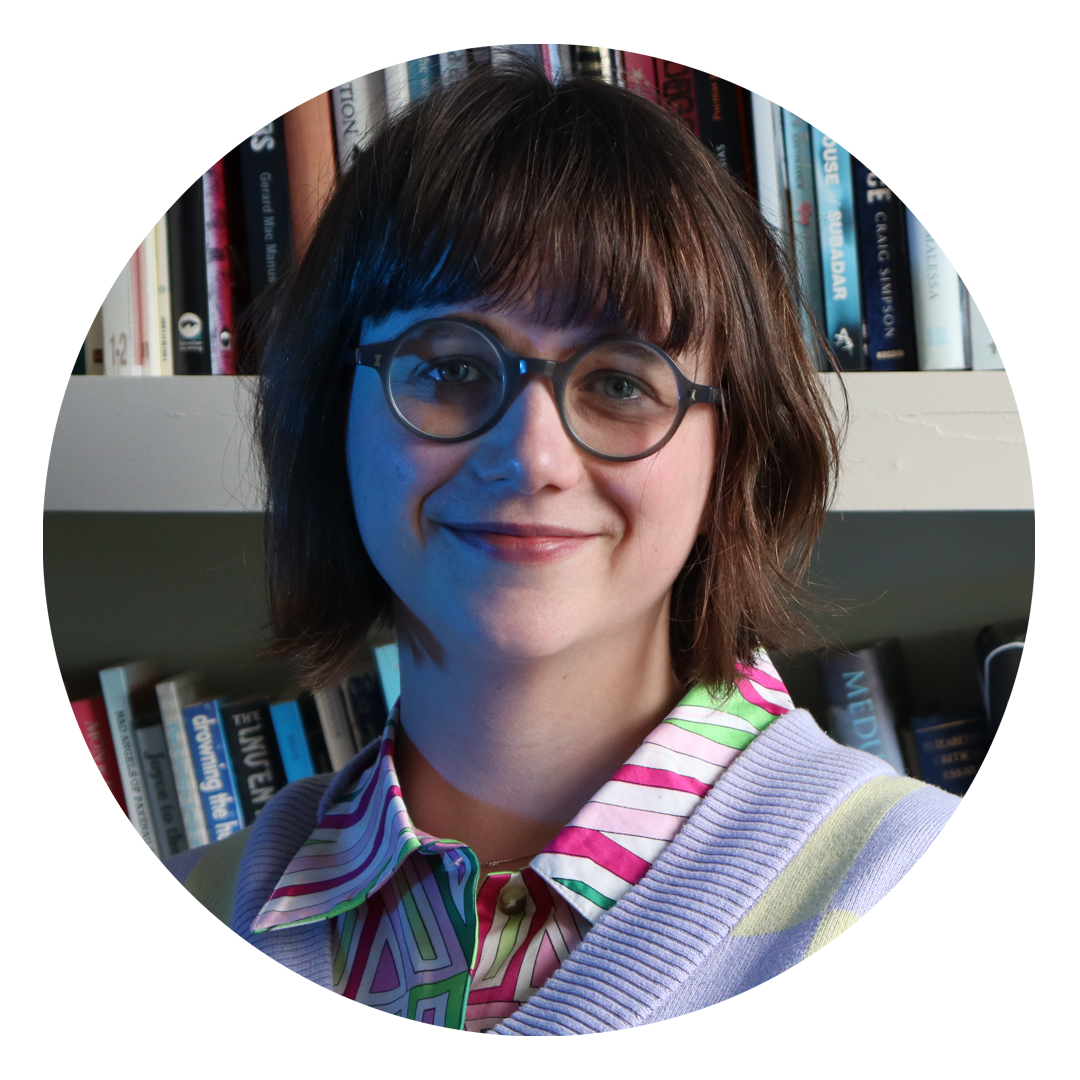 Interviewer: Jo Morton
This blog post has been written by our team member, Jo Morton, Communications and Marketing Officer, Irish Writers Centre.
---
This is the fourth interview in a series of conversations with past Irish Writers Centre Novel Fair winners. Our Communications and Marketing Officer, Jo Morton, interviewed secondary school teacher and multi-published author Kevin Curran, who generously shares his experiences of winning the first ever Novel Fair in 2011, his new novel Youth (Lilliput Press 2023), and the long and collaborative road from initial idea to published book.
---
Kevin Curran grew up in Balbriggan, a coastal town in County Dublin, where he still lives balancing work as a secondary English teacher and life as a writer. Kevin is the author of three books: Beatspolitation (Liberties Press 2013), Citizens (Liberties Press 2016), and Youth (Lilliput 2023). As one of our first ever Novel Fair winners (and later, a Novel Fair judge), Kevin has received much acclaim throughout the last decade for realistically capturing contemporary Ireland.
In this interview, Kevin provides a unique perspective into the ways that teaching in a Balbriggan school has shaped his approach to writing. He speaks on his motivation to provide faithful accounts of the lives of Irish teenagers, from various backgrounds, as they navigate life in and outside of school. Youth darts between four teenage lives, Angel, Tanya, Dean and Princess, in a gripping coming-of-age narrative. The novel covers a lot of ground, from exploring the textures of Dublin slang, sex, social media fame, to providing a layered account of black Irish teenage life. Read an extract from Youth here.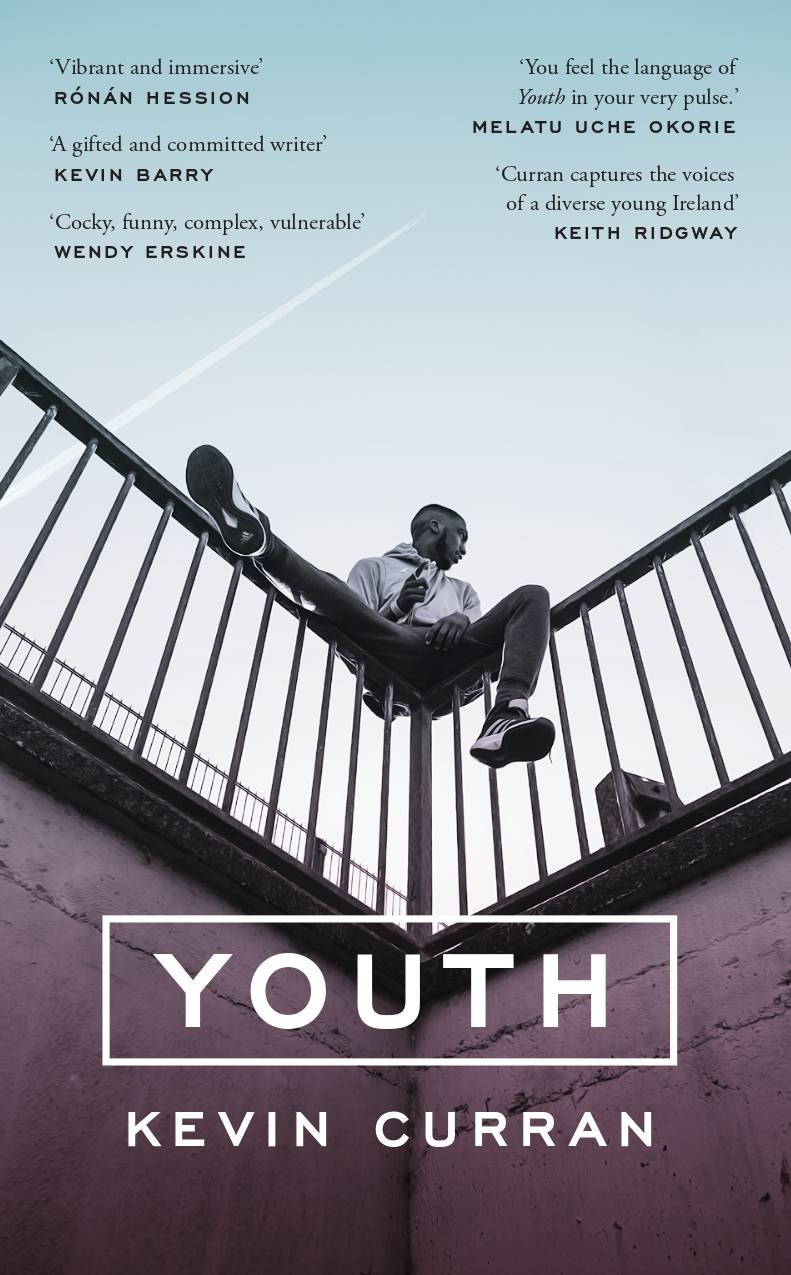 FRONT COVER OF YOUTH BY KEVIN CURRAN.
PUBLISHED WITH LILLIPUT 2023.
I want to start off by asking about your experience of Novel Fair. You were a winner in the first ever Novel Fair in 2011 and your novel Beatsploitation was picked up and published by Liberties Press in 2013. How did you find the experience of pitching your novel, and did you have much experience dealing with publishers and agents before the Novel Fair?
The experience of pitching the novel was an absolute thrill, and joy. What's not to enjoy talking about your work, your writing and books you like? People from the Irish Writers Centre remarked before the day started about how calm I was, but my thoughts were: I've done the work, I know the work, I know where it belongs in relation to contemporary Irish and English speaking fiction, so what was there to worry about? At the end of the day, no matter how well I spoke or sold the premise of the book, the writing would be what was going to be ultimately judged, and I couldn't change that!
In your recent Stinging Fly essay 'Doing the Work,' you talk about your experience writing Youth. You say 'what I've written is better than I thought I could ever write.' The novel took 6 years to find a publisher. We often see with our Novel Fair winners that publishing success can be a slow burn. How do you keep faith with a big creative project during this time while juggling everything else?
How do you keep faith as a writer? In my case, I believed wholeheartedly in the characters and the story and that a story like Youth, with the diverse characters and their diverse stories, needed to be written. The end point was never publication, it was always writing a book I would like to read, and to create a story I hadn't seen in an Irish context before, and one I know my students would appreciate. Determination, dogged perseverance, blind faith and a joy in the writing process got me there in the end.
Youth was published this year by Lilliput Press. How was your experience working with this publisher and was it different from your previous publishing experiences? In particular, how do you find the editing process and the move from the insular work of writing to the collaborative dialogue of editing?
I absolutely loved the experience of working with Lilliput Press. Everything about how Lilliput operated, concerning all aspects of the process, was an absolute joy. To meet and work with professionals who are so passionate about books – and in turn my book – was an amazing experience. Even the audio book recording was a special experience. Myself and each of the 5 actors would go to the studio and take a break back in the Lilliput offices in Stoneybatter and sit and chat with Antony (the publisher), the publishing staff and whoever else might be in the shop or office at that time!
As far as the editing experience goes, Sean Farrell of Lilliput was an incredible editor. He's old school, real hands on and has a brilliant knack for asking the right questions and always pushing for better writing on a sentence level. It was a real education to work with him. Once you trust in your editor's vision for the book, and understand (and of course accept) what they are trying to do, it's easy to be open to changes and suggestions. Writers tend to be too insular when it comes to their art, but I think like visual artists, film makers or song writers, collaboration and a willingness to entertain other ideas, and a respect for other perspectives, is key to good writing.
"When I was growing up, Balbriggan was the furthest thing from the pages of literature I could imagine."
Youth follows the lives of teenagers in the Dublin suburb Balbriggan through four interlocking first-person narratives. Balbriggan is where you live and work as a teacher. You have mentioned in previous interviews that your school students read early drafts of your novel and offered feedback on the teenage characters and the authenticity of your writing. What was it like having the tables turned and being temporarily guided by your students? And what would you hope a teenage reader of Youth would take away from the novel?
Four seventeen-year-old African-Irish students read Princess (who is a seventeen year old African-Irish character) and one seventeen year old African-Irish lad read the Angel chapters (who is an eighteen year old African-Irish character).
In May 2022, two students read Angel and Princess, and that was so cool. We had a real laugh as they read it. They caught some lame terms and some real clangers from me, which was hilarious – but brilliant to catch! And then in October three girls read Princess. I would leave them to it for 30 minutes after school once a week and come back in and they'd look at me with this weird smile, like they couldn't quite believe what I'd written, and that me, their boring English teacher, had actually written it.
Going into them after the thirty minutes was a bit nerve wracking too, as I was putting myself out there to be ridiculed by the exact type of character I was writing. But they were so happy to read a character like them coming to life on the page, which was really gratifying.
Since the book has come out, I've been told a TY class from a school in my town are reading it. That's a real buzz. Some of my old students and current students have read it, and that's really gratifying too.
When I was growing up, Balbriggan was the furthest thing from the pages of literature I could imagine. I always remember seeing the word 'Balbriggan' referenced in Dubliners and Ulysses and feeling a pinch of pride, so to think kids are reading about people like themselves on the streets they're walking is really cool.
"My students have been crying out for something that reflects their lives for years, which is one of the reasons I wrote Youth."
As a secondary English teacher, are there any specific titles that you would love to see on the curriculum?
Funny you should ask, because Colin Barrett's Young Skins has just been put on this year's Leaving Cert, so what more could you ask for? I can't wait to do that with my students.
In fairness to the people who pick the texts for the Leaving Cert, they do try and keep it contemporary. Ladybird by Greta Gerwig is on the course too, and Lorraine Hansberry's A Raisin in the Sun has been on for a few years, not to mention Donal Ryan's Spinning Heart and Claire Keegan's Foster. So, the texts are really cool.
My only wish is for the Leaving Cert to someday embrace texts which show the lived experience of young second generation Irish living and facing into the contemporary world and dealing with all that brings. Too many texts which deal with Black characters on the Leaving Cert centre on slavery and the American experience of race relations, which doesn't match the lived experience of most, if not all of my students.
My students have been crying out for something that reflects their lives for years, which is one of the reasons I wrote Youth.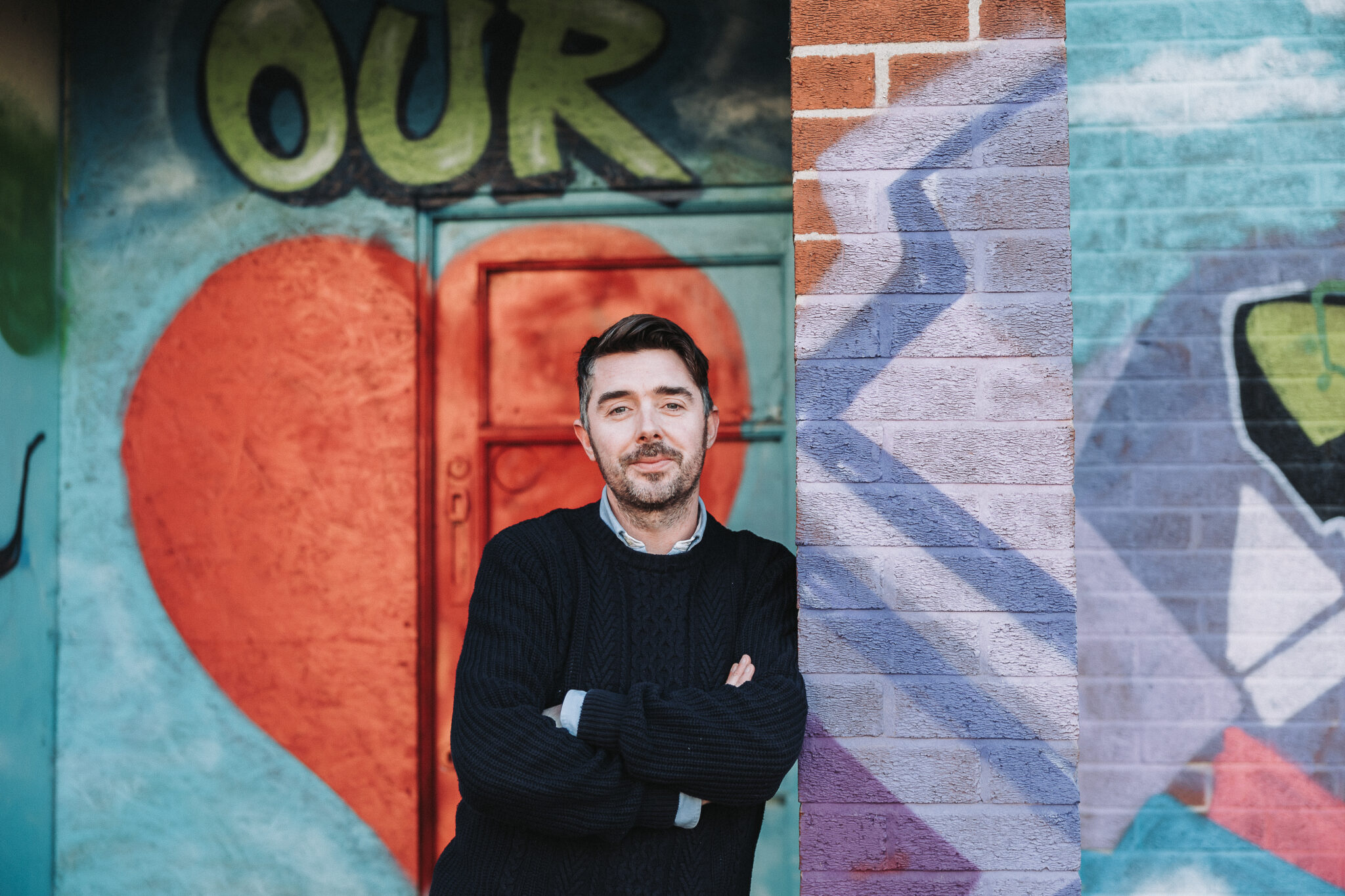 HEADSHOT OF KEVIN CURRAN
PHOTO CREDIT: ELAINE MCGRATH
Your novel starts with a reference to Don DeLillo's Underworld.
"He speaks in your voice, Dublin, and there's something hopeful in the new edges of his words and phrases that has come through revolutions, generations, and across continents to be witnessed here, on the streets, now."
Would you be able to expand on this resonance? What other authors influence your work?  
Don DeLillo's opening chapter to Underworld, with his opening line 'He speaks in your voice, American…' is just such an incredible and inspiring piece of fiction. Whatever I say about DeLillo, I won't do it justice, but my little homage to him at the beginning of Youth was a paltry, but well intentioned nod to an absolute titan of contemporary writing.
As for other writers who influenced Youth, Zadie Smith's NW, Karl Parkinson's The Grind, everything by James Kelman, Wendy Erskine's short story from Sweet Home, 'To all their dues', June Caldwell's Room Little Darker…so much, so much more!
In 2016, you were on the judging panel for Novel Fair. From your perspective as a former Novel Fair winner, a multi-published author, and Novel Fair judge, what advice would you give to someone who is tidying up their manuscript right now for Novel Fair 2024 submission?
I could write an essay on this after reading 120 manuscript openings as a judge! But to be brief: Make sure your opening 50 pages are the best part of the book, i.e., if the book doesn't really get going until page 79, why are you not starting the novel on page 79, and cut the preceding pages?
Make sure you establish early who the main character is by providing a sense of age, place and general feel for the character.
And scenes! Are the scenes active? Make them alive and interesting! It's all about the characters and the scenes!
And best of luck.
---
Irish Writers Centre Novel Fair
The Irish Writers Centre Novel Fair, now in its twelfth year, is an annual competition that introduces twelve up-and-coming writers to top publishers and literary agents, giving novelists the opportunity to bypass the slush pile, pitch their ideas and place their synopsis and sample chapters directly into the hands of publishers and agents.
Submissions to the Fair will be open throughout the month of September 2023 and will require applicants to submit a 10,000-word extract of the novel, as well as a 300 word plot synopsis. Entries are welcome from anywhere in the world. The twelve successful applicants will be informed at the beginning of December – giving them a week to submit their full 50,000 word manuscripts – and will be given the opportunity to attend a day-long 'How to Pitch Your Novel' seminar in advance of the Fair itself, which will take place in spring 2024.
Find out more about the Novel Fair here.