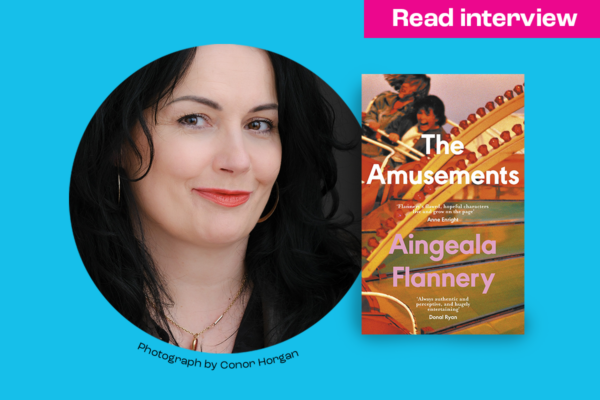 28 July, 2023
"Character and place are where my imagination likes to play," Aingeala Flannery on Novel Fair, and her award winning debut The Amusements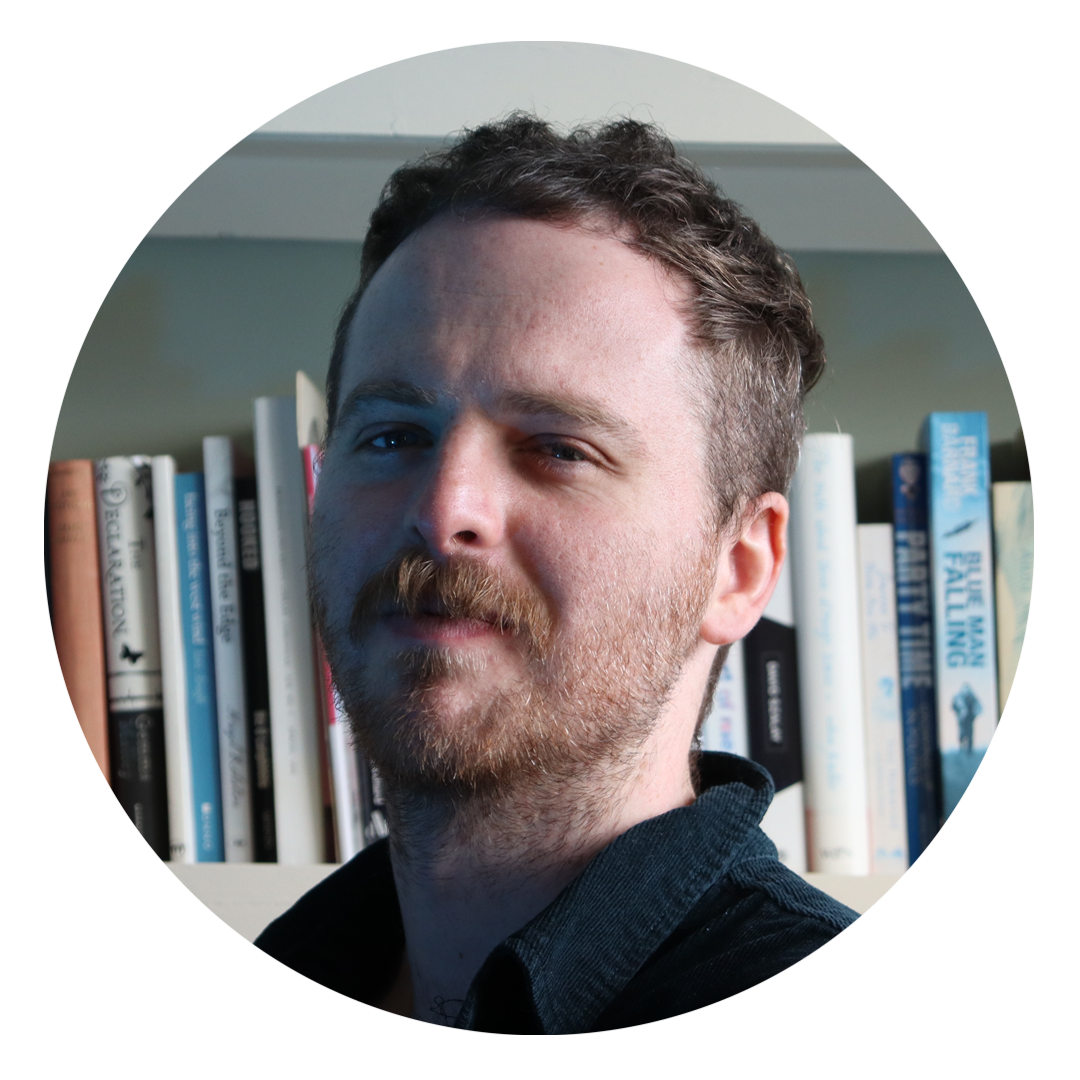 Interviewer: Tom Jordan
This blog post has been written by our member of staff, Tom Jordan, Arts Administration Assistant, Irish Writers Centre. Tom is a writer from Dublin. He graduated from TCD with a BA in English Literature and Drama. His writing has been published in the literary journals Sonder, The Waxed Lemon and elsewhere.
---
This is the third interview in a series where we talk with former winners of the Irish Writers Centre Novel Fair. Our Administrative Assistant Tom Jordan interviewed Aingeala Flannery, author of The Amusements, which was recently awarded the Kerry Group Irish Novel of the Year. The Amusements was Aingeala's debut – strikingly, it was not the manuscript that she won Novel Fair with! Read on to find out more about her Novel Fair experience and the roundabout way it helped in her writing journey.
---
Aingeala Flannery was born in Waterford, and is currently based in Dublin. Despite a successful twenty year career working as a journalist and broadcaster, Aingeala's long-held ambitions to become a novelist never went away. She told me how she wrote every day, both for work and creatively, but it wasn't until taking a course with the Irish Writers Centre that everything changed. Aingeala began to send her writing to competitions, eventually submitting to the 2018 Irish Writers Centre Novel Fair which (surprise!) she won.
Shortly after Novel Fair, Aingeala started an MFA in Creative Writing at University College Dublin. She went on to win the 2019 Harper's Bazaar Short Story Competition, and in 2020 and 2021 she was awarded a Literature Bursary by the Arts Council of Ireland. The bursary provided Aingeala with the support to finish her debut novel The Amusements (Penguin, Sandycove 2022). Last year, Aingeala entered our doors once again after becoming a recipient of the Irish Writers Centre Evolution Programme. Given her long history with the Irish Writers Centre, we were delighted to see all of the success that has come Aingeala's way.
The Amusements is a novel made up of multiple narratives, tied together by two main characters and the families and communities that surround them. It has received glowing reviews and one (very big) award so far. Even since I began writing up our exchange, The Amusements has been nominated for the John McGahern Annual Book Prize! We see Helen Grant and Stella Swaine, the two women at the core of the novel, grow up before our eyes as the narrative weaves around their family, their neighbours, and the languishing town of Tramore. A town on the southeast coast of Ireland, Tramore is skilfully evoked throughout The Amusements, whose setting is reminiscent of the 'story' 'character and colour' of seaside towns more generally. The novel has been favourably compared to the linked stories of Elizabeth Strout and Brandon Taylor where half the pleasure lies in watching the myriad connections unfold. You can read an extract here.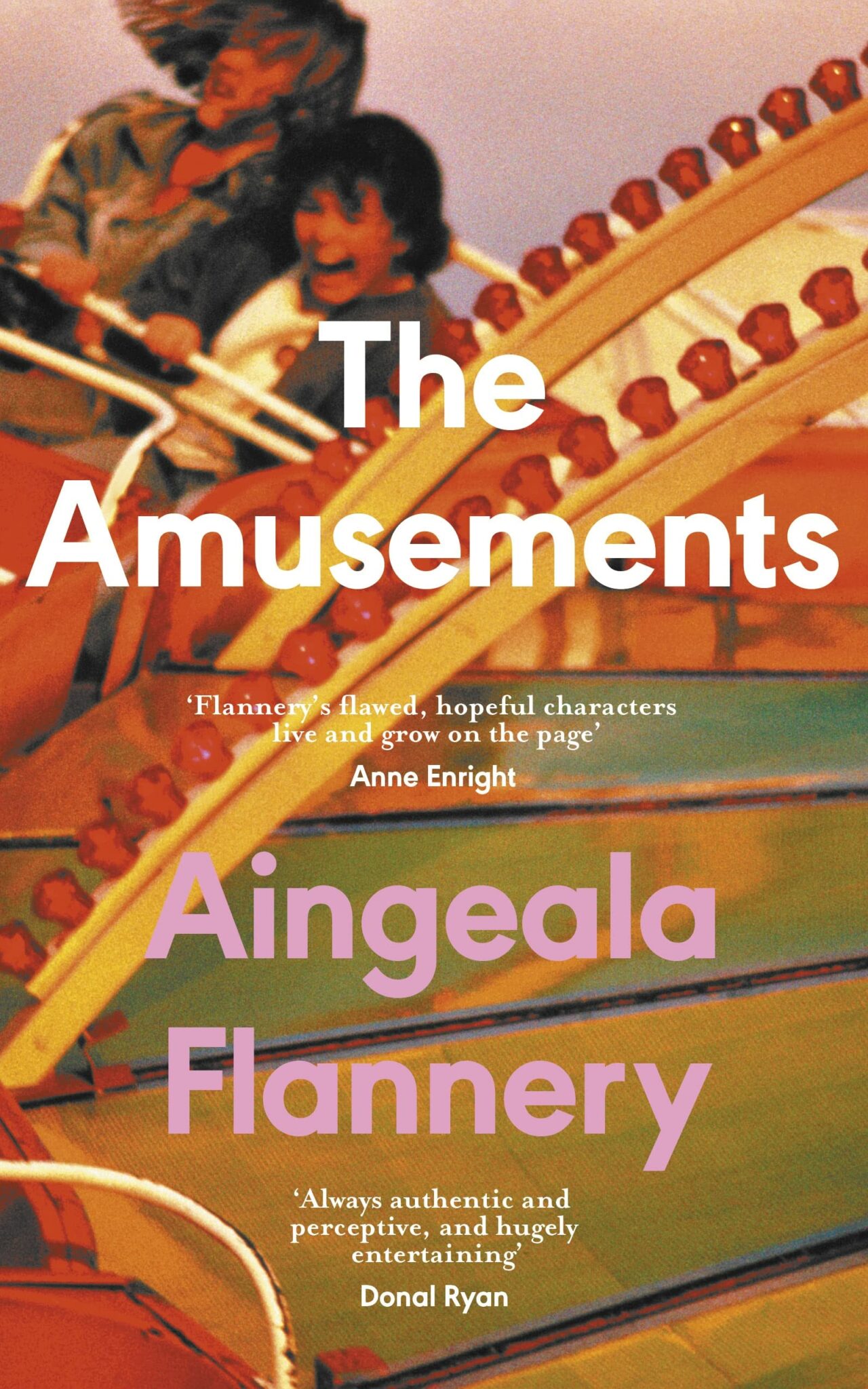 FRONT COVER OF THE AMUSEMENTS BY AINGEALA FLANNERY.
PUBLISHED WITH PENGUIN (SANDYCOVE) 2020.
You were in the midst of a successful career as a broadcaster and journalist when you submitted to the IWC Novel Fair 2018. What drew you to submit to Novel Fair? How would you describe your writing career, and experience with the literary/publishing world at that time?
I'd been working for almost twenty years as a journalist when I entered the Novel Fair, so I was writing every day for a living. However, I was also writing fiction, short stories and a novel. I was pretty quiet about it, because I didn't think my fiction was good enough to be taken seriously. I knew a few writers and I saw how tough it was to get published and how all-consuming writing was, so I was under no illusions. I tried to satisfy my urge to write creatively with journalism, but it was never enough. Things changed for me when I did a course with David Butler at the Irish Writers Centre in 2017. It was such a positive experience. I loved the peer feedback. It gave me the confidence to submit my stories to competitions and to enter my novel Jove Laughed into the Novel Fair.
How did your experience of Novel Fair affect your writing practice and what, if anything, would you do differently (before and during the Fair)?
It gave me a better understanding of how agents and publishers work. I got neither an agent nor a publishing deal, but the experience was very worthwhile. I finished a novel in order to enter the Fair and I felt that in itself was a huge achievement. In hindsight, I was glad Jove Laughed wasn't picked up. It wasn't good enough. I learned so much about my weaknesses and strengths as a writer during the writing and redrafting process. The synopsis and pitch are vital and I think being forced to concentrate on them is uncomfortable for most of us, but it is essential to understand from a publisher's point of view why they matter. I got very wise advice from one agent in particular. She asked for my entire manuscript, read it, and told me I could write a better book. She was right. The thing I would say to anyone entering the Fair is to give your novel everything you've got, redraft and edit over and over and over again. Only when you're certain you've got nothing more to give it, should you send it to a publisher. But before you even think about that, try to get yourself an agent.
"Looking back on my journey to publication, I feel very indebted to the IWC Novel Fair, because it is where I found the confidence to put my work out into the world. It was the first time I called myself a writer."
We hope the Novel Fair can act as a stepping stone in numerous ways, not just by getting winners signed with agents or publishers but by giving them their first taste of the industry. That being said, is there anything you did in the aftermath to the Fair that you think might have helped lead to the brilliant success you are experiencing with The Amusements?
Within weeks of the Fair, I decided that I wanted to do a Masters in Creative Writing. I researched the various programmes and how I would juggle parenting and work and finances. It wasn't easy but I wanted to do it more than I couldn't afford to do it, so I went ahead and applied to the Master of Fine Arts in Creative Writing at UCD. I felt being a winner at The Novel Fair qualified me to apply. Thankfully UCD felt the same way. I was accepted into the course on the strength of my writing sample and the Novel Fair success. I wrote the first draft of my debut novel The Amusements in 2018-2019 during my MFA. In 2020, an excerpt was plucked from a competition reject pile by a literary agent and she signed me. Around this time, I was awarded an Arts Council Bursary which bought me the time to work hard with my agent on getting the manuscript into shape before she pitched it to publishers. The Amusements was eventually published by Penguin (Sandycove) in June 2022. In June 2023, it was named Kerry Group Irish Novel of The Year at Listowel Writers' Week. Looking back on my journey to publication, I feel very indebted to the IWC Novel Fair, because it is where I found the confidence to put my work out into the world. It was the first time I called myself a writer.
You've talked previously about how your short stories 'Kamikaze' and 'Court Order' were the seed ideas that gradually became part of a novel. Can you describe that process of gradually finding yourself in the middle of a long project? Was it difficult to commit to?
I didn't find it difficult to commit to, in fact, the characters dragged me along with them and I just wrote it all down. I suppose it did mushroom from one short story: 'Visiting Hours,' which won the Harper's Bazaar Short Story Competition. The chapter called 'St Otteran's' in the novel is actually a slight variation on 'Visiting Hours.' It introduces the novel's 'heroine,' Helen Grant. Regarding the other stories you mention, 'The Court Order' was the first piece of writing I attempted that was set in Tramore. I wrote it (and 'Visiting Hours') after reading William Trevor's story 'Honeymoon in Tramore.' 'Kamikaze' is a funny one. I started writing that story many, many years ago as a story about a young illegal immigrant in New York. It was shortlisted for the RTÉ Radio One Short Story Competition, but then, as I was writing The Amusements, I knew the character in the story was somehow connected to Helen Grant. She eventually shaped up as Helen's best friend, and became Stella Swaine, the other protagonist in the novel. I suppose the concise answer to your question is the novel bloomed from the origin stories of the two main characters Helen and Stella, where their lives intersect. In fact, The Amusements is thematically and structurally all about intersection. In hindsight, the process makes sense, at the time I just held on tight and went where the characters brought me.
"When I'm deep in the process of writing the characters are real people to me, sometimes I love them, sometimes I hate them. If that humanity is absent, I'd wonder if the writing was any good at all."
Oh I apologise for my mistake, I meant your Harper's Bazaar winning story, 'Visiting Hours.' I mentioned 'Court Order' because, as you say, the novel is set in Tramore. That coastal town on the southeast of the country is of course central to these first short stories and the novel they led to. What do you think it was about place, or that place in particular, that brought these characters to you?
Character and place are where my imagination likes to play. I get so attached to both I have to live with them in my head, and write their stories down until I find a form and a voice to tell them in. When I'm deep in the process of writing the characters are real people to me, sometimes I love them, sometimes I hate them. If that humanity is absent, I'd wonder if the writing was any good at all. I'm also preoccupied by place and why some places stick with us and others don't. It has nothing to do with liking or disliking a place, it's more nuanced than that. A mystery. What I can say about Tramore, and this goes for all the places I like to write about, is that it has a long, interesting history as a town. It is a place that's full of story, of character and colour. And that's what makes it so appealing to me. I'm interested in social history, in memory, but also in class and culture. Tramore has all those things.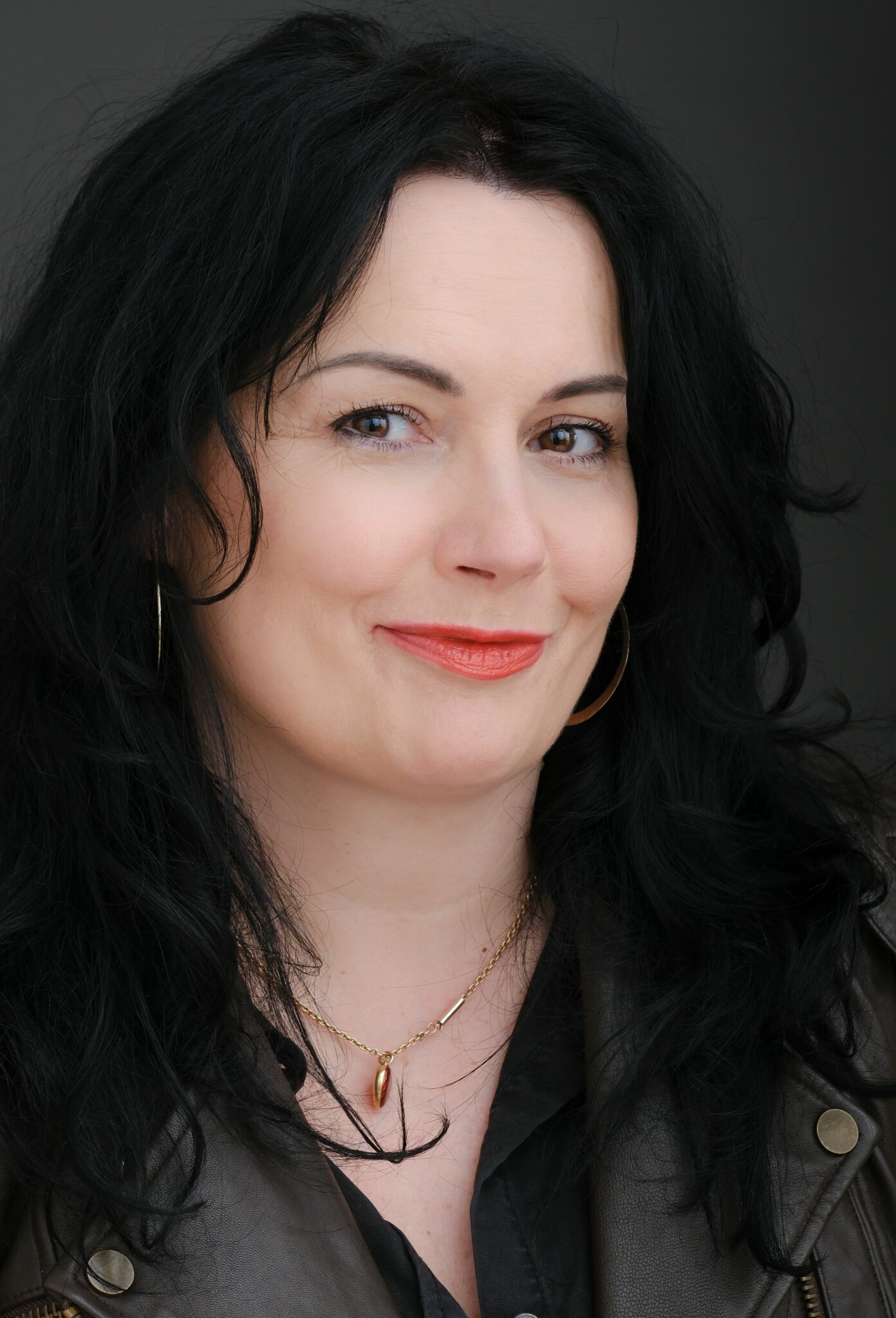 HEADSHOT OF AINGEALA FLANNERY
PHOTO CREDIT: CONOR HORGAN
So, within weeks of the Fair you decided you wanted to do a Creative Writing Master's Degree and eventually this led to you being accepted into UCD's MFA programme. At the Irish Writers Centre we find that having a supportive community of writers around you can be vital, especially in such a lonely game as writing. Do you feel it's important to be part of a community of writers and have you been able to find that sort of community?
Yes, I definitely appreciate having people I can talk to about writing, or share my ideas and work with. I've found peer reviewing really useful, especially during my MFA at UCD. We were an intimate group of writers and open to learning from each other from the start. I'm still in touch with my classmates and I value the ongoing support we give to each other. Separate to that, I participate in an online writing group that evolved from a beginners course I did in the Irish Writers' Centre back in 2017. Last year, I was selected for the IWC Evolution Programme which helped me to make connections with writers I would not have otherwise come in contact with. One thing I will say about the pandemic is that it got writers used to meeting online, and I've certainly engaged with a wider variety of artists from different places since Covid.
"I got an agent and a publishing deal during the pandemic. I don't think anything about the situation was normal, timelines and expectations went out the window."
You say an excerpt of your writing was plucked from a competition reject pile and that's how you met your agent. It's the sort of serendipitous path-to-publication story that I always find incredibly interesting and a bit unnerving. The chance that comes into it all, even with wonderfully talented writers like yourself! Can you speak a bit about that author/agent relationship, and your journey to publication with Penguin (Sandycove)?
There are lots of talented writers out there. Getting The Amusements published was a combination of hard work, timing, good fortune, and the support of an Arts Council bursary that bought me the time to redraft and polish my manuscript until it was good enough for my agent to pitch it to publishers. My agent really pushed me to write the hell out of the novel, and I'm glad she did. I got an agent and a publishing deal during the pandemic. I don't think anything about the situation was normal, timelines and expectations went out the window. I imagine the publication of my next novel will be an entirely different experience.
As an avid listener of The Dublin Review podcast of which you are both the producer and host, I have to say it is a lovely insight into the Irish literary community. I really enjoy the sense of intimacy but also togetherness I feel hearing these writers open up to you about their work. For the uninitiated, the podcast features the best Irish and international writers reading pieces of theirs that have been published in The Dublin Review, one of Ireland's finest literary magazines. How did you end up in this role and does this work inform your practice in any way?
I am one of two deputy publishers of The Dublin Review. I've no editorial input whatsoever, that falls entirely on the capable shoulders of Brendan Barrington. My job since 2018 has been to look after social media and our annual 'Conversations' public event. My background is in radio, so I'm passionate about audio archive. After our inaugural 'Conversations' event in 2018, I felt strongly that we should record our contributors reading and discussing their work. That's how the podcast came about. I was keen to do it, and the Arts Council supported the development. The podcast is (very much) secondary to the magazine and always will be. The Dublin Review has been around for more than twenty years, it publishes exceptional writing, so obviously reading these essays and short stories has had a positive effect on my writing and also on how I view my practice and craft as a writer. I think the podcast is a good space for our contributors, especially those who aren't used to discussing and reading their work in public, to reflect on their writing in an informal setting.
We would like to thank Aingeala for taking the time to answer our questions! For our previous conversation with Alice Lyons click here.
---
How to apply to the IWC Novel Fair
The Irish Writers Centre Novel Fair, now in its twelfth year, is an annual competition that introduces twelve up-and-coming writers to top publishers and literary agents, giving novelists the opportunity to bypass the slush pile, pitch their ideas and place their synopsis and sample chapters directly into the hands of publishers and agents.
Submissions to the Fair will be open throughout the month of September 2023 and will require applicants to submit a 10,000-word extract of the novel, as well as a 300 word plot synopsis. Entries are welcome from anywhere in the world. The twelve successful applicants will be informed at the beginning of December – giving them a week to submit their full 50,000 word manuscripts – and will be given the opportunity to attend a day-long 'How to Pitch Your Novel' seminar in advance of the Fair itself, which will take place in spring 2024.
Find out more about the Novel Fair here.