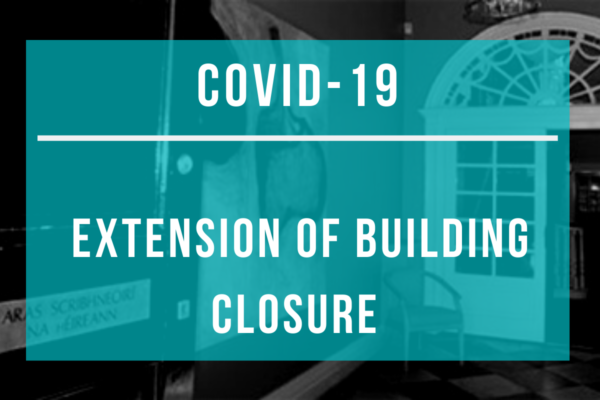 25 March, 2020
Covid-19: Extension of IWC Building Closure
In light of the most recent measures announced by the government last night, current restrictions on the opening of public spaces have been extended until Sunday 19th April, with additional measures put in place. For full details of the government's measures to tackle COVID-19, please see here:
https://www.gov.ie/en/publication/a7e66d-latest-guidance-on-public-health-measures/
The Irish Writers Centre building will remain closed while these measures are in place. During this period, we hope you continue your engagement with the Centre through our newly launched online course programme. Mentoring is also available remotely, and membership continues to be available via our website. You can also engage with the work of the Centre by having a look at our writers' resources online, applying for advertised opportunities or by making a donation towards our work. 
Although it's not physically possible to visit IWC to write, we hope writers and friends can join us as a member to help support our writing community. We look forward to welcoming you to our workspaces later in the year. 
Our staff will continue to work remotely in the delivery of high-quality services to inform, promote and support writers across the island of Ireland. Our building will not be staffed, so if you need to contact a member of the team please do so by email. 
By signing up for an online course, you are helping the Irish Writers Centre continue to deliver our services through our education programme, as well as providing vital paid employment to freelance writers. We have a number of new courses launching as part of our Summer Programme, so please keep in touch with us via social media, Instagram, Facebook, Twitter, our website or our newsletter to find out more. 
Thanks for the support of our online courses, we'd welcome your feedback and you're welcome to contact us on info@writerscentre.ie 
– Hilary Copeland, Acting Director of the Irish Writers Centre