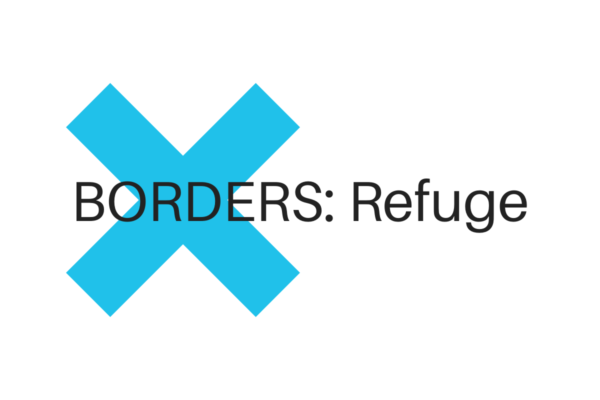 16 January, 2020
Introducing our XBorders: Refuge Patricipants
This spring, we are delighted to welcome the return of the cross-border initiative XBorders. Now in its fourth year, XBorders will centre around the theme of Refuge, and participants will have the opportunity to explore this theme through a series of guided workshops. 
This year's participants have all been selected from previous years. They are: Michelle Gallen, Therese Kieran, Chandrika Narayanan-Mohan, Dominique Cleary, Peter McNamara, Cliona O'Connell, Sue Divin, Adam Trodd, Niamh Donnellan, Jane Robinson, Cassia Gaden Gilmartin, and Pádraig Ó Meiscill.
———————————————————————————————————–
Therese Kieran lives in Belfast. Her work has featured in magazines and anthologies, including: The Honest Ulsterman, The Valley Press, Poetry NI, The Blue Nib, Four X Four, Washing Windows? Tales of the Forest, Coast to Coast to Coast. She was short-listed for the North West Words Poetry 2019 competition.
Sue Divin is a Derry based writer but, hailing originally from Armagh, can't quite classify herself a 'Derry Girl.' Peace worker, knackered mammy, musician and juggler of life, she remains clueless how she finds time to write. Her début novel, Guard Your Heart, will be published in 2021. She tweets @absolutelywrite
Peter McNamara is a writer from Dublin. His story 'The New Place' was runner-up for the 2018 Francis MacManus Award. He also works as a community journalist and is assistant editor at Holy Show magazine. He is currently working on his first collection of stories.
'Pádraig Ó Meiscill is a writer from Belfast. He participated in the inaugural X Borders program in 2017. He has had work published in Corridor and The Flexible Persona among other journals. At present, he is working on his first novel – Misadventure: A Story of Englishmen in Ireland.
Niamh Donnellan is a writer from Co. Meath. She divides her writing time between insightful short stories and page-turning thrillers. She was part of XBorders: Transition and was shortlisted for International Literature Festival Dublin 'Date with an Agent' in 2018.
Michelle Gallen was born in Northern Ireland in the mid 70s. She grew up on the border between Ireland and the United Kingdom. Her first novel Big Girl, Small Town, is due for publication by John Murray in the UK and Ireland (Spring 2020) and by Algonquin in the US (Winter 2020). It's being translated into Hebrew for publication in Israel.
Jane Robinson lives in Dublin and received the Shine-Strong Award for her début poetry collection 'Journey to the Sleeping Whale' published by Salmon in 2018. She has a PhD in Biology, won the Strokestown International Poetry Award in 2014, and is a runner up for the 2019 Gingko Ecopoetry Prize.
Dominique Cleary's essays and stories appear in the Dublin Review, gorse, Banshee, and in the anthologies Beyond the Centre and Counterparts. She was a finalist in the Irish Writers' Centre Novel Fair 2017. She has an MPhil in Creative Writing from Trinity College, Dublin where she previously studied Law.
Cliona O'Connell's debut collection, White Space, was published in 2012. She has been a winner of the Cork Literary Review Manuscript Competition, runner-up in the Patrick Kavanagh Award, selected for the Poetry Ireland Introductions Series and has been shortlisted for the Hennessy Literary Awards. Cliona has an MA in Poetry Studies.
Chandrika Narayanan-Mohan is a Dublin-based writer from India, and participated in XBorders:Accord in 2018. She has been featured on The Moth and Mortified and on NPR and Irish radio, and she regularly performs her poetry. Her work has recently been published in Writing Home: The 'New Irish' Poets from Dedalus Press.
Cassia Gaden Gilmartin is a fiction writer and co-editor of Channel, a new environmentalist literary magazine. Her recent short stories have been published by Banshee, Transnational Queer Underground and Eunoia Review, and she is currently drafting a first novel.
Adam Trodd's writing has appeared in publications such as The Incubator Journal, Crannóg, Banshee, Ellipsis and The National Flash Fiction Day Anthology. He has been shortlisted for the Cúirt Prize, the Over the Edge Literary Award and the Bath Flash Fiction Award. In 2017 he won the Benedict Kiely Short Story Competition and the Book of Kells Creative Writing Competition.
XBodrers: Refuge is kindly supported by the Arts Council of Northern Ireland Lottery Fund.