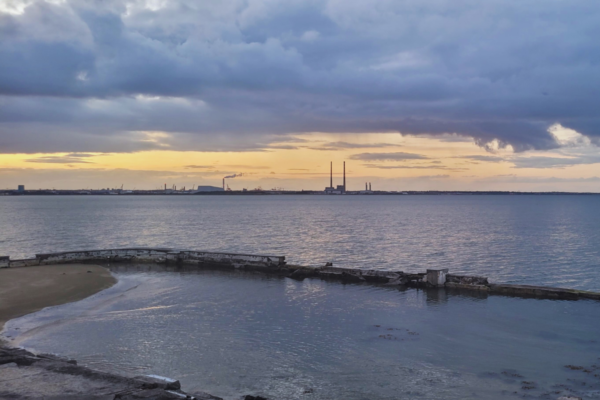 04 July, 2023
Opportunities and Competitions July 2023
Photo credit: A view across Dublin Bay towards the Poolbeg Towers taken by our Administrative Assistant Tom Jordan. 
Each month we update our Competitions & Submissions page, along with our Bursaries & Funding, to ensure that we are connecting our writers with the best upcoming opportunities. Here are a few deadlines we wanted to highlight this July.
---
Journals and Anthologies
Deadline: 12th July 2023
Sans. Press are accepting submissions for their next anthology until the 12th of July. They are looking for stories in any genre that respond to the title Another Name for Darkness.
The anthologies that these guys put out are really interesting and beautifully designed and they pay every contributor a flat fee of €150 so make sure to get your submissions in!
---
Deadline: 23rd July 2023
Channel's aim is to build rich, mutually sustaining relationships between human beings and the natural world. They are currently open to poetry and fiction submissions for their 9th issue. They love work that speaks directly of a writer's bond with and fear for our planet, and work that takes a local landscape, or a local flower, as its subject; equally, though, they love work that draws on an aspect of nature as setting, image or metaphor.
They accept short stories under 6000 words in length and poems up to 300 lines long.
Channel are a really wonderful publication and they also pay their contributors!
---
Competitions
Deadline: 9th July 2023
Sonder magazine are back once again with their Panorama Flash Fiction Competition. It only costs €5 to submit and all proceeds go to the very good cause of helping them produce their next issue!
No more than 700 words on any theme (it's flash!) and the winner will receive €100 and publication in Issue IX of Sonder Magazine.
---
Deadline: 18th August 2023
In honour of the 100th anniversary of W.B. Yeats being awarded the Nobel Prize for Literature, the Yeats Thoor Ballylee Society has launched the Yeats Thoor Ballylee International Poetry Prize.
Poems must not exceed 40 lines. While there are no restrictions on content, they say poets should keep in mind that this award is to honour the work of WB Yeats. It costs €10 to enter one poem and €15 to enter two.
The prize purse is a nice one with €1000 going to first place and €500 and €200 going to second and third places respectively.
---
Deadline: 31st August 2023
This competition, run by the Munster Literature Centre, is open to new, emerging and established poets from any country.
Manuscripts must be between 16 and 24 pages in length. Entry costs €25 per manuscript.
The winner will receive €1000 while the second place prize is €500. Both the winner and runner up will have their chapbook published (25 complementary copies) as well as having the opportunity to participate in a featured reading at the Cork International Poetry Festival (with three-night hotel stay and full board).
---
Deadline: 1st September 2023
There are two £10,000 prizes up for grabs as part of the Manchester Writing Competition; one each for poetry and short fiction. There is a word limit of 2500 words for the short story competition and for the poetry competition they're looking for a portfolio of 3-5 poems.
---
Other Opportunities
Deadline: 16th July 2023
Maynooth University Department of English and Kildare County Council are currently accepting applications for their annual writer in residency opportunity. You can apply through their website. This is a great opportunity for a writer to work with an academic department and also engage in work in a community setting via their Library & Arts team.
---
Irish Writers Centre Opportunities
Deadline: 19th July 2023
Seven writers will be awarded with a ten day residency opportunity from 26 October – 5 November 2023 in Cill Rialaig. The residencies are offered all-inclusively and free of charge (the IWC will cover the utility charge for each of the seven houses). Expenses incurred by the selected writers will be food and travel.
This residency is open to professional members of the Irish Writers Centre in the first instance. There are two places reserved for Irish Language writers and a further two places reserved for writers from the North of Ireland.
---
Deadline: July 26th 2023
The Evolution Programme (EP) is an opportunity for published writers resident on the island of Ireland to avail of a series of sustained supports, which are partly tailored to their specific needs. The suite of supports will include bespoke career development with professional editorial, practical or creative support by way of a mentor. Attendance and/or participation clinics, literary events and self-selected IWC writing courses are further options. The 10 successful writers will participate in a monthly knowledge-sharing peer support forum and be allocated an IWC team liaison person to support them individually in building their own programme of supports.
Previous awardees include: Kevin Curran, Arnold Thomas Fanning, Aingeala Flannery, Michelle Gallen, Alice Kinsella and Melatu-Uche Okorie.
---
Please get in touch with Arts Administrative Assistant Tom Jordan at tom@irishwriterscentre.ie if your organisation has a  competition, submission, bursary or funding opportunity for writers that you would like us to include in our monthly round-up blog post.