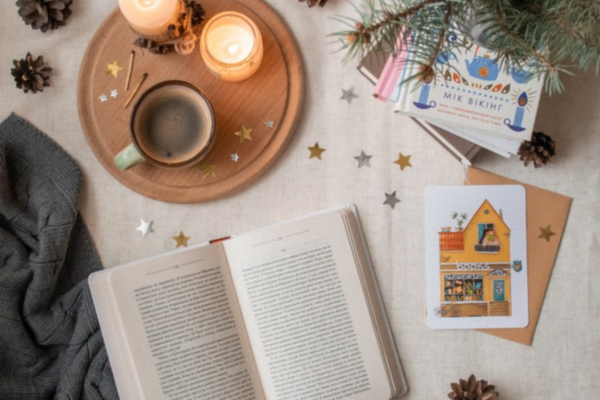 06 December, 2021
Opportunities & Competitions: December 2021
Each month we update our Competitions & Submissions page to ensure that we are connecting our writers with the best upcoming opportunities.
Here are a few we wanted to highlight this December!
Stony Thursday Poetry Book
Deadline: 8th December
The Stony Thursday Book is seeking submissions from local, national and international poets for its next issue, to be published in Spring 2022. It was founded by Limerick poets John Liddy and Jim Burke in 1975, and has been edited by poets such as Mark Whelan, Kevin Byrne, Patrick Bourke, Knute Skinner, Thomas McCarthy, Ciarán O'Driscoll, Mary Coll, Jo Slade, Paddy Bushe, Peter Sirr, Mary O'Donnell, John Davies, Nessa O'Mahony and Martin Dyar.
The Stony Thursday Book is one of the longest-running literary journals in Ireland and this will be its 44th edition, No.18 in the new series. This year's Editor of the Stony Thursday Poetry Book is Annemarie Ní Churreáin.
Granta
Deadline: 18th December
Granta is committed to championing new voices and is open to unsolicited submissions of fiction, non-fiction and poetry. We consider all submissions for both print and online publication. We charge a fee of £3/$4 for prose submissions and £2/$3 for poetry submissions, equivalent to printing and postage. You can claim the costs of submission to Granta against any new subscription to the magazine. During every opening period, we offer 300 free submissions to authors on low incomes. If you are a low-income writer and would like to apply for free entry, please read our guidelines for low-income entry below.
We are committed to offering a home to writing by those who are marginalised or underrepresented. We welcome submissions by writers of colour; writers who are working class or on low incomes; writers who are queer, transgender, non-binary and gender-nonconforming; writers with disabilities; as well as any writer who feels that they or their story are underrepresented.
Emma Press: Call for Manuscripts
Deadline: 19th December
We will be accepting general submissions of poetry pamphlets, prose (short stories, essays), children's poetry collections and children's fiction.We will aim to respond to everyone who has submitted within 2 submission cycles. If we think your proposal could be a good fit for The Emma Press, we will get in touch with you to request the full manuscript or more information. We will publish shortlists from each submission window, alongside comments on what we loved about those works. We will select 1-2 books to publish from each call for submissions, and we will aim to publish books within 12-24 months of the full manuscripts being finalised.
The London Magazine: Poetry Prize
Deadline: 27th December
Over the years The London Magazine has been home to some of the most prestigious poets in its long publishing history, from John Keats to Sylvia Plath and Derek Walcott. Our annual Poetry Prize seeks out new voices in poetry, providing a platform for publication in the UK's oldest literary journal. This year we are honoured to dedicate the prize in the memory of our esteemed Special Literary Adviser and renowned poet, Grey Gowrie.
We are delighted to announce that this year's shortlist will be judged by National Poetry Competition and Forward Prize for Best Single Poem winner Ian Duhig, Anthony Anaxagorou, whose second poetry collection, After the Formalities, was shortlisted for the T.S. Eliot Prize 2019, and Mona Arshi, winner of the Forward Prize and the Felix Dennis Prize for Best First Collection.
WoLF Poetry Competition 2022
Deadline: 31st December
On November 1st 2021, Wolverhampton Literature Festival opens its poetry competition to poets from across the globe for the fifth consecutive year. Last year's competition was our most successful to date, and we're happy to say this has allowed us to increase the amount we give out in prizes. This year, 1st prize remains £400, and 2nd prize £150, but the value of the three 3rd prizes goes up from £25 to £50, and we're also including a new prize category for poems sent in by people living in a WV postcode. These poems will be eligible for the main prizes, but in addition one WV poem will win £75, with two more getting runners-up prizes of £25.
The 2022 festival takes place over the weekend of 4-6 February, and the theme for both the festival and the competition is 'Sounds of the city'. Send us stories of sirens, sonnets to seagulls on rooftops, sagas about drunks singing their way home. Surprise us with what the sounds of the city mean to you, and send your entries in before December 31st! You'll find details of how to submit, and the rules for the competition, further down the page. Please read them carefully. Poems will be read, and winners chosen, by our judge Casey Bailey.
The Moth Poetry Prize
Deadline: 31st December
The Moth Poetry Prize is one of the biggest prizes in the world for a single unpublished poem. The prize is open to anyone, as long as the poem is previously unpublished, and each year it attracts thousands of entries from new and established poets from over 50 countries worldwide. The prize is judged anonymously by a single poet. The judge only learns who the shortlisted poets are following the selection of the winning poems. Past judges include Claudia Rankine, Marie Howe, Deborah Landau, Daljit Nagra, Leontia Flynn, Billy Collins and Nick Laird.