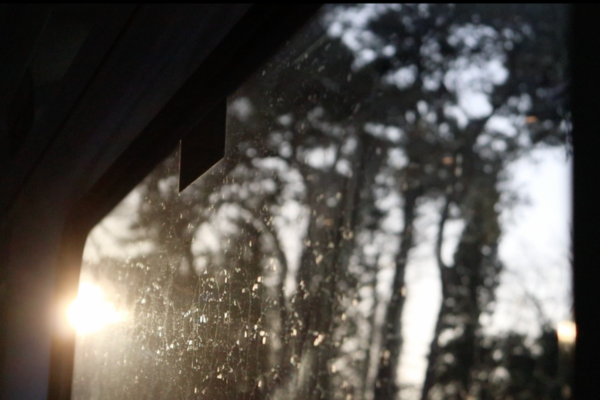 23 May, 2023
Opportunities & Competitions: late May/June 2023
Photo credit: Taken en route from Dublin to Galway for Cúirt International Festival of Literature 2023 by our amazing Projects Assistant Emily O'Brien. 
Each month we update our Competitions & Submissions page, along with our Bursaries & Funding, to ensure that we are connecting our writers with the best upcoming opportunities. While we usually only upload monthly there are just so many exciting deadlines coming up that we decided to do a late May/June post instead of our usual format.
---
Journals
Deadline: 31st May 2023
On the cusp of their 25th birthday celebrations, Ireland's premier literary magazine, The Stinging Fly will be open for submissions from Tuesday May 16th until Wednesday May 31st 2023 for Issue 49 Volume Two (November 2023).
The Stinging Fly publish new, previously unpublished work by Irish and international writers. They have a particular interest in promoting new writers, and in promoting the short story form. Each issue of The Stinging Fly includes a mix of poetry, fiction, and non-fiction.
---
Deadline: 31st May 2023
Crannóg is a wonderful publication that has been at the forefront of the Irish literary journal and magazine scene since the early 2000s.
Send no more than three poems. Each poem should be under 50 lines.
Ensure each poem begins on a new page.
Send one story. Story should be under 2000 words.
Submissions to Crannóg,  are open for the entire month of May.
---
Deadline: 2nd June 2023
The Honest Ulsterman are calling for poetry (up to 3 poems), prose and critical writing, suggestions for interviews etc for their June 2023 issue. Prose can be up to 5000 words and (very cool) they also welcome video poetry!
As a small online mag they can't afford to pay contributors but they're a well known and respected publication so definitely worth a look!
---
Grants and Bursaries
Deadline: 22nd June 2023
The Agility Award aims to support individual professional freelance artists and arts workers at any stage in their careers. You can apply for up to €5000 worth of support. You must register with the Arts Council's online services at least five days before you apply so even if you are planning on submitting close to the deadline make sure you register as early as possible!
The arts council are running a series of online clinics to help answer any questions you might have about making your application. You can find out more info about these clinics on their website!
Applications close at 17:30, on Thursday 22nd of June.
---
Competitions
Deadline: 31st May 2023
With multiple categories (Novel, Short Story, Poetry, Flash and Memoir) and judges like Colin Barrett and Sarah Hall, this is an opportunity that's not to be missed. The prizes purse is pretty hefty too (£5000 pounds for first place in both the Poetry and Short Story categories.)
Check out their website for more info.
---
Deadline: 30th June 2023
The Fingal Poetry Prize is open for entries May 1st 2023 – June 30th, 2023. Open to all writers nationally and internationally but only for poems in English. The judge is Jessica Traynor and the winner will receive €500 with awards of €300 and €200 for 2nd and 3rd place. They also have an Irish language competition currently open for subissions which is called An Fiach Dubh.
---
Deadline: 31st July 2023
The Seán Ó Faoláin International Short Story Competition is now open for entries.
Word limit: 3,000
Closing date: 31st July (midnight)
Entry fee: €19 per story
The competition is open to original, unpublished and unbroadcast short stories in the English language of 3,000 words or fewer.
---
Irish Writers Centre Opportunities
Deadline: 31st May 2023
Applications are now open for a brand new four-week international residency offered in Australia in the National Writers' House for one month in October. The selected writer will also take part in the Blue Mountains Writers' Festival.
This four-week residency includes:
Accommodation and meals
€1250 towards airfare and expenses
An opportunity for the selected writer to participate in the Blue Mountains Writers Festival that takes place on October 20-22, 2023
The residency is open to professional writers with a track record of publication (one or two books) with your most recent book having been published within 18 months as of your application. Only writers of fiction or nonfiction are eligible for this residency (poetry, playwriting and screenwriting are ineligible). They must be available for the full residency period and agree to participate in the Blue Mountains Writers' Festival.
---
Deadline: 7th June 2023
The Irish Writers Centre in association with Dublin Book Festival is delighted to invite applications to the Foundation Programme, a bespoke four-month collaborative programme designed for six emerging and new writers, resident in the Dublin City Council area, as they launch their careers.
Providing a supporting environment to develop new writing, the six awardees of the programme will have access to a series of training and development supports, including one-on-one mentoring, writing workshops, an IWC creative writing workshop course and more!
Alongside these supports, the writers will immerse themselves and contribute to Dublin Book Festival, with the additional opportunity to perform their new writing at the festival.
This programme is open exclusively to writers over the age of 18 who are resident in the Dublin City Council area*. It is specifically for writers at the beginning of their careers from backgrounds underrepresented in literature as described in our EDI statement.
---
Please get in touch with Arts Administrative Assistant Tom Jordan at info@writerscentre.ie if your organisation has a  competition, submission, bursary or funding opportunity for writers that you would like us to include in our monthly round-up blog post.