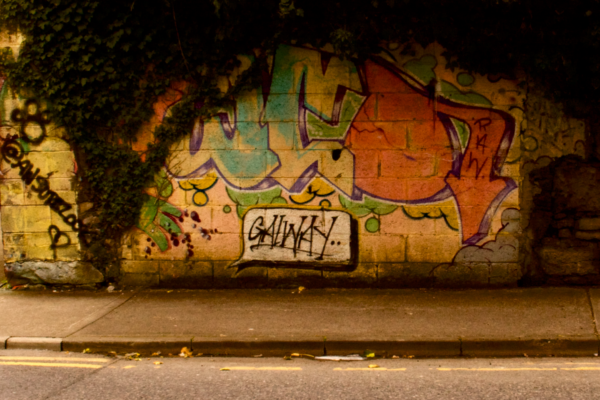 02 May, 2023
Opportunities & Competitions: May 2023
Photo credit: Graffiti in Galway City shot by our wonderful Communications officer Jo Morton in April of this year.
---
Each month we update our Competitions & Submissions page, along with our Bursaries & Funding, to ensure that we are connecting our writers with the best upcoming opportunities. Here are a few deadlines we wanted to highlight this May.
Journals
Deadline: 8th May 2023
HOWL is a literary platform showcasing the creative wail in Irish writing from around the world. They want the raw and the real. If it excites you, they want you to send it to them.
Open for submissions of poetry and prose (fiction and non-fiction) from April 10th – May 8th 2023.
---
Deadline: 21st May 2023
The Waxed Lemon is a literary journal based in Waterford. They're looking for previously unpublished poetry, short stories and flash fiction. Irish language submissions are encouraged.
Open for submissions from May 1st – May 21st 2023.
---
Deadline: 5th May 2023 
Extended Deadline 26th May 2023
Profiles is a new Irish journal dedicated to portraiture in prose and visual art, showcasing the work of writers, artists and translators from Ireland and further afield. We shouted them out last month however in very exciting news, they will be receiving support from Dublin UNESCO City of Literature and Dublin City Council for their next issue so they've decided to extend the submission window. You now have till Friday the 26th of May to get your submissions in.
They accept fiction and non-fiction pieces. Poetry is not considered at this time.
Submissions must be under 5,000 words. There is no minimum word count.
---
Deadline: 31st May 2023
The Stony Thursday Book was founded by Limerick poets John Liddy and Jim Burke in 1975, and has been edited by poets such as Mark Whelan, Kevin Byrne, Patrick Bourke, Knute Skinner, Thomas McCarthy, Ciarán O'Driscoll, Mary Coll, Jo Slade, Paddy Bushe, Peter Sirr, Mary O'Donnell, John Davies, Nessa O'Mahony, Martin Dyar, and Annemarie Ní Churreáin.
The Stony Thursday Book is one of the longest-running literary journals in Ireland and this will be its 45th edition, No.19 in the new series. This year's Editor of the Stony Thursday Poetry Book is poet and writer Christodoulos Makris.
Submitted poems may not be previously published or currently pending publication. Submissions are accepted from local, national and international poets.
Submissions including texts in languages other than English are welcome, but substantial non-English language portions must be accompanied by a translation into English.
The editor is particularly interested in the potential of poetry, and welcomes submissions in experimental, innovative, unconventional or pioneering forms.
---
Deadline: 1st June 2023
Fat Éire is currently looking for submissions for their second volume.
This publication gives a name and a collective public voice to the fat people of Ireland. It represents a population that is at once invisible and hypervisible. It is a publication that was created to uplift and unify fat Irish people, but just as importantly, give those who read it new perspectives about fatness. Its contents are not only informed by body politics, but by honesty, radicality and the power of the personal.
There is no theme. The only requirement is that you identify as fat, are from or are living on the island of Ireland, and that your piece is about the intersection of anything from body-image, romance, medical procedures, employment, partners, mental health, birth control, nationality, disability, gender, childhood, exercise, food, ethnicity, sex, art, celebrity, philosophy, simple day-to-day living (essentially anything at all) and fatness.
Written pieces should be 2,500 words max. Work that has not been published elsewhere is preferred, but not required. If you have an idea for a piece but don't have the capacity to write it on the basis of a submission call, you can send the editorial team a pitch/proposal for a piece to gauge interest.
Send submissions and inquiries to: fateire@gmail.com
---
Deadline: 6th July 2023
Belfast Pride is now seeking submissions for 2023's Poetry with Pride magazine – a digital publication celebrating queer poetry in Belfast. They are especially eager to publish poetry by members of the LGBT+ community in Belfast but also welcome submissions from LGBT+ writers across the island of Ireland and further afield.
The magazine will be launched at this year's Poetry with Pride event at The MAC on Wednesday 26th July, and will be available on a new section of the Belfast Pride website alongside all back issues.
This opportunity is currently unpaid, but submissions are free and simultaneous submissions are welcome. They are open to previously published material (provided ownership of the work remains with the author), but priority will be given to pieces which have not been previously published.
Submissions guidelines: Poems to be no longer than 30 lines, with a maximum of three poems per submission.
Deadline for submissions: 6th July 2023.
Please email your work as a Word doc or pdf attachment to toby.buckley@belfastpride.com.
---
Irish Writers Centre Opportunities
Deadline: 17th May 2023
Our Young Writer Delegates Programme is a wonderful opportunity for young writers on the island of Ireland to immerse themselves in a literature festival, soak up the atmosphere and to contribute to it as active participants. The selected young writers will be provided with accommodation and tickets to all of the festival events. The awardees will participate in a public showcase and be joined by local writer-mentor, Maeve Higgins and Emily O'Brien, IWC team member.
---
Event date: Wednesday 24th May 2023
We're Takin' our Mic to the Byzantium Tent at this years International Literature Festival Dublin. Book your place in the audience now (it's pay what you can) and register your interest for one of the open mic slots to perform on the night!
This is a bilingual event so applications to read as gaeilge are very much encouraged.
*Please note. Registering your interest to read at Takin the Mic does not immediately guarantee you a place on the night. Readers will be informed when they have been allocated a place.*
---
Please get in touch with Arts Administrative Assistant Tom Jordan at info@writerscentre.ie if your organisation has a  competition, submission, bursary or funding opportunity for writers that you would like us to include in our monthly round-up blog post.