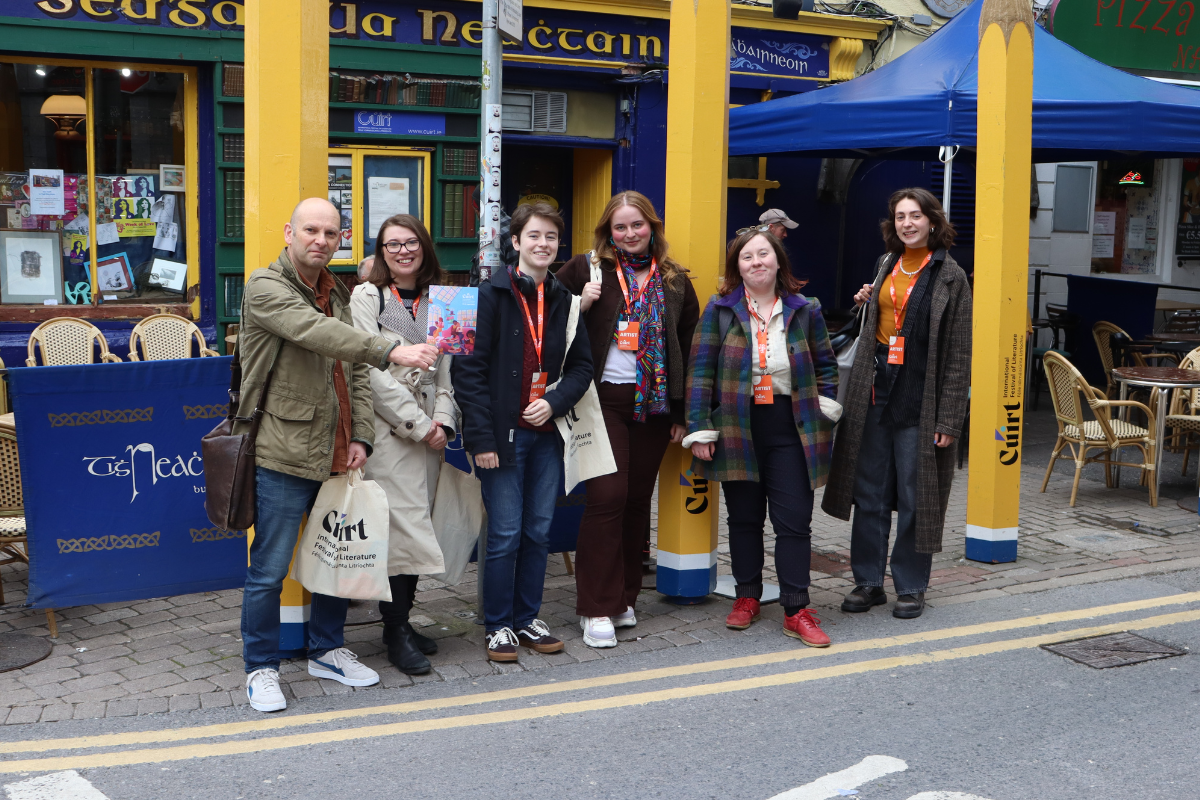 08 May, 2023
Our Young Writer Delegates look back on Cúirt 2023
Earlier this month, writers, readers and book-lovers from far and wide travelled to Galway for the Cúirt International Festival of Literature 2023. From 18-23 April, attendees were treated to a week full of readings, conversations, film screenings, walking tours, events and special guests, which showcased new voices, diverse writing, Irish and international writing talent.
Among the attendees were our IWC/Cúirt Young Writer Delegates, Lucy Bleeker, Deirdre Bolger, Arianne Clarke, Gráinne Condron and Matthew O'Rourke. Each year, the delegates attend events of their choice and write a review of their experience; here are the reviews our delegates wrote up for Cúirt 2023!
---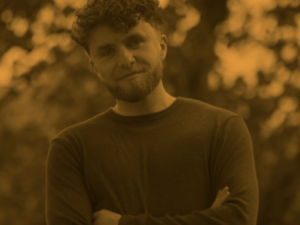 William Keohane
William Keohane: Boxing Day
Reviewed by Matthew O'Rourke
On the 21st of April, Nuns Island Theatre had the good fortune to host the Cúirt 2023 iteration of Limerick-based writer William Keohane's poetic performance piece Boxing Day. Having tried and failed to see Boxing Day multiple times before, I was excited and nervous in equal measure, as I was familiar with the effect Keohane's writing could have on me—I was in for a wild ride.
After a lovely introduction by Padraig Regan, the lights down except for those projecting the piece's title onto the screen above the stage, Keohane emerged. He introduced the piece, describing the poems that make up the performance sequence as 'box-shaped'; there are fifty-two of them, just as there are fifty-two weeks in a year; he emphasised that the piece has changed somehow between each performance he has done, and that today's would be the second-last of these for quite a while. He gave context to the work's narrative, explaining the assessment process that a trans person in Ireland must undergo after a long waiting list in order to access hormone treatment. He brought the audience's attention to the element of choice that the performance presents: as each poem from the sequence was projected onto the screen above his head, we could follow along with our eyes, or we could watch him as he read and moved.
As soon as the performance began, the importance of this choice struck marrow. The poems that make up Boxing Day felt almost invasive to read and listen to: though each segment of the sequence is short and simplistic, they speak of the experience of transitioning in a strikingly honest and unflinching way. One of the aspects of the content that I resonated with the most was its persistently interwoven mathematics: though it is a deeply emotional piece of work, numbers (in the labelling of the poems) and geometric symbols like shapes and lines appear time and time again—'show us it's a line'; 'fitting into a shape'. Keohane brings attention to the moulds forced on him upon coming out, the linearity that those living outside of a trans person's experience crave.
Boxing Day subverts the exact expectations it criticises: in essence, it is a mutable work of personal truth that analyses the chasm between the identity one holds and the identity others perceive. The choice element of the performance—whether we rested our eyes on words or a moving form, the stability of something static versus the unpredictability of a body facing towards or away—felt more and more poignant as the hour progressed, as did the box that held the poems that clicked forwards. The title of the piece particularly is externalised proof of its changeability, as in the Cúirt performance, there was no mention of Boxing Day itself. Keohane comments that 'The very first version of Boxing Day began with a poem that included the lines 'The first time I said it / the day after Christmas'. Because the sequence changes with each performance, this poem wasn't included in the Cúirt festival reading, but the title of the performance is still "Boxing Day", which has many meanings. One of the most obvious meanings is that each poem in the 52-poem sequence is contained within a box-shaped form, and each poem addresses a different day during the course of a year spent waiting.'
Time and perceptions are the fluid structures that hold the work; the evolution of Keohane's transition determines the form the performance takes, changed and cropped and re-made each time it graces a stage. The piece refuses to submit to the very pressures that it divulges, by appearing differently each time, and existing only as a performance piece, remaining unholdable by anyone other than its creator. Keohane makes a statement with the nature of this work reserving its right to change—thus, one's identity remains within the ownership of oneself.
Finally getting the opportunity to see this performance was a privilege, and I'm so glad it happened at Cúirt amongst so many talented writers and compassionate people.
---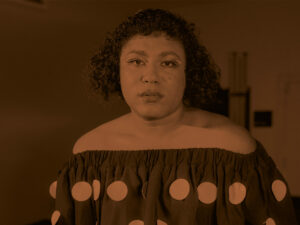 Travis Alabanza
None of the Above with Travis Alabanza
Reviewed by Deirdre Bolger
On my second day into Cúirt, I attended "None of the Above with Travis Alabanza".  The talk started off quite nicely with a game, where the moderator, Julian Bernard and Travis, wrote down a sentence following each other, then passed the page into the audience, where we were to continue the story, but only having access to the previous sentence. By the end of the talk, they said, we would have the next bestselling novel, and Travis would, of course, take all the credit.
Travis is an award-winning writer, performer and theatre-maker. They are the youngest recipient of the Artist-in-Residency at the Tate Galleries, while their debut show "Burgerz" toured internationally to sold-out performances. "When you are someone that falls outside of categories… a lot of things are said to you. And I have had a lot of things said to me." Their book None of the Above examines many questions regarding gender identity, race, class and how they intersect with each other.
During the talk, Travis discussed now the novel came to be; the fact that the book was written during the pandemic, that it inherently is a book about being perceived and it was only when they were away from the eyes of the public, could they really question what it is like to be perceived by others. They reflected on how one can come to hate themselves through the rigid binaries of male/female, queer/straight, and cis/trans, that are forced upon us from an early age. This realisation, they said, that we are different, and cannot fit within these boxes, makes us then become hypervigilant. We try to find the right equation for others to become less violent towards us. But there is no equation. Homophobia, racism, etc. is not logical, therefore no equation can be applied. The only real answer is radical self-love.
For Travis, this book is a work of creative fiction, but it is not a how-to guide to become a better ally. There are many books that can be that, but as they said, one's own life story should not be constructed to aid in the personal narrative of others. Although this story and the conclusions it draws, are of the here and now, Travis hopes that this story of questioning will evolve over time. "Five years in normal years is like fifteen in trans years!" they joked. They stated that in five, or ten years time, they hope that there will be a fashionable rebuttal to the novel, with the book jacket colours inverted. "The story must be allowed to keep going, to transition itself, like water. The conversation must be able to flow."
It's reassuring to know that there is a platform for people like Travis in the literary world; people who are not afraid to ask fundamental questions of the self, who refuse to be type casted into generic, happy queer roles (Travis is currently writing a show about queers behaving badly in a sort of commune in the heart of London) and to always be bold. There was good chemistry between Bernard and Alabanza due to a familiarity (one might say an over familiarity, as some conversations did veer into network opportunities with CMAT.) But overall, I'm delighted I got to attend this open discussion about the transitional experience of the human condition, in all of its varied and complex forms.
---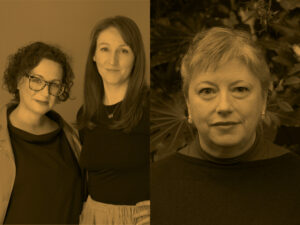 Vona Groarke, Elaine Farrell and Leanne McCormick
Telling Tales: Irish Emigrant Women in the 19th Century
Reviewed by Arianne Clarke
For history-minded attendees of this year's Cúirt Festival, Nun's Island Theatre was the place to be as Vona Groarke, Elaine Farrell and Leanne McCormick sat down with Nuala O'Connor (NORA, Harper Perennial/New Island, 2021) to discuss their work on nineteenth century emigrants to North America. Farrell and McCormick's project is one of breadth: Bad Bridget: Crime, Mayhem and the Lives of Irish Emigrant Women (Sandycove, 2023) is both a book and a podcast, and features dozens of women across three booming cities – Boston, New York and Toronto. Groake's book Hereafter: The Telling Life of Ellen O'Hara (New York University Press, 2021), meanwhile, lasers in on the poet's own great-grandmother, who traded rural Connacht for New York in 1882 and whose life, handed down in bits and pieces through family lore, Groarke became determined to reconstruct.
By turns informative and fascinating, moving and funny, this no-brainer pairing capitalised on both broader reclamations of social and gender history and the specific similarities between Ellen O'Hara's emigration story and those featured in Bad Bridget. Throughout the nineteenth century, we learned, women and girls like Ellen left Ireland, young, unmarried and alone, to seek a better life. Many, like Ellen, worked in domestic service and were expected to send money home.
The discussion showcased differences in these stories, too. Groarke discussed turning to poetry to fill gaps in the historical record and imagine what Ellen was like, and struggling internally with using such creative licence to impinge on her ancestor. She revealed that Ellen sent two of her children back to Ireland while she worked to support them and did not see them again for twelve years, an event which has rippled down through the generations.
Farrell and McCormick's work focuses on criminalised women, whose lives turn up in arrest warrants and prison reports, charity records and sensational newspaper sidebars. They spoke about the combined forces of xenophobia and misogyny directed at Irish women immigrants. There were racist cartoons in the papers. Criminalisation was so rampant that at one point 80% of incarcerated women in these cities were Irish. It was common for people to pretend to be English or Scottish, or to change their names, not only because of unique Irish-language spellings but because a Catholic immigrant, for example, might sound less employable than a Protestant one. Their communities tended to stick together geographically, but not all threats came from outside, with girls as young as seventeen prosecuted by their own families for the crime of 'stubbornness' (cue every Taurus in the building going pale).
Perhaps the clearest takeaway from this event was the impact uncovering these stories has had on the authors. For Farrell and McCormick, Bad Bridget collates years of ongoing research in their academic fields. Groarke's book involved everything from folk sonnets to census research to a visit to Ellen's grave, a solid, concrete fact of the existence of a woman who flits through official records, always a little out of reach. From the scope of this event, the lives of historic Irish emigrants – already a huge part of how we teach and understand history – aren't done being uncovered yet.
---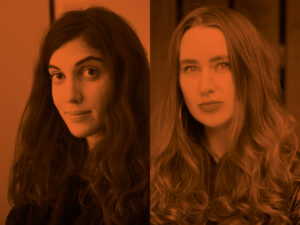 Susannah Dickey and Nicole Flattery
Common Decency is Nothing Special: Susannah Dickey and Nicole Flattery
Reviewed by Lucy Bleeker
'Common Decency is Nothing Special: Susannah Dickey and Nicole Flattery', was one of the final events of Cúirt this year, on Sunday the 23rd of April. It took place in the Nun's Island Theatre in Galway, the stage area dressed with some comfortable Swedish-looking furniture and two flower vases, with two flower varieties.
Dickey and Flattery each gave readings from their recent novels, Dickey's Common Decency and Flattery's Nothing Special, which were followed by an engaging conversation about writing. Both readings struck me as witty, yet vulnerable, with protagonists whose voices sound like people who I might know, or like my own inner monologue. I found this refreshing and inspiring, as a young writer who often falls into the trap of writing in a voice that is not recognisably my own, out of fear that mine may not be enough. Dickey and Flattery unapologetically give space to voices that are written as they are heard. In discussing voice, Flattery commented that she is interested in first-person voice due to the 'self deception' of the individual that is possible, which is both captivating to read and to write. She added that she mostly reads first-person novels as she enjoys the 'immediacy' of them. There is an immediate nature to having direct access to a character's thoughts which I have always enjoyed as a method of story-telling, as it presents a hyper-specific viewpoint of a situation, that of the individual. While Dickey's novel is written in the third person, it certainly does not lack immediacy. The novel similarly examines the limited viewpoint of the world that an individual possesses. "The idea of the individual is a lie", Dickey joked, as she and Flattery discussed the recurring human difficulty that is the unknowability of the other, that is, being stuck in our heads. Dickey and Flattery's character's voices appear close to our own as readers, and as a result can introduce such ideas as this, in an approachable manner that says, reader, the tangents that go on in your brain also go on in mine, and here are some of them committed to print.
During the Q&A section, an audience member asked about how to stay inspired. Flattery responded that she recommends the writer to go for walks, give themselves 'an embarrassing pep talk', and most importantly, have fun, because if you are having fun writing, there is a reader who will find the piece fun to read. By the end of the event, I felt ready to sit at my desk and write, in a voice that sounds like my own. I bought the books and got them autographed after the event in a purple pen that was running out of ink. I decided to go for a long walk, then back home, and wrote 2000 words, deciding today was not the day for the embarrassing pep talk. I would save that tip for another day.
Cúirt is a festival for readers and writers alike, and this event both inspired me as a writer and piqued my interest as a reader. I am looking forward to reading through Common Decency and Nothing Special and discovering further the worldviews and eccentricities of their protagonists. I am halfway into Nothing Special, and it has been continually inspiring my writing each day.
---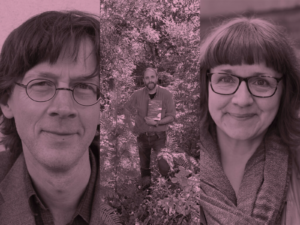 Manchán Magan, Eoghan Daltun and Emma Must
A Changing Climate: Writing, Activism and the Environment
Reviewed by Gráinne Condron
"Poetry is not activism." These were some of the first words that Emma Must uttered at 'A Changing Climate: Writing, Activism, and the Environment'. It is not an over-dramatisation to say that the audience in the Town Hall Theatre breathed a sigh of relief.
Ceara Cearney, an eco-podcaster and all round bright spark proved to be an ideal moderator for these three earthy and prolific writers, hailing from different corners of the writing world. We were introduced to Emma Must, Climate Activist and Poet. A formidable woman with her roots in the 90s climate movement. Next was Eoghan Daltun, bestselling author of An Irish Atlantic Rainforest, advocating for approaching environmental awareness one acre at a time. Finally, we met Manchán Magan, a writer and documentary-maker who was unafraid to approach the climate crisis with an innate honesty, one that is refreshing to see in the current political climate.
Ceara's approach to this panel was a testament to her skill as a moderator. It was truly impressive to watch her encourage a conversation that was bleak at times in a way that let the audience be a fourth panel member. The conversation stirred up between the writers was indicative of how collaboration is the key to a thriving climate movement.
This event was as much about climate activism as it was writing. This was not three older members of the climate movement preaching to the choir. Instead, we saw three activists who at their core were willing to listen as well as speak. Our first topic was different forms of activism and the importance of finding a niche. Daltun led this conversation and fondly told us the story of how he transformed 73 Acres of land on the Beara Peninsula back to its natural form. This sparked a conversation about local communication to find ideal environmental solutions. Daltun stated that he was a farmer himself, and that the alienation of farmers nationally wasn't helping anyone. He anecdotally related a story of a conversation he had over a pint with a local farmer while waiting to collect his son from GAA training. The farmer was delighted to speak to him about his book and was in the process of transforming his own farm to regain high natural value. This story definitely stuck with the audience as it brought all of us into the conversation.
There was certainly a sombre atmosphere when Magan spoke about his work with the indigenous people of Australia and North America. Both Must and Daltun nodded enthusiastically when Magan outlined the irony of a wealthy Western country asking for support from marginalised people abroad, stating firmly "We need no more help."
Despite the serious nature of this panel, the optimism and fight that its members possessed was palpable. Must summarised the purpose of the event with a smile; "Poetry is my thing — I'm so glad to have it." What became clear at this point is that writing may not be activism, but it can exist as solace while we face climate tipping points. This event encouraged all who attend to find their niche, and use it for good – a true discovery of the meaning of activism.
---
Deadline: 17th May 2023
The final round of our Young Writer Delegates Programme 2023 is currently open for applications. The West Cork Literary Festival Young Writer Delegates programme is a wonderful opportunity for young writers on the island of Ireland to immerse themselves in a literature festival, soak up the atmosphere and to contribute to it as active participants. The selected young writers will be provided with accommodation and tickets to all of the festival events. The awardees will participate in a public showcase and be joined by local writer-mentor, Maeve Higgins and Emily O'Brien, IWC team member.