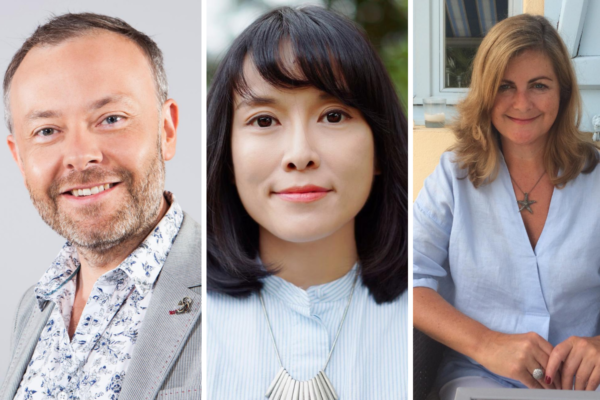 24 August, 2020
Rick O'Shea, Madeleine Keane and Yan Ge Announced as the Novel Fair 2021 Judges
Rick O'Shea, Madeleine Keane and Yan Ge Announced as the Novel Fair 2021 Judges
We are delighted to announce the judges of Novel Fair 2021. Madeleine Keane, Yan Ge, and Rick O'Shea are set to judge the international writing competition this year. Novel Fair offers unpublished writers the chance to pitch their manuscripts directly to top publishers and agents from across Ireland and the UK. The Novel Fair judges will sift through entries from all over the world to select 12 finalists to take part in what has been described as a 'Dragon's Den for writers'.
Each of the Novel Fair judges will bring a wealth of experience in the literary world to the Fair. Yan Ge is a renowned writer of fiction in both Chinese and English. She is the author of thirteen books in Chinese, including six novels. She has received numerous awards and was named by People's Literature Magazine as one of the 20 future literary masters in China. She lived in Ireland for several years and currently lives in Norwich with her husband and son.
Madeleine Keane is an editor, lecturer and award-winning journalist. She joined the Sunday Independent in 1988 and has been its Literary Editor for the last 18 years. She regularly writes about books, arts and travel. She has broadcast on tv and radio about books and publishing and presents at literary festivals and events. She co-founded the Irish Book Awards and lectures on writing at UCD and the Irish Writers Centre.
Rick O'Shea is a broadcaster with RTE, currently on RTE Gold and The Book Show on RTE Radio 1. He's also the host of the live online chat show interviewing authors about their favourite reads – Shelf Analysis. He runs Ireland's largest book club, hosts public author interviews at festivals around the country every year, has been a Costa Book Awards judge and judging chair for the Dalkey Literary Awards. He has previously been curator of the Waterford Writers Weekend and literary curator of the UCD Festival.
Novel Fair has resulted in many success stories throughout the years, giving aspiring writers the chance to kick-start their literary career. Previous Novel Fair winners include Michelle Gallen, who was recently shortlisted for the Comedy Women in Print Prize for her debut novel Big Girl, Small Town, which was picked up at Novel Fair 2019. There is just over one month to submit to Novel Fair 2021, with the deadline closing on Friday 25 September. 
Speaking on behalf of the Irish Writers Centre, Acting Director Hilary Copeland said "We are extremely happy to have Yan Ge, Madeleine Keane, and Rick O'Shea judging this year's Novel Fair. They're hugely respected in the literary scene in Ireland. They bring their collective experience as creative practitioners to the competition and individually, their expertise as a writer, a journalist and a broadcaster. We're delighted they will bring their passion and knowledge for writers and writing to the Novel Fair selection process."